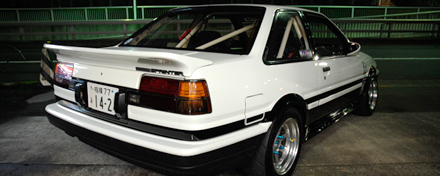 Due for a full feature in HPI issue #95, (on the stands any day now) this little AE86 was prettied up and shot by resident Japanaholic and motoring journalist Alexi Smith.
Owned by a mechanic from the renowned FNATZ workshop in Tokyo, this daily driver (no i'm not kidding, she's a daily…) rides on semi slicks powered by a 150kW naturally aspirated 4A-GE with 11.7:1 compression, Cosworth pistons and the rest of the power package goodies you'll have to pick up the mag to check out.
Not to mention its GX71 power steering conversion and killer trademark Longchamp XR-4's, this is one feature you dont wanna miss!
Photo: Alexi Smith