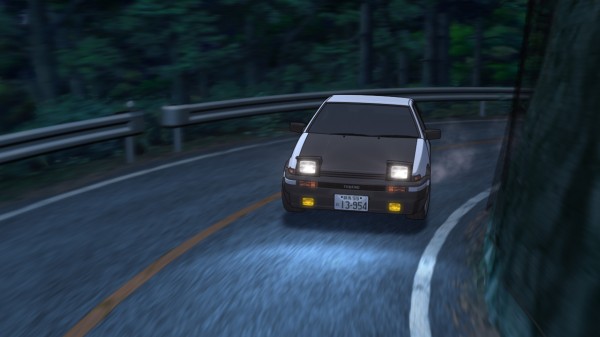 Initial D Fifth Stage was officially confirmed on August 6th, 2012 by Perfect Choice TV. Animax just aired episode 1 of Fifth Stage on Sunday, 8:00pm November 4th, 2012 (UTC+09:00) as a preview.
The official air date for Fifth Stage Episode 1 – 2 is confirmed to be on Friday 4:00am November 9th, 2012 (UTC+09:00) (second Friday of the month). There will be two new episodes every month.
The theme song "Raise Up" will be by M.O.V.E as usual with the ending theme "Flyleaf" by J-Rock band CLUTCHO .
The episodes will be aired on Animax's PPV program for 840 Yen each viewing (two episodes). The DVDs will be released some time after the broadcast ends.
Fifth Stage Airdate Schedule: (Subject to change with notifications)
Episode 1 – 2: Friday 4:00am November 9th, 2012 (UTC+09:00)
Episode 3 – 4: Friday 4:00am December 14th, 2012 (UTC+09:00)
Episode 5 – 6: Friday 4:00am January 11th, 2013 (UTC+09:00)
UPDATE: Opening Credits 
https://www.youtube.com/watch?v=FhnnpGa7atU
Closing Credits ("Flyleaf" – CLUTCHO)
https://www.youtube.com/watch?v=6lR5FsoRkWQ
Official sources / affiliated websites:
– https://www.perfectchoice-pr.com/initial-d/
– https://www.animax.co.jp/special/initial-d/
– https://natalie.mu/comic/news/73769
– https://electropica.com
– https://ameblo.jp/blog-move/
– https://news.mynavi.jp/news/2012/08/06/079/index.html
– https://www.musicman-net.com/artist/19175.html