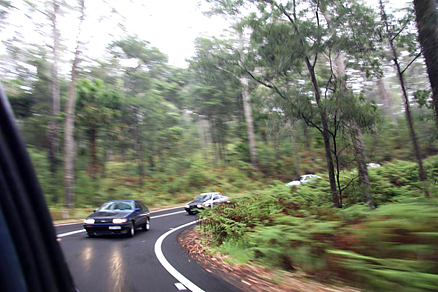 The HR AE86 Annual for 2009 has come and gone… Even though everything was against us and many things tried to stop us!
First up I'd like to thank everyone who came to the BBQ, went on the touge course and joined us at the pubs. I did everything I could to supply all that was needed for the day, but if nobody turned up then it would have been a waste. So I again I thank you for simply turning up and making the day as good as it turned out to be!
The problems started just over a week ago with the track day having to be cancelled at Marulan Driver Training Center due to recent noise complaints. This was to be the first AE/KE only track day and would have been a great start to the weekend but it seems fate was against us! Then
The original BBQ meet point had to changed early last week, due to some construction work in the originally planned area. So we quickly moved it to Georges River national park which if you believe Google maps is Lambreth park..
And of course the only day of the week to rain was Sunday… and it absolutely pissed down from start to finish.  By the time we got to the pub for a well earned clensing ale and meal we find that the Como hotel bistro is now closed Sunday afternoons. So we moved down the road to the Jannali Inn where they accomodated us suffciently.
BUT! Despite the weather, cancellations, changes to locations and me being late (seriously, breakfast on the Harbour Bridge… who's brilliant idea was that!?) and lack of a bistro, we still carried on regardless and had a pretty decent turn out with at least 30 cars at the BBQ, most of which joined us on the drive.
BBQ went down well with many people putting faces to forum user names, and I finally met a few people I have spoken to over the internet a number of times (hey Juzzo! hows the ABS working out…). Unfortunately I couldnt do as much chatting as I would have liked but it was great just seeing that many AE's and KE's out together.
The drive was mostly event free, with a few classy rain pirouettes from some drivers (including myself, and one BMW driver that just about had a heartattack after some antics on one of the hairpins….
Check out the pics here.