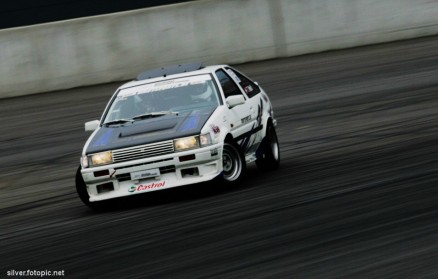 It has already been 2 weeks since the last round of the International Drift Series (www.idrifts.de) has passed and we are already in full preperation for next weekend's last round.
The sixth round was one very interesting one. The track which is also used for DTM and Indy car was rather fast with 130-160km/h entries and was a top notch environment. This time we even had the pitlane just for ourselves which was a huge plus with fall showing his cold and wet face.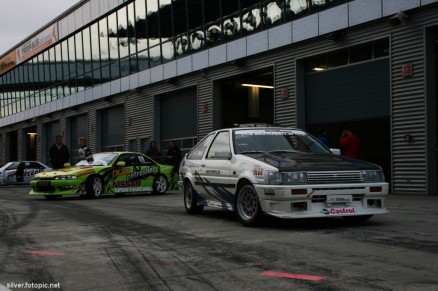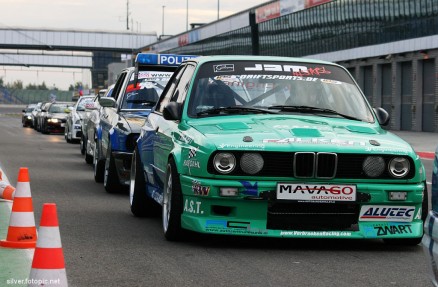 After arriving on Friday evening (after a 12h drive) we unloaded the car, set up the pits and got some sleep at our hotel. After getting back to the track on Saturday morning we had the briefing and then finally the first practice session. Practice was all in the dry and entries got faster and faster. I saw some guys initiating about 150m before the actual first left hander (oh how cool is it to have enough power). I also noticed tough that a lot of drivers did some lame e-brake entries.
Those e-brake entries do take a lot of excitement out of the driving and also do not take that much of skills. I am not talking about adjusting your angle with the help of the e-brake but about just pulling it for like 5 seconds constantly and then getting on the throttle. I think they will have to adjust the rules to something like in D1.
Anyway I was trying out different techniques how to handle the judged corners the best and as always I was struggling with power. After the first session it started to rain and that was actually a good thing. This meant my power disadvantage was not that big anymore. I was looking forward to the second training session.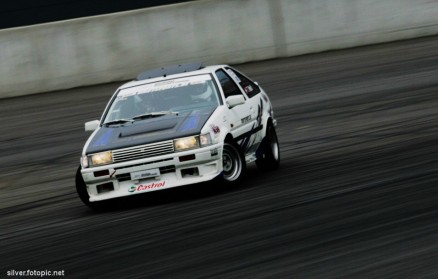 The second practice was quite wet in the beginning and now it really was technical to drive. The main straight prior the first corner was enclosed with walls to both sides. I got closer and closer to the outer wall while initiating but still felt quite comfortable. I guess my tail was minus 50cm to the wall at like 130km/h which was more then enough for my nerves.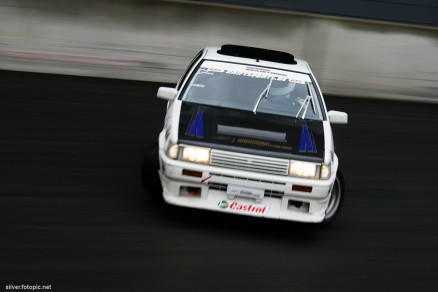 I went back to the pits and picked up one of my guys for a ride. We got back on track and went for a hot lap. Unfortunately I did not realize how much the track had dried up by now. So while initiating on the main straight I had lots of grip on the front wheels, lost it for a second and put my rear right into the wall.
That was one loud bang and I was shocked and feared the worst. In my mind I already saw the rear looking like one of those cars at Drift Matsuri @ Ebisu. I pulled out to a safe area on the track and got out of the car. I was amazed that only that little damage had happened to the car. Ok, the light was a bit broke (poor redlines) and my body was also damaged. But only to a small extend.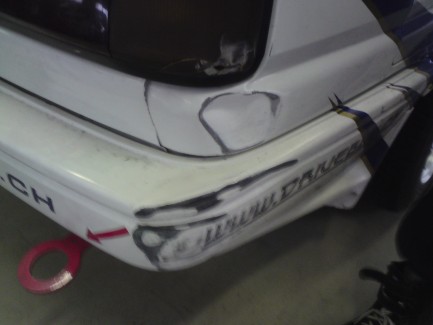 Something which was in much worse condition at that point was my mental state. I said to myself I have to go there again, now. Otherwise impact on my mind would have been way too big. So I stayed on the track and did some more laps. They were mostly crap and way off the walls. But still, I needed those. That was one scary moment and I hope to never get into something like that again.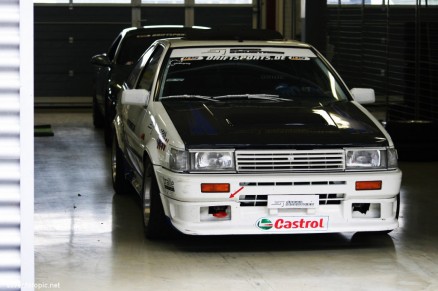 So after a short brake we got on with the qualifying.  I was up in the middle of the field. At that time I was like: whatever, just get it over with and keep the car in shape. The track was all dry again and this would  be rather tricky to get it all connected. So I made my first run and it was ok. I was glad I did not spin nor anything else. So I pushed slightly more in my second run. It went all good and I thought ok push more. The last run was definitely my best of those three and I was happy.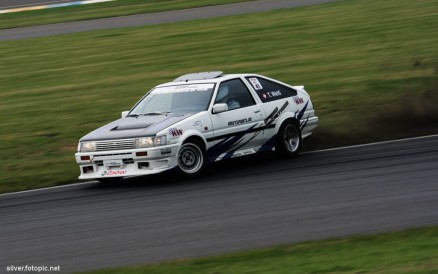 I actually was even more happy after seeing the points they gave me. I had 90 out of 100 points and qualified 8th for the top 16 twin battles. I was super happy.
So that was the Saturday and it had some mixed experiences. Never had that highs and lows so close together on a race weekend.
Back on track on Sunday for the twin battles. Rain was pooring down and practice was like 60% spins. Everybody was struggling in the first corner. Grip was very low and since the first corner was falling off it was very hard. I was in peace with the world though after finishing unexpectedly good in qualifying. (sounds a bit hippy like, hehe)
The twin battles started and I noticed that I never took a look at my competition.  Somehow I always missed them on track and I had no idea how they drive this weekend. I know tough that my first rival was really good with his BMW e34 M5. He beat me already in twin battle and I would not go down easy. So I went up for the first run and was leading. I finished the run and noticed I did not see him in my mirrors. I thought ok, probably due to the water on the track. Up we went for the second run. As he was leading I followed him and stayed rather close. I noticed he was very very slow trough the corners and I almost hit him like 3 times. Every time I had to stop drifting but he spun out in the last corner.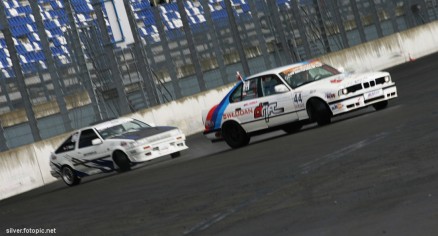 I won 8.2 and 10.0. Good stuff.
Then I was up in the top 8 against one very good driver. He has a V8 M5 engine in his e36 BMW and is probably one of the top 3 drivers in the series.  Nevertheless I just got behind him as he was leading in the first run and gave it all I had. Unfortunately a bit too much, I spun in the first corner. Second run he just payed it safe and I took it in my favor.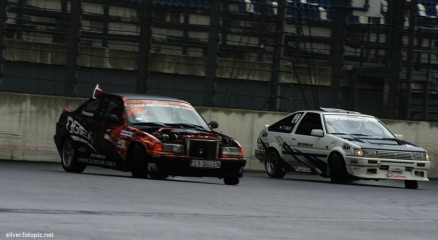 I lost 0:10, 9:1. He went on all the way to the final and lost to Lars in his e30 Falken BMW.
In the end I finished in 8th place which was my best result so far and this gave me huge confidence for next year when I will have some more power. The AE86 is one hell of a car and the speed difference in the wet showed me that the layout really works wonders. Who would have doubted it?