So you've decided which engine combo you want and have more power than you know what to do with.. but how do you slow down from 0.5 past light speed or doing the Kessel run in 12 parsecs?
At the '07 HR AE86 Annual at Oran Park whilst on the track it was brought to my attention something that was severely lacking on my car, and that was in the brake department. Screaming down the Oran Park straight and trying to stop at the end with stock ADM solid rotors and miniscule calipers is not something I want to do again.
Originally I had MA60 brakes to go onto my hachi, but found out the hard way that due to the larger centre bore they were not going to fit with on the standard AE86 hub, that is what started my quest for a bigger brake system that worked specifically for my 86.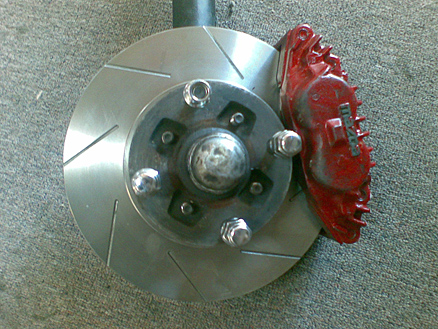 FC3S RX7 BRAKES
This was the first option I started investigatin closely. I had seen a number of people using the RX-7's superb calipers and recommending them to great effect but at the time there was no simple bolt on kit for them.
Most of the FC3S brake setups were custom made brackets and redrilled discs to suit. The other issue with using the RX-7 calipers is that it was not really known which discs would work, only a lot of loose 'maybes' with no real world evidence.
Thankfully, most of that has been solved and now thanks to Dave at AJPS, we have an FC3S RX-7 caliper mounting bracket to suit 262mm Honda Civic discs. The AJPS kit can also be used with some 14″ wheels. For more info check out the AJPS website.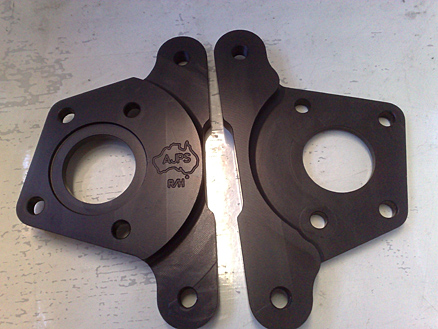 The brackets are a direct bolt on to the standard AE86 hub and AJPS can provide everything you need to bolt it up. You only need to supply the caliper. The kit comes with discs (either standard or slotted), the adapter brackets with bolts, brake lines and rebuild kit for the calipers (since they will be, no doubt, second hand).
Also, only recently it has been discovered that the new BMW Mini has the right size disc to suit the FC3S calipers. The Mini disc is 295mm in size, and has proved to be quite a good set up giving an extra 23mm over the Civic option.
The only issue wth the larger disc is that at this time there is no readily available caliper adapter, so custom items would have to be made. This may change in the future though as it did with AJPS's kit.
This brake set up is similar in size to the JDM AE86 brakes but with 4 pistons instead of 1 large one. Being a 4-piston caliper, this is fantastic stopping power and can work with those of you out there running 14″ wheels. These brakes were used by Jeremy aka AE86slut on his green Dirty Ibis (as featured in Drift Battle) to great effect and seldomly experienced brake fade.
The cost of this set up varied wildly depending on the size of the disc and set up you want, but its it much easier now as the calipers themselves became more readily available and the demand for this set up grew.
There is no doubt these brakes have proven them selves and will continue to prove themselves the future.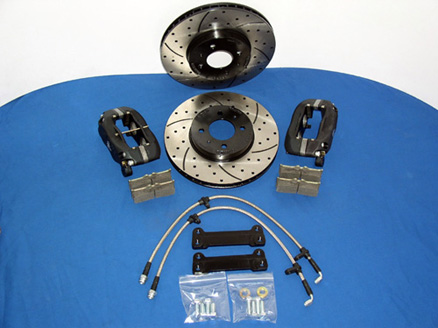 TECHNO TOY TUNING WILWOOD KIT
Techno Toy Tuning (T3) has been around for a long time providing parts and support for the humble corolla and AE86 for a number of years and have had this big brake kit for sale for quite some time now.
It features Wilwood forged Dynalite 4-piston calipers and 280mm slotted discs. The kit also comes with braided lines to hook up with as well.
The kit is fairly well renowned and comes with all you need to fit it up to a standard AE86 hub. The kit also works directly with a standard AE86 brake master cylinder, so no need to upgrade it. That said, a larger master cylinder would be a good investment to aid the system overall.
Being a direct bolt-on kit the hard work is already done and it can be fitted up in a short space of time. An afternoon or over a couple of nights, and it will done and time to test them. Coming from T3, all the support you'll ever need is only a couple of clicks away.
This kit is currently being used on HR blogger Beau's lemon yellow Trueno drifter. Having taken the car to the track a number of times in the last few months these have proven themselves as excellent value.
The only issue with this brake setup is that it utilizes aftermarket calipers. This basically means it will take a little more effort to have them engineered. But if you've already got a crazy conversion in place this would be the least of your worries.
Pricing for these brakes is very sharp and with the Aussie Dollar doing well against the US Dollar these will become quite affordable again. Being a  small 4-piston caliper and 280mm disc you will need to run a minimum of 15″ wheel to clear these brakes. Check em out at T3's website.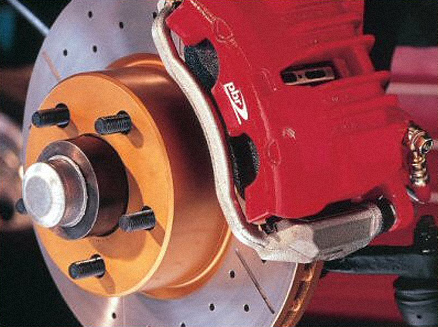 HOPPERS STOPPERS BIG BRAKE KIT
Hoppers Stoppers is major brake shop in melbourne and for a good number of years have been putting together kits for Aussie muscle cars.
I was flicking through Street Machine one day, saw an ad for them and I decided to have a look at their website to see if they offer a brake kit for the AE86.
And they do.
The Hoppers Stoppers big brake kit consists of AUII Ford Falcon twin piston calipers, AUIII Ford Falcon 290x25mm discs, new lines, replacement hubs, brand new pads and any other little nut or washer that you might need.
I have this kit currently and I cant say enough about them! They are fantastic, simple to fit and come with detailed instructions. We had this kit on my car within an hour at my mates workshop.
Two major items that need attention when using the Hoppers Stoppers kit: 1. a larger master cylinder upgrade is needed. Something like a R32 skyline master or PBR 1-inch bore master is recommended by Hoppers. As yet i havent done this after a year of having the kit fitted (its on my to do list! i swear!)… But i really havent had an issue. It has a fair bit of pedal travel, but once they bite hang on!!
2. The caliper may make contact upon the front swaybar and it pushes the caliper pin in so the caliper does not clamp. As I have an aftermarket 25mm swaybar, it contacted with the caliper but i dont know if it would with a standard swaybar. This problem was solved at Superior Suspension by getting the swaybar bent so it sat on the inside of the adjustble link.
I have used these brakes on the track and they have immense stopping power. While at Wakefield Park circuit, Matt Mead threatened to steal them, another mate was thrown out of the seat on the Fish Hook and Virgillio almost slid out of the driver seat when driving my car!
At $1150 delivered any in australia, it's a bargain. You can also option coloured calipers for $50 (I did), slotted rotors $50 (you'd be stupid not to)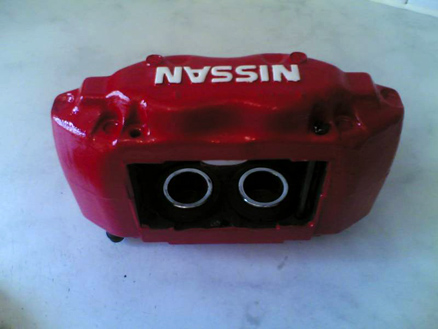 SKYLINE BRAKES
Probably the most common brake upgrade going around for anything but an AE86. Very very common upgrade on most Silvia's as it much larger than the Silvia brakes.  With that in mind those of you with S13 suspension up front should really look at this is almost a direct bolt on for S13 struts and hubs. Its been done so many times that any information is quite readily available too.
Being a large 4 piston caliper and using a 300x30mm disc this set up will just squeeze under most 15″ wheels. This set up could be used for the standard AE86 hub but new brackets would need to made to space them just right and also hubs to suit and bearings too.
A larger master cylinder is going to be needed so an upgrade to R32 master cylinder is best. The skyline brakes have proven themselves numerous times on other cars and everyone know their performance, so no explanation is needed.
You would have to be keen and really only if you have S13 hubs should you consider this brake upgrade.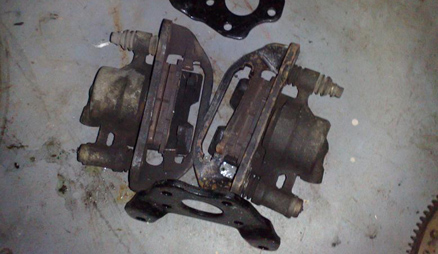 JDM AE86 BRAKES
This is probably the simplest upgrade for an AE86. Its direct bolt on, everything lines up and all you need is the calipers.
Coming with a slightly larger vented disc and larger single piston caliper compared to the "super fade" solid discs and puny calipers the ADM AE86's came with, coupling the JDM brakes with some good pads and braided lines will give your AE86 excellant stopping power on the street and moderate stopping power on the track.
Doing this upgrade sometimes is not completely financially viable. Most likely the calipers will cost a few hundred dollars plus a rebuild kit for the discs (would you want throw on some second hand untested calipers which have been sitting around for ages on some dock? No, you would't.), new discs and pads. If you compare that against the AJPS FC3S brake upgrade which is 4-piston VS single-piston. The AJPS kit may be a little bit more, but you get a much better set up out of it. I know which one I'd go for if given the choice…
REAR BRAKE UPGRADE
Having searched far and wide on the internets, as yet I have not found a simple, not stupidly expensivekit that isn't using unobtainium parts. What it did find was info regarding S13 rear calipers and disc, a Toyota upgrade, and something out of left field.
First up the S13 calipers and rear discs are great being 254mm and a decent sized single piston caliper. The calipers are not a direct bolt on, but the discs are. The calipers need a spacing bracket to sit in the right spot, but these will be a custom job unfortunately meaning time and dollars.
The Toyota upgrade is a direct bolt on for the T-series using MA/RA40 or MA60 rear calipers. The calipers have a larger piston than the T-series, and also using a larger disc at around 250mm.
Great I hear you say!.. Err, not really….
You see, the disc has a larger centre bore than than the T-series, meaning that if you fit the rear disc it will not line up correctly. Unfortunately you can't just add the calipers to a standard T-series diff as the MA disc is thicker at 18mm, compared to 12mm for the T-series.
Lastly out of left field you can use MKIV VW Golf calipers (97-05) which are a direct bolt on fitment with a twist. By using Nissan Primera discs!
Using the Golf calipers all you have to do is flip the caliper mounting bracket to space it correctly, and flip the handbrake connector (doesnt make a lot of sense to me either..). The Primera discs bolt straight up having the right PCD..
BUT heres the rub: In Australia VW Golf calipers are quite expensive being close to $400 each, as the car is not that cheap to begin with. Secondly we didnt get the Primera, we got its nugget cousin the U13 Bluebird, and to a lesser extent the Pulsar. Both of which have a 4×100 PCD, which doesn't help at all.
So at this stage there really isnt many rear AE86 brake upgrades. My suggestion would be to go for a set of slotted rotors from RDA or DBA. If you can get vented all the better, otherwise spend up big on some unobtanium custom job.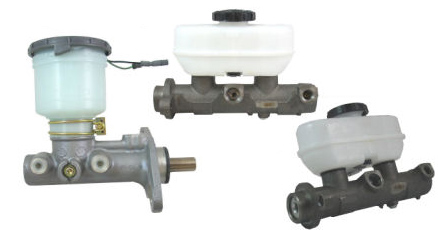 MASTER CYLINDERS
So you've decided on the brakes you want and got it all installed and working great. But the brake pedal is really mushy and takes a big hit before biting.. Well, it's new master cylinder time!
Using a larger master provides greater pressure to the lines much quicker during the pedal stroke, thus allowing for faster response from the calipers. This means instead of the big stomp you needed before to stop now only requires only a brush of the pedal to wash off speed. Nice!
With the majority of the big brake kits you will need a bigger master cylinder. Whether you go for a PBR 1″ bore master (or similar) or the perennial favourite the R32 Skyline non-ABS master. The R32 master is 15/16 of an inch (24mm) or the smaller S14 master at 7/8's (22mm), both will bolt up fine but both require some changes to the hard lines.
There has been some talk around the LS400 (Celsior) master cylinder, Landcruiser master or the Mitsubishi Pajero master fitting, but as of yet i can't find anything solid to back this up. The Landcruiser and LS400/Celsior do line up but it is my understanding that it requires some parts interchanged from the AE86 master to work.
A master cylinder is fairly cheap ranging from $50 for a second-hand Nissan master, up to $200 for a brand new Wilwood unit. Whether you install it yourself or take it to a shop, it only takes an hour or so to fit up so you really have no excuse not to (yes shuddup, i know im being hypocritical here..).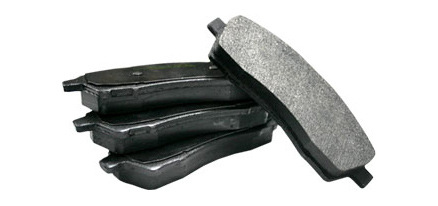 PADS AND BRAIDED LINES
Braided lines are fairly simple. They replace the factory rubber lines from the masters to the brake calipers/drums preventing the rubber lines from expanding under too much pressure or fluid over heating.
Upgrading to 'performance pads' is a big bone of contention with anyone involved in the peformance scene, as what works for one person and how it feels is completely wrong for someone else..
If your car is mainly a street car some upgraded 'performance pads'  is all you'll ever need. Using upgraded performance pads will give you more bite than regular pads and also give you greater feel at the track. If you go for any of the big brake kits (280mm disc or bigger) above this will be all you ever need as you have immense stopping power as it is. Remember you've only gotta pull up 950kg and most of the big brakes are for much heavier cars, at least half as heavy again..
'Race pads' are really for serious cars or track only cars. On the street 'race pads' are not a good idea as they take quite a lot of heat before they will bite properly and feels as though you have no brakes at all. With the low speed and constant stop starting of the traffic flow on the street your more that likely going to end up in the rear end of the car in front using 'race pads'.
On the track with 'race pads' watch out. Once the pads have enough heat in them they will bite, and bite hard so be ready and hanging on tight. The harder you abuse the 'race pads' the better they are as they are constantly keeping heat in them, but too much heat and the pads will go off and be useless again.
So there you have it, massive stopping power to go with your new engine set up. Set up correctly you be doing endo's in no time!