It's been a while but I wanted to finally share some of my past adventures at the International Drift Series (IDS) over the past 2 months here in Europe. So far there have been three runs of the pro class and I will give you a short rundown on whats been going on!
1. Run @ Nordschleife
This run was held in the driving center of the Nürburgring in Germany during the 24hour race. It was my first drift race so don't be too hard on me! :)
Crazy dirt drop!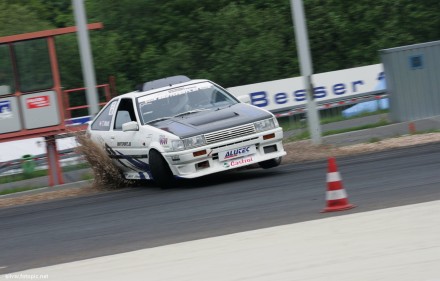 The course was very tight and the first judged section was uphil to a very tight right hander and down again.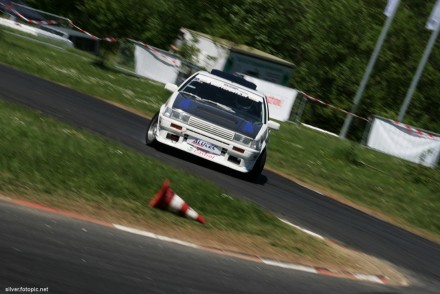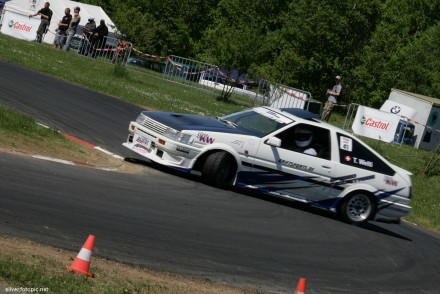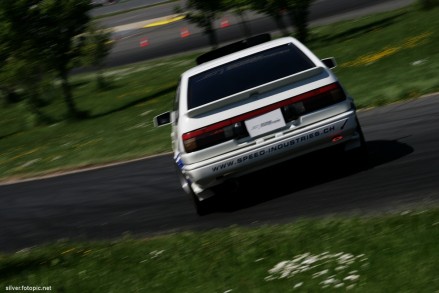 Power was missing a bit here but I went almost into the limiter in second gear. Practice was ok. Then came qualification for the twin battles. Prior to this I switched to other tyres on the rear and then pulled up to the start.
As there was no running order I wanted to wait and see how the others were doing. Unfortunately I got really nervous. So then I jumped in the car and got in order. The warm up lap was on and what happened; I spun at the first corner into the grass, killed two small trees (sorry mother earth) and almost hit some poles.  I also realized that my rear wheels are a little less wide and the car was much more nervous. Ok now I really was nervous!
I did my qualification laps and spun 2 out of three times. Unfortunately I did not qualify for the twin battles (top 16) and ended up 20th. Just to redeem myself, I was doing the whole tricky thing in the evening free practice session. Too bad I did not drive like this during qualification!
I am the light drift version of the Stig. (hehe)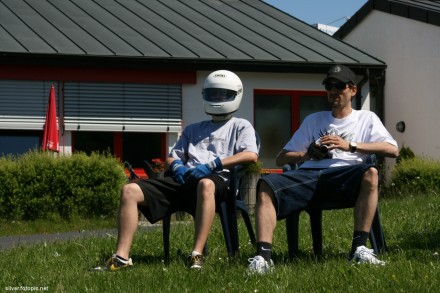 More pictures and videos over at driftforum.de
2. Run @ Oschersleben
This run was held during the biggest Opel (your Holden) meet in Germany. First I thought, this will be interesting due to the crazy drunk guys whit their ridiculously underpowered bling bling cars. But after a 11hour drive we arrived there and the track was looking really good. A full FIA certified track which also holds FIA races every year. I couldn't wait!
This is how we roll!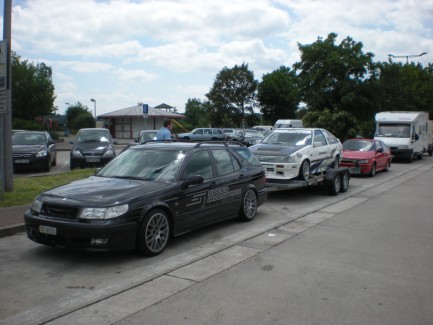 First day was just practice and the track proved to be veeeeryy fast. I did everything in 3rd gear with hittng the rev limiter a couple of times just before initiating the drift. Here it really proved that a little more power then my 130-140hp would be better.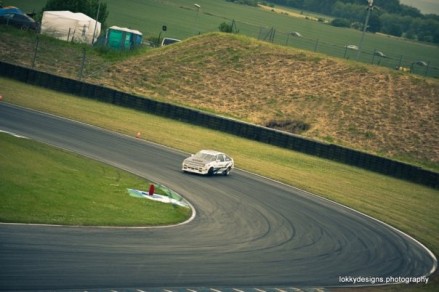 Anyway I went all out all the time and was running good all day long. Unfortunately my exhaust broke and the car got even louder (the Kakimoto is already quite loud). We called it a day and searched for a shop to do some welding. We found one but they were just closing. They told us to leave the part there and come back next day.
First thing in the morning next day we went back to the track, got everything ready and headed for the qualification briefing. Half way trough I had to leave to pick up my welded exhaust. I arrived there and of course nothing happened so far. I kicked some ass and a little later we took off with a welded exhaust. Back to the car, mounting the part, take the car off the stands and get ready. Then I had a little practice time left and made the best of it.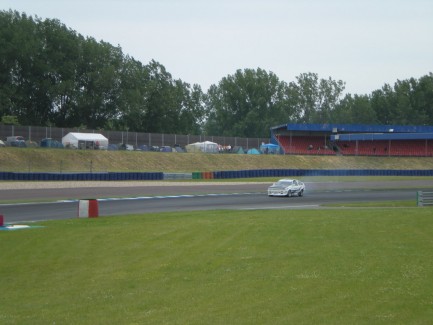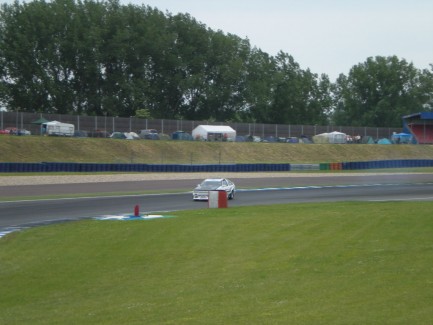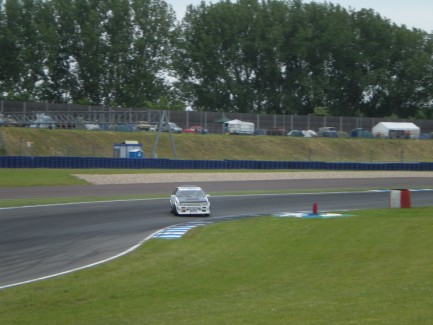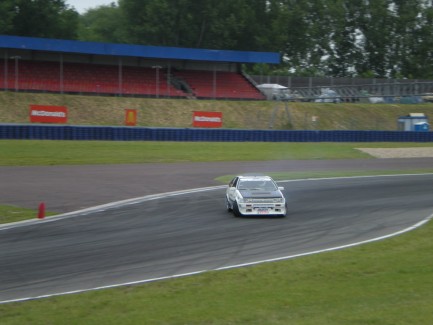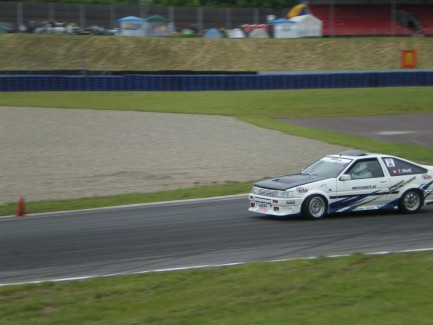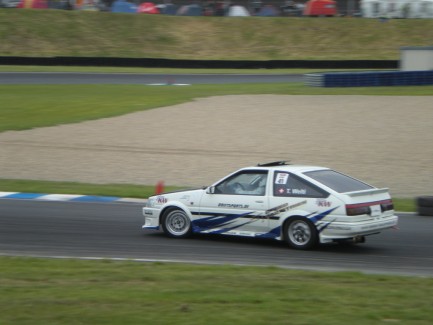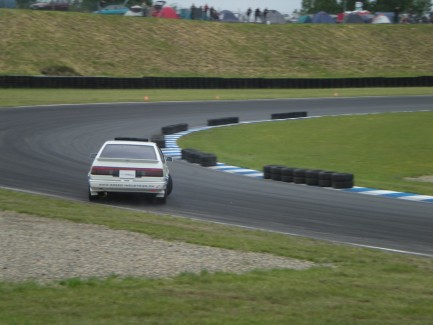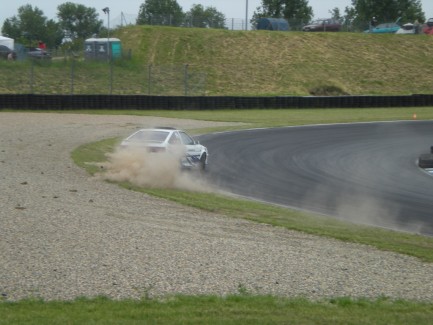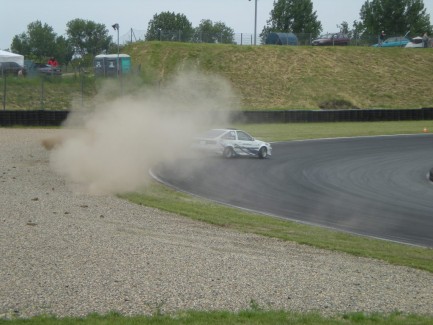 Then qualification came! This time I did not want to wait until late so I got in line quite early and got into the second starting group. Just as I did my first qualification lap it started to rain. As I approached the first judged section, I was thinking a cool that will help my underpowered car. Wrooooong, spin. The rubber on the track got really slippery.
I spun out in the first section all three times and managed 2 out 3 a half way decent second section. In the end I could not adapt to the changing conditions as fast as needed and ended up 17th. Did not qualify for twin battle (top 16)…. Damn that sucked.
3. Run @ Nürburgring
Unfortunately I could not attend this one. I heard it was lots of fun wit lots of uphill drifting. This was held on parts of the Nürburgring GP course and as I know it from previous testing there it would have been very hard with my power to get some good runs.
Conclusion:
I am quite unexperienced at this point and this season I just want to learn. My season goal is to qualify for the twin battle at one race this year. Some times my driving sucks, sometimes I miss power and sometimes the conditions are just to hard for me to adapt that fast. I do think tough that with the car in the starting grid that has the least power I will learn a lot and have already. Right now I am also working on getting much more power into my car since most other areas are taken care of more or less. Hoping to bring it up to 220-240hp in a bit (details will follow).
There supposed to be 4 more rounds this year with one not certain at this point. We will see what the future brings!