That's right boys and girls! After much research (and arm twisting) we are going to Tasmania for the HR AE/KE Annual!
Previously we have been to Sydney, Queensland, Melbourne and last year Adelaide, and each time the Toyota fanatics  have put on a good show for the outsiders and taken us all to some of Australia's best driving roads.
So now, we are heading to possibly Australia's best driving state to see what the Apple Isle has for us!
On the Friday the interstate attendees will be heading to Melbourne to take the Spirit of Tasmania ferry across Bass Strait (which I'm told is a very bumpy trip…) and make land very early the next morning.
That Saturday we will make our way to Hobart and drop off our gear and get set for some go-karts. Saturday night we will hit the town in style with our Taswegian brothers and sisters and be shown a good time! Going on past years experiences,  anything can and will happen…
Sunday will be the traditional touge drive and BBQ day. I have been made privvy to the roads we are going to be taking to and it looks amazing! There will be mixed sections from Targa Tasmania, hidden roads and some of the best blacktop Tasmania has to offer!
Now, this is where it gets interesting….
Apparently the boat to Melbourne doesn't run on a Sunday night, so we will have an extra day to rest and recouperate OR hit up more Tassie roads!  Night touge I hear you say? Indeed…
Getting the ferry to Tasmania unfortunately will not be cheap but its a once in a lifetime oppurtunity and would be well worth the price of admission. While travelling on the ferry you will have the option of a bed or a ocean recliner for the 10hr trip across the water. The ocean recliner is cheaper than a bed but is also more uncomfortable…
Accomodation will be located near Hobart, as thats where all the action is! It will most likely be a dorm style accomodation to keep cost at minimum.
While we are there, we will be directed by our fellow Taswegians Pat and Delazy, who's very arm twisting and hard yards made this event happen – This I am VERY thankful for.
All info you need will be located in this thread so if you have any questions put them there on the forums: https://www.hachiroku.com.au/forums/viewtopic.php?t=7131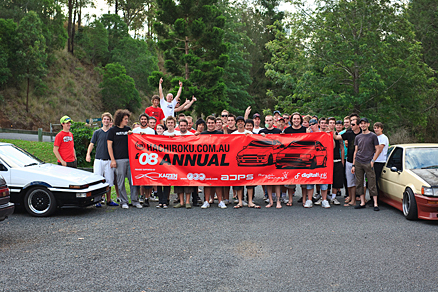 So get yourselves ready, get your cars set and we will GO FOR IT! TASMANIA HERE WE COME!!