Today we have the first of a few interviews on the people behind the HR blog.  Adam is one of the driving forces behind HR Blog's editorial content and specifically the writer of the much loved AE86 Tuning Guide. We catch up and talk shop with a die-hard member of the 'AE86 For Life' crew.
Background on yourself?
Umm.. Im 27, tall, dark and I like long walks in gutter while its raining.. Ok maybe not….  I work in finance now (how's that, someone who was terrible at maths is now managing money…), but I've had many jobs over the last 10 years. I also have a diploma in 3D graphics and animation.
I live in Sydney's Northern Beaches and have done all my life. According to Beau I eat Champagne and drink Caviar everyday and live in a solid gold house.
History of your car?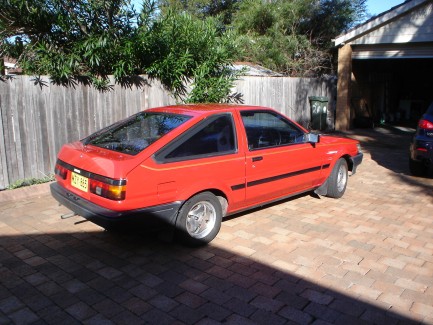 I've had the car for the last 6 years exactly as of the 17th of May. I previously spoke to the owner and was going to look at it on the weekend. But on that fateful day, the 17th May, my then girlfriend broke up with me that day. So I skipped college that day, drove to the central coast and bought the car.
t belong to a lovely old bloke, Barry who had had the car since 1989!  Barry and his son had plans to do the car up, but Barry's son lost interest and it was just taking up room. To this day I still don't know how I found it. I was searching on the internet for a car and something this fell within my search parameters.  It had the usual rust problems and most of that has been sorted in my ownership.
Why '86?
The AE86? I've always loved them. My first car was a AE92 Corolla, bog standard. I think this is where my love of cars and Toyota's stemmed from. After two years of ownership I was getting a bit tired of the car and wanted something different. I really didn't know what I wanted at the time, I had a list of 25 cars I was trying to narrow down!
I had an AE86 before my current red AE86. A white one, it was a sh*tbox. Rust everywhere, it had really really bad hail damage but drove ok. After that first drive i had to have it, so I bought it.
I just love the feeling of it. The low slung body, the shape, the way it handled (even if the suspension was half rooted..) just everything about it. I had an accident with it after about 5mths of owning it (long and paaaaaainful story)after that I knew I had to have another, which is where Mazy (my daily-driver) comes in.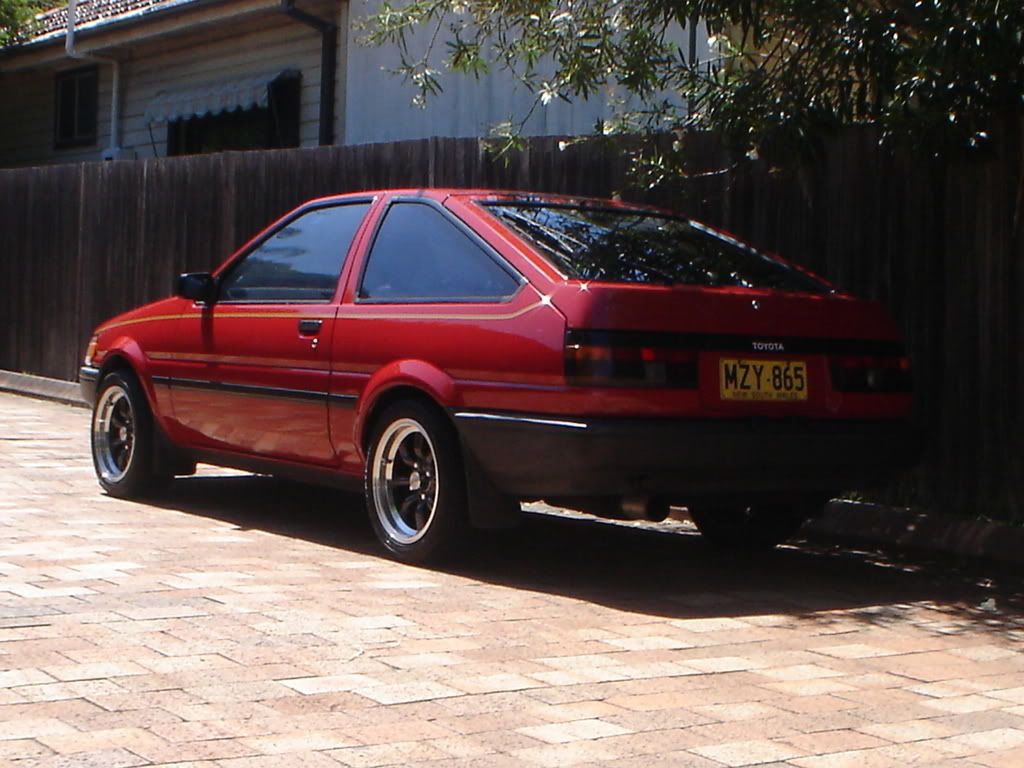 Happiest moment in your car?
I've got a few actually, the first time I got my smallport motor in the car. It was a marathon long weekend at John Bates' house (sprinterman68). They ripped the 4A-C out, and got my new engine up and running, and by 1am Saturday night I was driving very slowly home, running the engine in.
Second would be the HR Annual 2007 ; My first time on the track at Oran Park.  At the time I had just a Koni and King spring set up, and Whiteline and Cusco swaybars, and the crappiest of crappy ADM brakes up front. It was awesome just being on the track with so many AE86's, and drag racing Neil (selk) in his bigort Trueno and my smallport ADM. I had an off and clipped a tyre wall that day and only broke a headlight, but apparently it looked worse that it really was.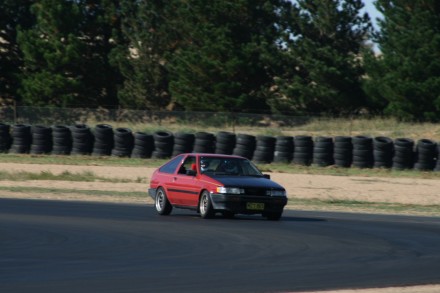 Third would be first time at Wakefield with my Greddy coilovers in. It was awesome that day, didn't have to worry about brakes or handling any more. This was the day I really got to know the car.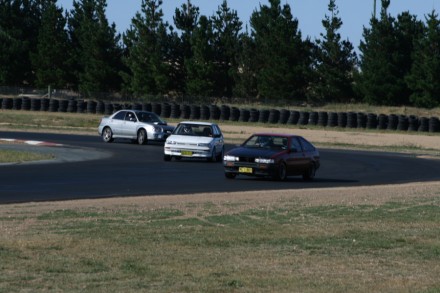 What got you into '86s?
It was actually price. It was one of a number of cars I wanted, but really the only one I could afford in the end.  Things like S13's, VL turbos, Rotaries, Corolla's, Pulsars.. even some out there ones like a BMW 325IS, 944 Porsche turbo and Laser TX3's!. The AE86 was always near the top of the list, but I still didnt know what I wanted… being a bit tight on funds didn't help either.
Seeing Initial-D not long after I got the white one, I think helped immensely. I was just so obsessed with how this little thing could be so quick and nimble! I scoured the internet trying to find as much info as I could about them, and found Toymods, then DC and HR.
What do you think of the '86 culture both in Australia and in your home state?
In Australia I think it is a great scene and we have a huge knowledge base to draw on. But to everyone else our cars are seen as a rusty Corolla's and don't quite understand the passion.
There is a massive divide between the die-hard AE86'ers and the new comers. That gap is quite hard to bridge and quite often most give up and move on, as they don't understand just how expensive and time consuming  it can be. Most people look at them as being cheap to build or run, and with NSW P plate laws more and more younger drivers are getting into them thinking they are cheap.
Here in NSW, there are a large number of AE86 owners but are very difficult to get together. They're are very spread out. Most live either in the Newcastle area, or around the southern parts of Sydney. I know most of the AE86 people in my area, but I hardly see any other cars.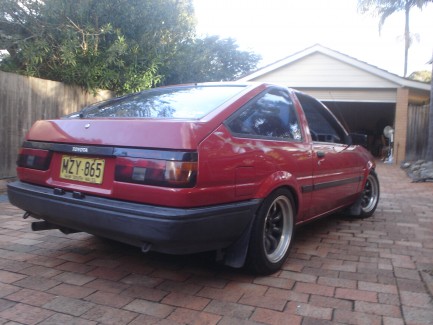 What are your future plans for your car?
Well at the moment is to keep it running. then a new programmable ECU, my AE111 quads, my HKS cams, and a couple of suspension bits and then hit the track again!  After that a bit of body work to go. My new wheels will be going on very soon 15×8 -4 SSR Dori Mesh. I will also be getting a fibreglass rear hatch with moulded wing, and a J-blood kit eventually. I'm also going to make up some new door cards, but you'll have to wait to see what's happening there!
I intended to keep this completely as a street car, so its not going to be quite as nuts as a stripped out race car but a close to a fairly hardcore street car. Ill also be looking at fitting a roll cage and few other tricks to stiffen up the chassis. Keep an eye out for it in the future!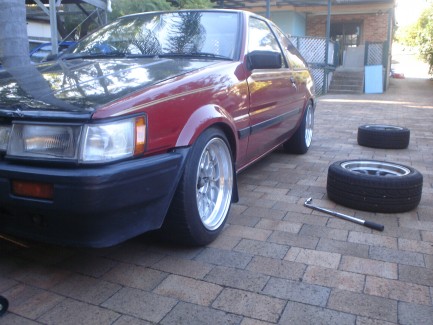 What's your preferred sin? Drifting, Grip, Touge or Show?
I prefer grip and touge. I love drifting but and have done it numerous times but I always come back to grip and touge.In fact I started out on the touge before progressing to the track. I still enjoy a spirited drive as often as I can and have a local road which is excellant for a short blast. At the moment I hit the touge more often than the track..
Shaved or full bush? (interior)
At the moment its just neat little landing strip…Just the front half of the interior is in at the moment, and the rest will be coming out soon including sound deadening. After thats done im just going to get a big single peice of black carpet. Thats it.
How long you hoping to own this sucker for?
For a very very long time. Ive had many offers to buy my car, and not once did I even consider any offer no matter how good.
Any thanks?
John Bates and Nathan for all your help car wouldn't be where it is now with out them. Beau Jones, because he knows what he done… Evan, for getting me my whole suspension set up and coming through in the end. Harley, for that "special" time at Annual 08. And of course my girl Lisa for putting up with everything.
Finally, please list the specs of your car
1984 ADM Sprinter
AE92 smallport 16v, rebuilt with Wiseco hi-comp pistons, balance bottom end
Ported and polished head
Ported cut and shut manifold
TRD copy extractors (this will be changing soon)
2.25″ full exhaust system
3.7kg Toda flywheel
Kouki T-series rear end  with TRD 2 way LSD
GREDDY type S coilovers
Custom/Whiteline 25mm adjustable front swaybar
Cusco 19mm fixed rear swaybar
Cusco panhard rod
Custom adjustable lower trailing arms. these are not rose jointed and use a nolethane bush, so i have best of both worlds. should really get some audjustable uppers too..
JIC castor arms
Hoppers Stoppers big brake kit. consisting of ford AUII Falcon twin piston calipers, AUIII 290mm discs front
Stock rear brakes. Will be looking at some slightly bigger disc's for this soon.
15×7 Konig Rewind all round. 15×8 SSR Dori Mesh to go on soon.
JDM fog light headlights, with no grill
Recaro rip off fixed back driver seat (so good it flexes on hard cornering!)
OBX reclineable passenger seat
Nardi Deep Corn steering wheel
Stripped rear half of the car