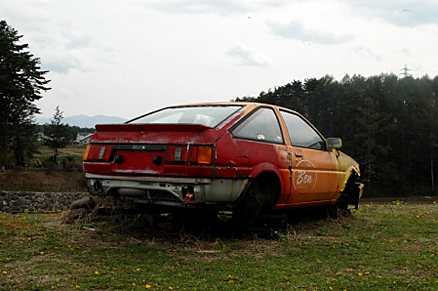 AE86 fanatic and all round good guy, Keisuke from 86 Fighters blog has a story about another abandoned child for us to mourn.
I was in Tateshina at my fathers Bach in Nagano Prefecture. Whilst I was down there, we were driving towards a small town called Chino.

On the way, an orange car dumped on some old tyres, beside a Dunlop tyre shop caught my eye… It was an AE86 Levin hatch!

I went to the shop and asked the shop owner what had happened…
It should serve as a small but ominous reminder for all of us to head out to the garage this weekend and do some much-needed work on our own hachi rokus! Read the rest of the article over at his blog. Love your work Keisuke!