The Ring. The Green Hell. Nordschleife. Nürburgring. 28 kilometres of twisting turning, off camber, death dealing mayhem. It is the most famous racing track in the world by far mostly due to it use by almost every vehicle manufacturer in the world to test their new high-performance models. Prestigious companies such as Ferrari, Lamborghini, Porsche, Audi, Nissan, and Toyota all test here year round: Wet, dry, hail or shine, all trying to be the best and fastest production car. But that's not all the ring is for…
It's a race track I hear you say, its not a public road!  Well actually its a public toll road. For about €30 you can get out on the track and hit it up with the best of them, or you could hire one of the 'Ring cars (such as a new M5..) and blow the cobwebs out… Don't expect it to be cheap though, at around €200 for the 'lesser' cars it all adds up fast and you have to be 25 years or older to hire…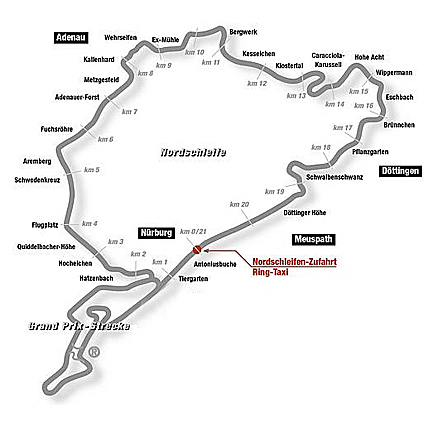 The track itself is riddled with large paintroller type graffiti, from 'Klaus loves Matilde' and 'BAZ'N'GAZ RING TOUR 98' to something more fitting like below…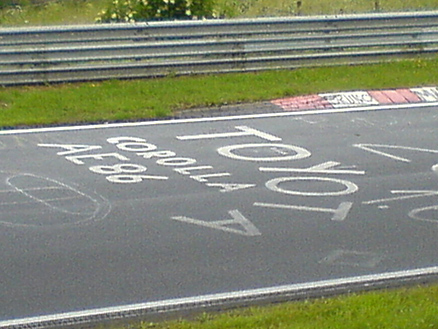 Just keep an eye on your mirrors, there is ALOT of traffic that goes a much faster than you.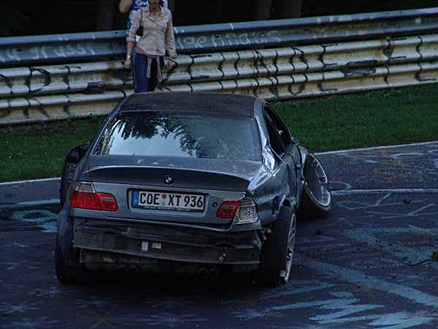 In the 70's according to the demands of the F1 drivers, the track was reconstructed taking out some bumps and adding ARMCO safety barriers. The  track also was made straighter, reducing the number of corners.
The new Nürburgring was completed in 1984 and called GP-Strecke. It was built to meet the highest safety standards, but was considered in character a mere shadow of its older sibling. Some fans, who had to sit much further away from the track, called it Eifelring, Green Party Ring or similar, believing it did not deserve to be called Nürburgring.
The ring, now, is still in use for high profile races such as the 'Nürburgring 24hr' for GT race cars and anyone capable of piloting it, like our lucky european friends below.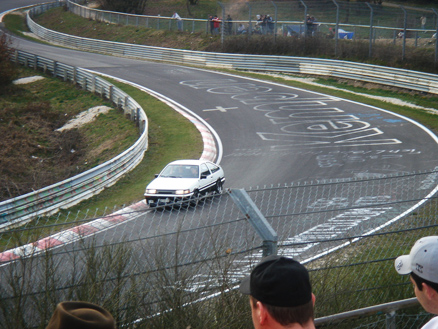 To get an idea of the Nürburgring, here is a record setting lap in a Radical (that's the brand not the adjective) SR8

You can also check out the start line live feed from this webcam.
All Photos Copyright Their Respected Owners.