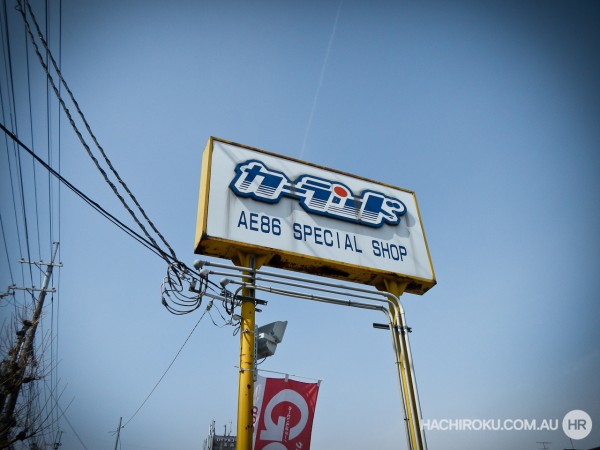 Back in February, I took a trip to Japan with a bunch of friends including tuner Anthony Kellam from Kaizen Garage and Queensland AE86 drifter Sam Holz. We braved the cold morning in Osaka, jumped on the Shinkansen and set off to find the shining star of the Kyoto AE86 scene.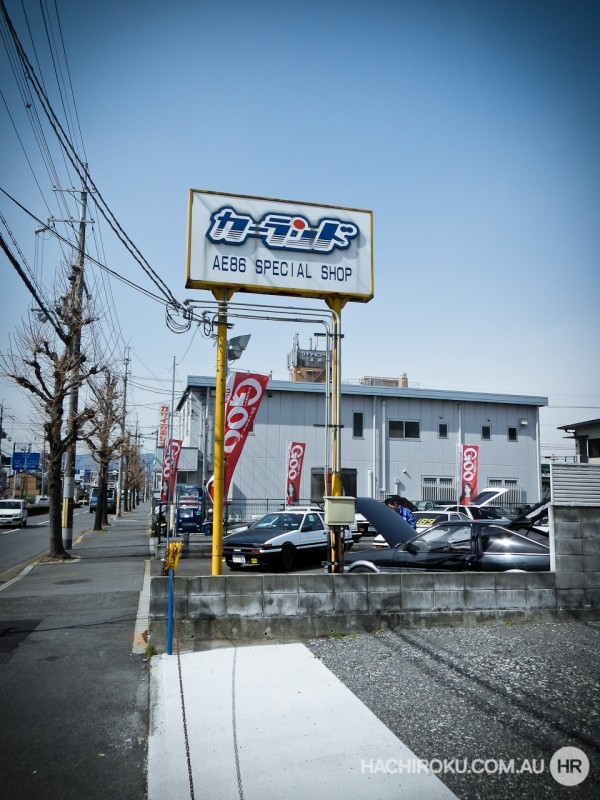 After jumping off the Shinkansen at Kyoto station, you take a short walk to the local train area of the station and buy a ticket to Kamitobaguchi Station. As you exit the platform and walk down the street this is the sight that greets you.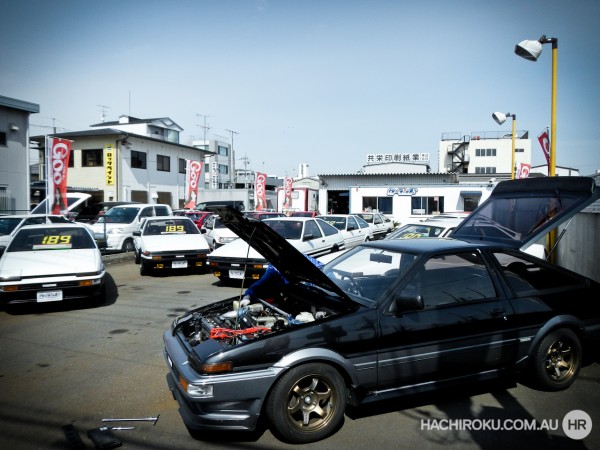 Located in Kyoto, Japan, Carland has been instrumental in the restoration and maintenance of the whole AE86 community's cars by way of their insane AE86-exclusive workshop and dedicated mook (magazine-book) "Toyota Levin and Trueno Magazine" published by Tatsumi Publishing.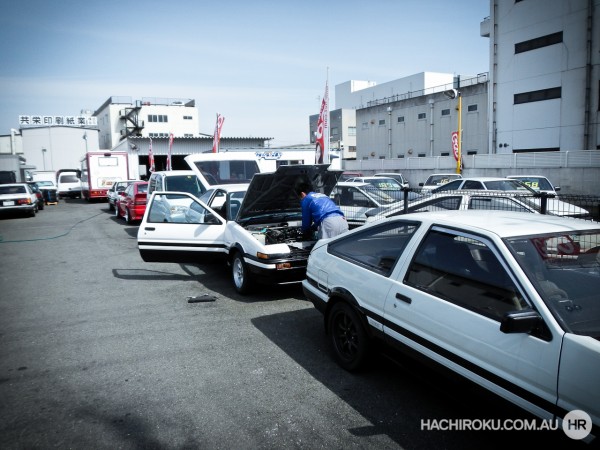 We arrived and it was pretty damn early to be honest. After a few courteous greetings of 'Ohayo Gozaimasu!' to the various staff who were tuning up various cars and cleaning down the AE86s on the lot, it was straight into full-speed ogling!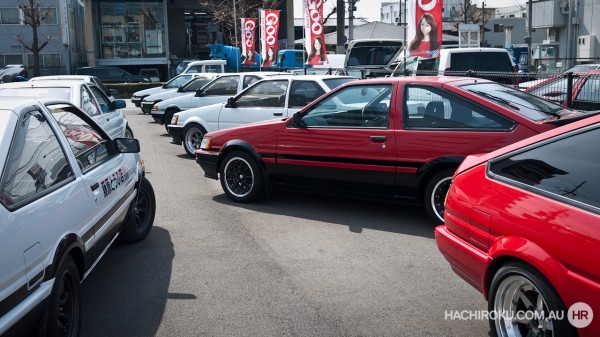 Carland offers all kinds of hachiroku related services. They sell high-end AE86s, offer their own tuner parts, refurb used parts and do major body restoration work.
The man behind all the AE86 dedication is Tokuchi Masahito, often seen in his trademark silver spray jacket in the Toyota Levin and Trueno Magazine mook.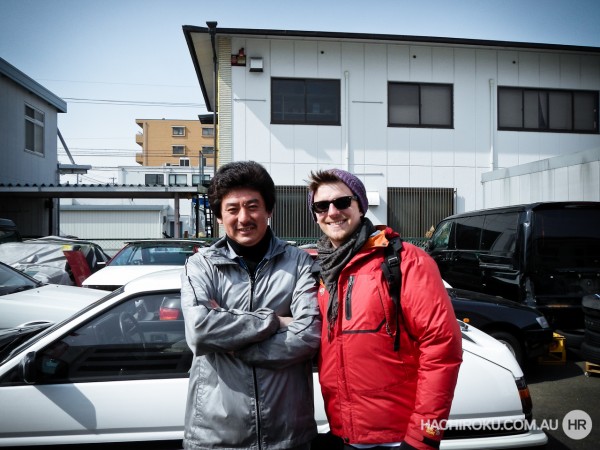 I managed to wrangle some badly spoken Japanese with Masahito-san to convey just how popular his workshop and magazines are with Australian AE86 enthusiasts. He laughed (I can only assume at my terrible Japanese!) and thanked me while saying was surprised that we made the journey so far 'to see his little shop in Kyoto'!
We grabbed a quick photo and he was back inside the garage under the bonnet of a nice black AE86 work in progress. Dedication.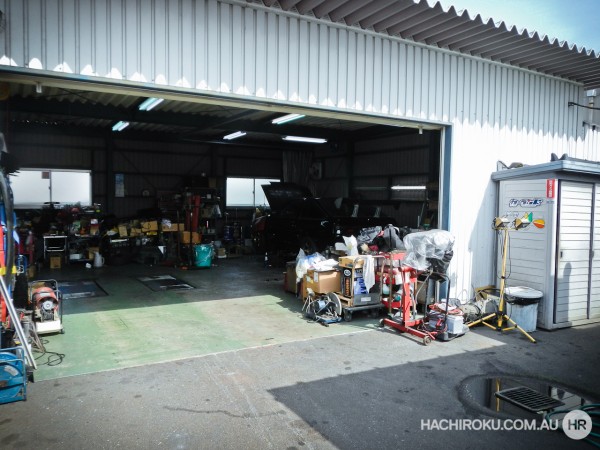 There it is hidden back there amongst the Toyota Genuine parts boxes. Keep your eye on the next Levin Trueno Magazine!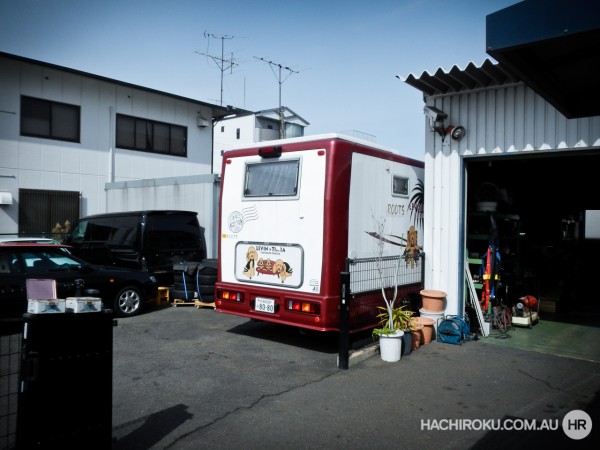 Those of you familiar with the magazines wil recognise the RV from their meets…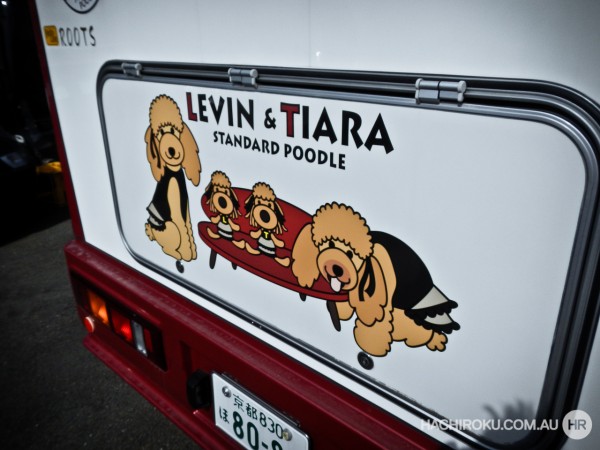 ..as well as the illustrations of their two poodles who sometimes feature in the backgrounds of magazine photos too!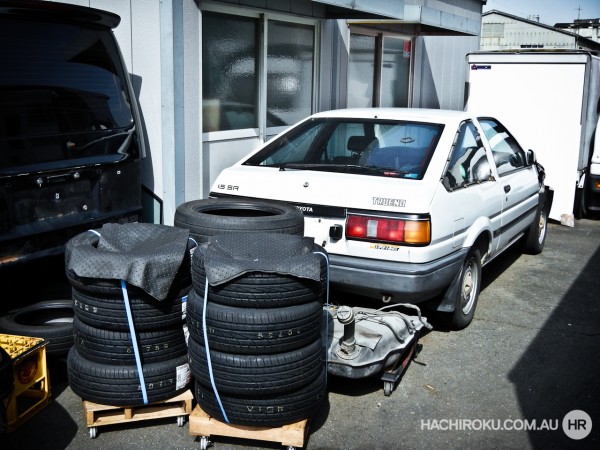 Hidden back behind the RV was this old 1.5 SR Trueno AE85. A zenki model with a single whiteline tailight and no front guards, we can only assume it's a parts-bin.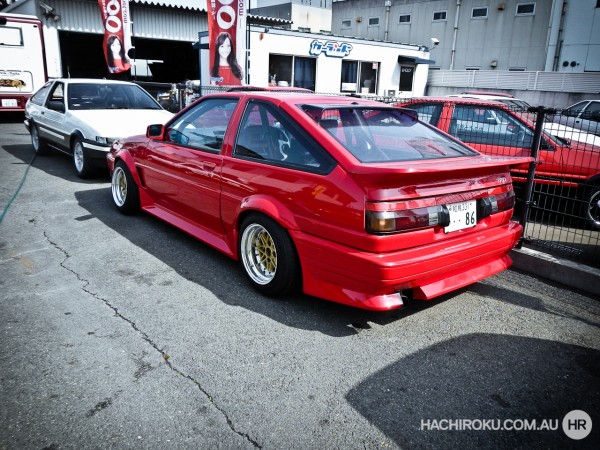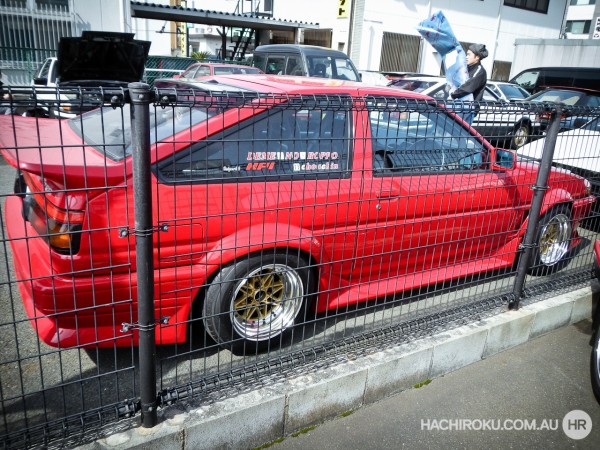 Obviously not a scavenger wreck was this blood-red, immaculate drift-ready Trueno. Probably the most modified car on the lot.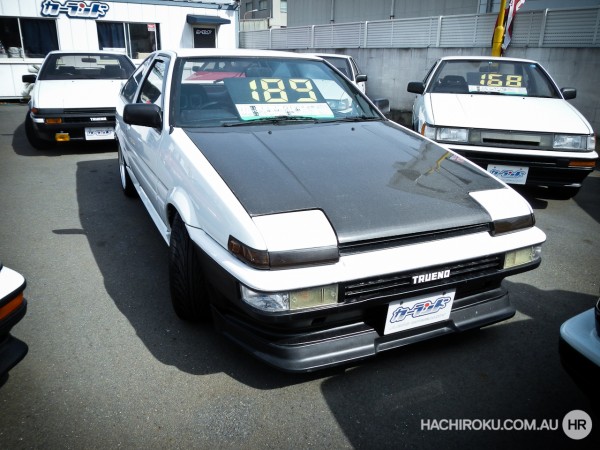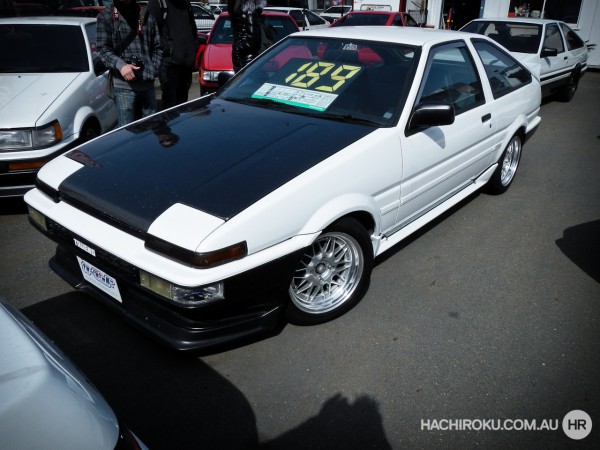 Pre 'green-era' Tsuchiya styling down pat – Memories of old Best Motoring videos were instantly vivid. The price of ¥1,890,000 comes to about $22,000AUD if you were wondering..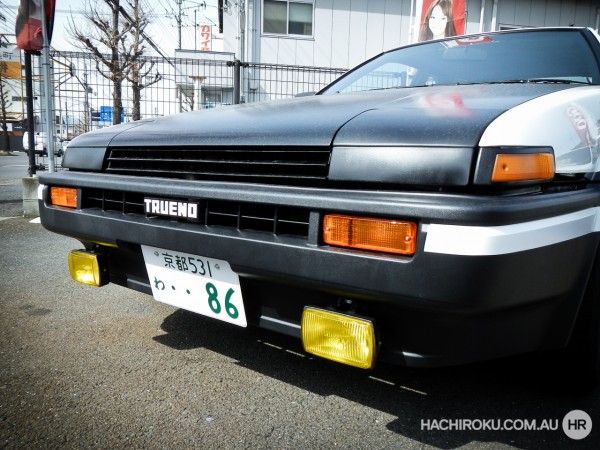 The trademark Carland car. 'Fujiwara' edition zenki Trueno 3-Door AE86. All canon details all the way down to the steering wheel!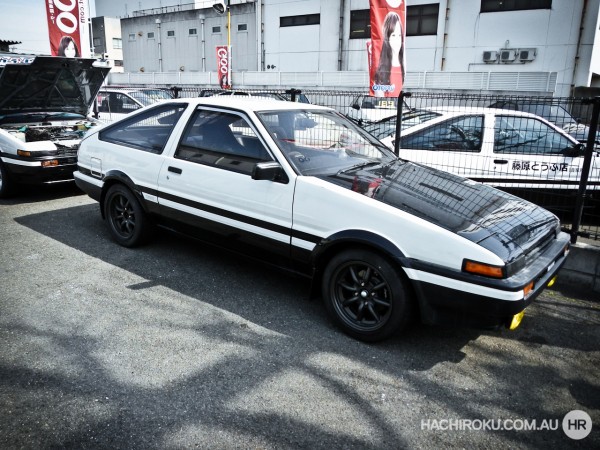 and another variant with some (t00) sensible offset wheels.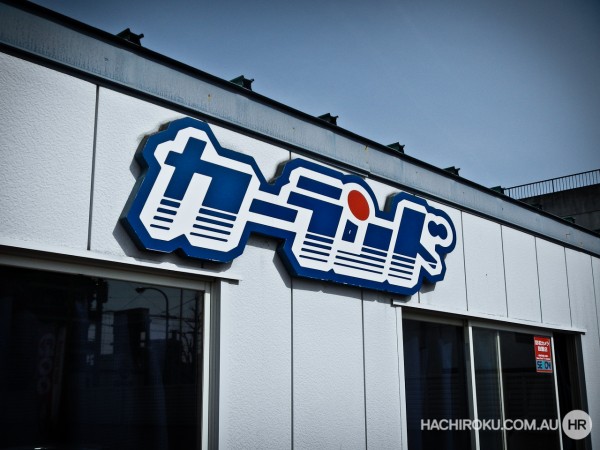 The modest 'office' (where the dogs sleep in the air-conditioning!)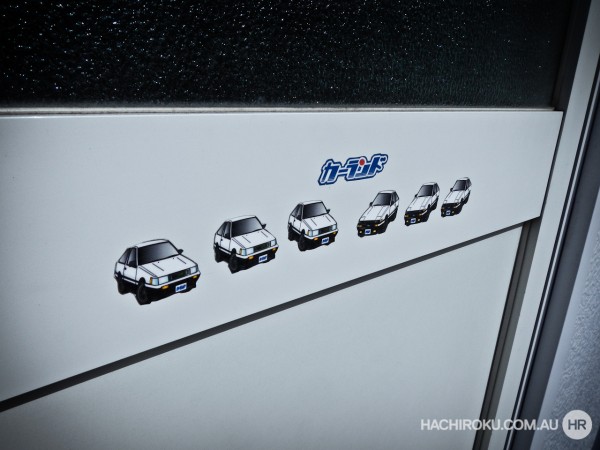 And the cute stickers on the door in!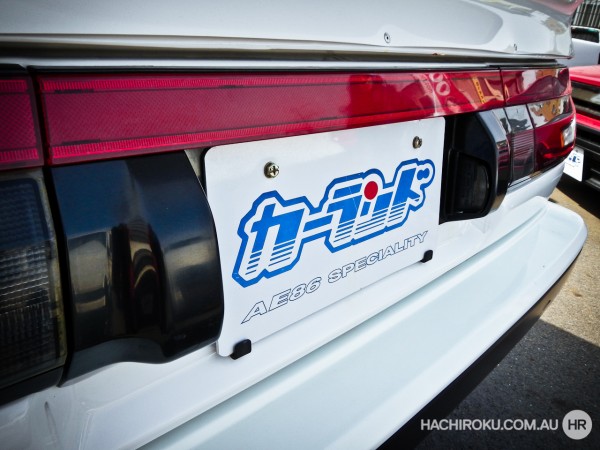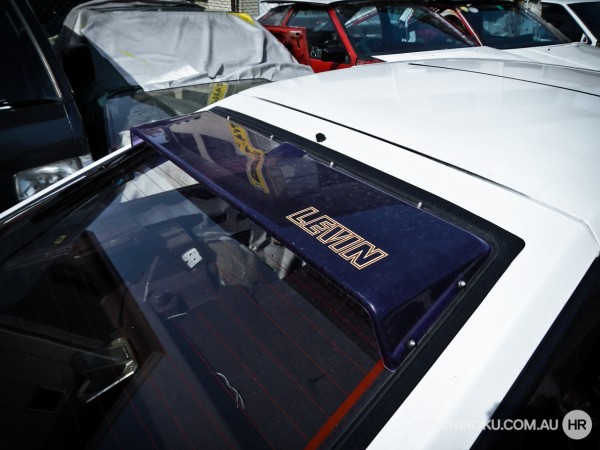 Somewhat rare optional 'visor'. The decal was in perfect condition, I can't imagine where they found such an awesome piece.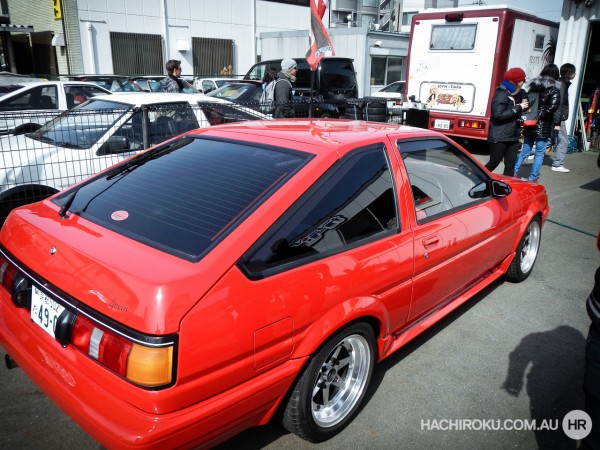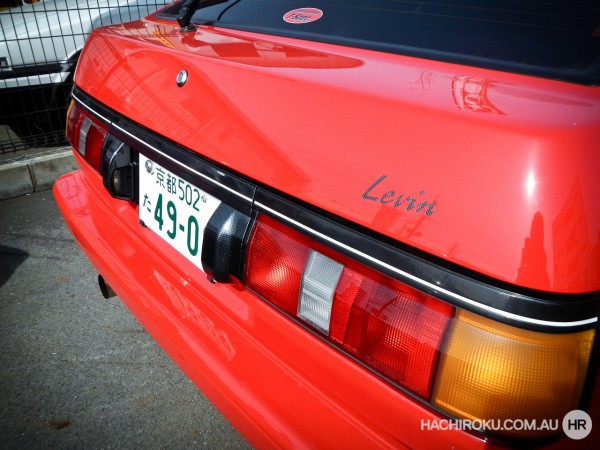 This car was Immaculate. Old Badges made new again in carbon fibre vinyl…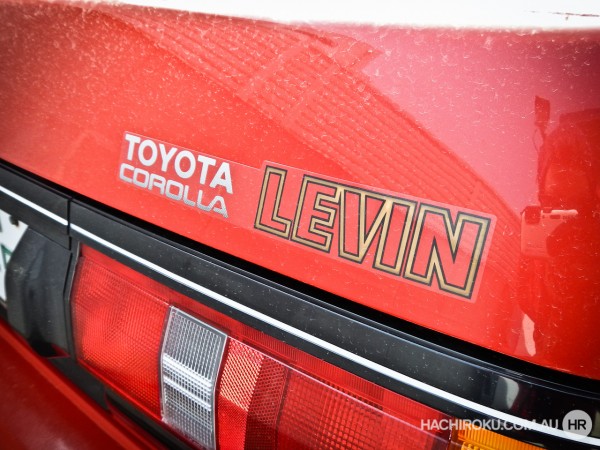 .. and OEM kouki decals in perfect condition on another kouki Levin.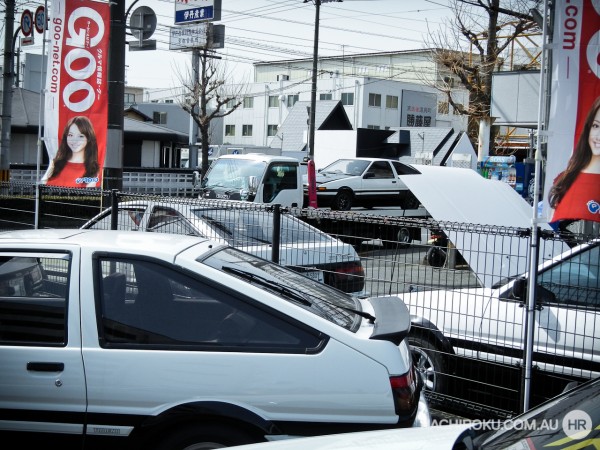 While we were there, another new arrival turned up on this flatbed. Surrounded by so many perfect examples, it must pain them to see them come and go so often.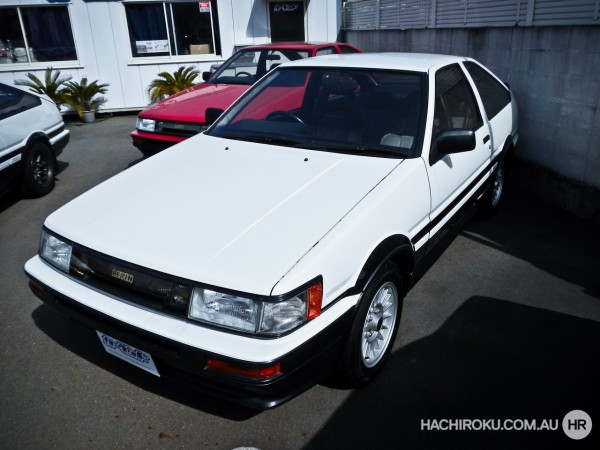 Kouki Levin 3-Doors were a dime a dozen. You just can't beat those headlights!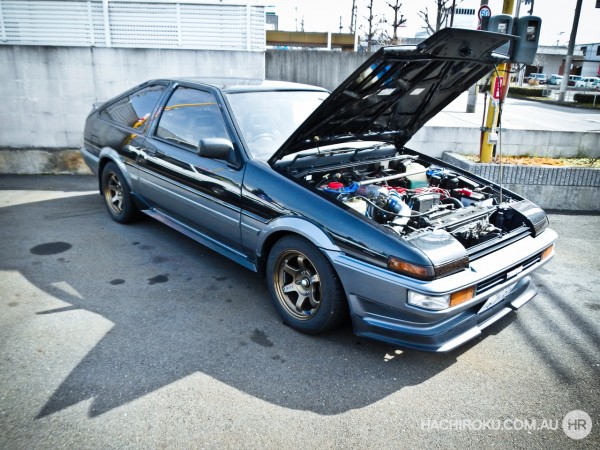 The old 'zenki lip on the kouki bar' attachment. The favourite colour scheme of the day too.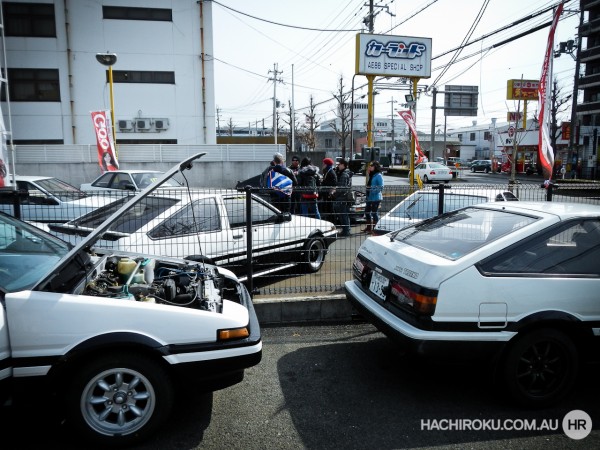 Gaijin huddle amongst the classic metal!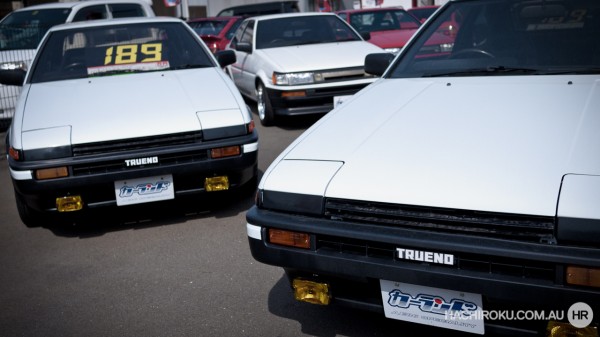 The Triple Threat!
Stay tuned, we have tours of Tec-Art's, RunFree and Tomei coming up soon!