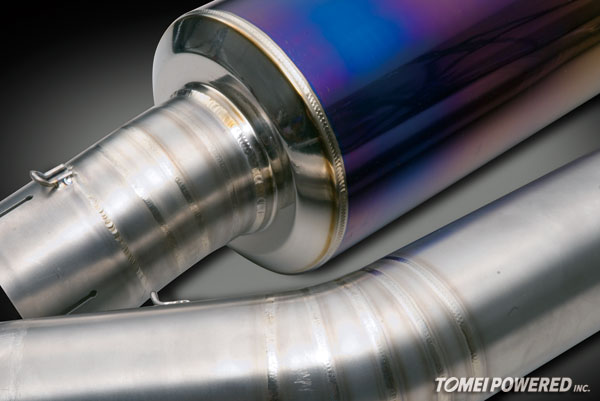 HRs own Allen Lorenzo who works at Tomei Powered in Japan has been striving for years to push Tomei produce more AE86 parts, but after a lot of persuading it's about to get better! He writes:
AE86 brothers, your support is needed! It has taken me years of persistence and finally I am close!
The head management at Tomei Powered Inc in Japan is now considering going ahead with the development and production of a Full Titanium cat back system for the AE86!
Yes that's right, FULL as in the piping and hanger arms are completely 100% Titanium!
The only parts that aren't Titanium are: 
– The springs that connect the piping.
– The Clamp Band that connect the piping.
However, the prototype hasn't been made yet, so more details will come later if it gets the go ahead.
FYI: The Tomei EXPREME Ti for the MITSUBISHI LANCER EVO 10: weight comparison is:
– Stock is 20.05kg (44.2lbs) 
– Tomei EXPREME Ti is 4.4kg (9.7lbs) 
For full details on the product, view the official blog here.
Ref: My Toda Racing stainless steel cat back system weights around 16-18kg from memory.
As you all know, the key characteristic of the AE86 is being lightweight. For those of you whom have been fortunate enough to have a right in a sub 800kg AE86, at full throttle, high speed drift or at the limits of circuit driving, will understand the difference.
So I urge you all, please complete this simple online survey, so that the key members at Tomei can see your valued comments.
In the comments at the end; please feel free to add any other requests.
Even suggestions on: 
– Pipe diameter size (due to regulations in events or laws in your country/region).
– Layout (over the rear axle or under it).
– Tail tip diameter; nice cool subtle size or a big ass American sized cannon! 
– The exit angle of the tail pipe (straight out or on an angle)
– Straight / De-cat pipe; (do you want it included with the kit or not).
Complete the survey HERE
PS: Even if you're not going to buy it, please spread the word and get as many enthusiasts  as possible to complete this form!