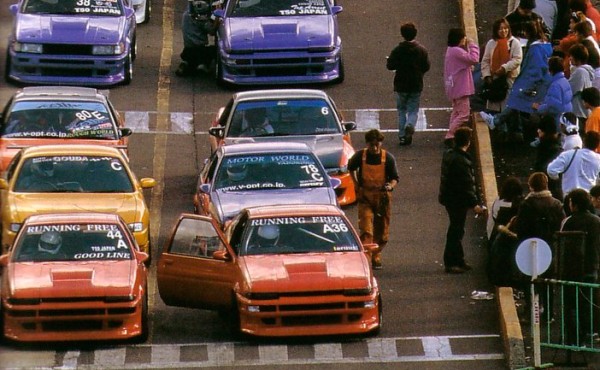 Back in 2009, Jeroen Willemsen from SPEEDHUNTERS asked us to write a guest blog for their massive site about the AE86. Jeroen writes:
"Rod asked me to make a top ten list of the best and most influential AE86's. I'm no expert on everything Hachi, so I decided to ask some of my friends from Australia who run HR – the best hachiroku blog on the web – if they could help me out and they happily obliged. So here you have it, the top ten most influential AE86's through the eyes of Adam Hocker and Garth Ivers."
We tried to make the article as international as possible so there might be certain cars you guys think should be in there. So don't hate us for leaving out your favorite car :) As for Akira Iida's '86, Hasselgren, etc they were up there with the others but when there's only 10 to choose from… well you know!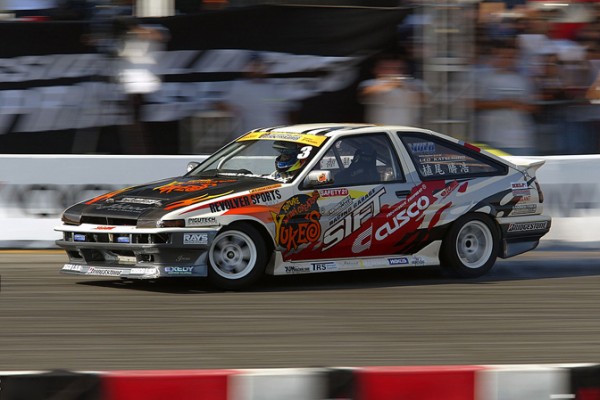 Ueo Katsuhiro's SIFT Trueno
Almost everyone has seen the video's on YouTube of this man madly flinging his Trueno sideways into all sorts of corners and toppling the world's past drifting giants with his modestly powered D1 machine. Just mention the phrase 'hachiroku.mpeg' to any old school AE86 fan and they will be on the same page: 'I just love the way he kicks that clutch pedal to death!'
Every time Ueo went out to the track it was a always seemed to end up a David vs Goliath battle. The small capacity naturally aspirated 4A-GE up against much bigger and badder competition such as the HKS S15 driven by Nobuteru Taniguchi, the then newly completed FD3S RX7 of Youichi Imamura and of course the lime green S15 of Yasuyuki Kazama.
Most of the D1 stars started out on their local touge in an AE86, and progressed on to bigger and better things, often bigger and more powerful cars. Starting his drift career fairly late in his 20's, Ueo soon rose to fame with his 'balls to the wall' all-out approach to drifting. However, at the same time wanted to stay with the AE86 to prove its equal stature to the newer and more powerful cars.
Ueo entered at the time when D1 was expanding rapidly and as a result took on all comers. After winning the opening round of the 2002 D1GP season, it seemed to be a steamroller season with Ueo winning the D1 title mostly uncontested.
His fame continued in the first round of 2003 at the first ever American D1 USA round held at Irwindale Speedway. Those of you who have seen the Irwindale track layout will know that it is a course that favours the larger much more powerful cars and punishes the smaller underpowered hachiroku the most.
This would be the stage for the most memorable moment for the car and Ueo. At Irwindale Speedway where the extremely long sweeping corners are banked high and steep, armed with his secret-spec camshafts, crazy NA tuning and wild driving style, this humble Trueno took on the best… and won!  Following the Irwindale event, Ueo came back to Japan only to have mechanical issues throughout the entire 2003 season, eventually dropping out in 2004 due to the rise of massively-powered machines entering the competition.
So many of these infamous videos show this car angled 90 degrees to corners coming hard and fast, putting to shame much bigger and powerful cars with the extreme speeds and angles carried by this little car and it's equally mad driver. Ueo also took his Trueno to his home touge to show the world where he learned his craft and to prove how exceptional this little AE86 can be in the right hands. Check it all out on Youtube and be in awe!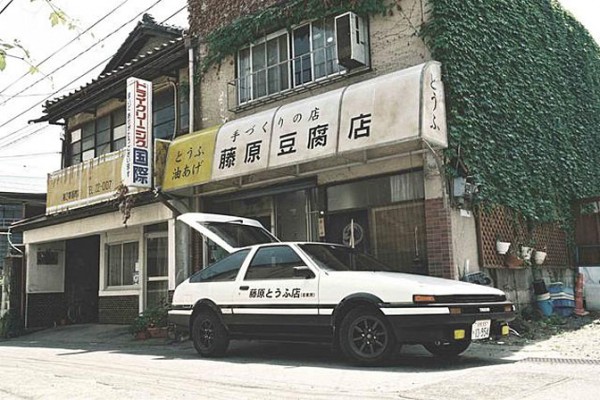 Takumi Fujiwara's Trueno GT Apex
'Influential' might be too weak a word to describe just the sheer amount of promotion that this car contributed to boost the AE86's popularity. The basic story centers around Takumi Fujiwara, who delivers tofu up and down 'Mount Akina' (the real-life Mount Haruna) for his father Bunta's tofu shop. It starts out one night when Takumi is in his early teens and his father can't drive the car to deliver the Tofu to hotels on the lake, on the other side of the mountain, thus that responsibility falls to Takumi. At first Takumi is slow but over time he gets faster and faster. Takumi tries to go so fast at one point that he destroys the tofu he is delivering; leading to the famous "cup of water" he always has with him on deliveries.
Each time Takumi drives, he passes a number of other characters racing up and down Mt Akina. Unwittingly Takumi beats a number of well known and powerful cars giving him a reputation in the Gunma touge racing scene. This culminates in an epic battle with Keisuke and the 'Red Suns' in his white FC3S RX7. After many races and opponents, eventually the engine expires during a battle and Takumi's father Bunta (the original owner of the car in his own youth) knew it was only a matter of time before it happened. Bunta having already anticipated this, had a new engine ready to go into the car after the old 16 valve 4A-GE gave up.
No information is ever officially given about the new engine; all we do know is that it is a heavily worked 20 valve 'Group-A racing' 4A-GE engine. After this revelation, Takumi finds he can no longer drive the car as it does not feel the same, and no longer can control the car. After a chance encounter with a fellow AE86 driver and soon to be rival Wataru, Takumi learns the true nature of the beast that lurks under the bonnet of his once humble AE86.
This simple story twist has spawned so much internet chatter about the speculation of the engine that the topic has become the bane of AE86 forum administrators everywhere. This is part of the charm of Initial D – It is pure fantasy but always based on a tiny kernel of truth. As a result of the radically unrealistic storyline, everybody wanted to be Takumi with that infamous black and white car and engine so not a day goes by without the question asked "How can I get my car like Takumi's in Initial D?"
The original manga was created by Shigeno Shūichi and first published in weekly publication 'Young Magazine' many years ago. Watching or reading the series has caused people to spend large sums of money on the comic series, TV show, and arcade games and even building their own AE86s; simply because they love the comic and the AE86. The TV series helped bring the AE86 to forefront of the western tuning community and will continue on for years to come as a new generation discover this worldwide driving exhilaration.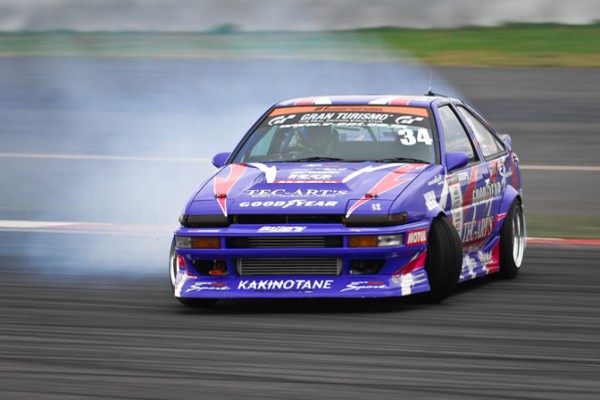 TEC-ART'S All-Purpose Twin Truenos
Everybody who has watched D1 this year or last year or has seen any of the N2 races will know these cars – after all they are bright purple! Sporting white 17″ Work Meister wheels and the angry scream of a 4A-GE 20V, this car has only been on the drift scene for the last few years, but has been built to an extremely high standard due to TEC-ART'S racing pedigree.
Originally starting out on the circuit, TEC-ART'S has recently branched out to drifting. Using an in-house built turbo 4A-GE engine, TEC-ART's has slowly been gaining momentum in the drift world proving their somewhat odd methods of AE86 modification.
TEC-ART'S is a major workshop in its own right, building all sorts of cars, but is more famously known for their AE86 tuning. TEC-ART'S covers all facets of AE86 tuning, from simple parts to full on engine builds.
The car runs 17″ wheels, which is uncommon for an AE86, as most cars use a maximum of 15″ wheels. Also unconventional is the sequential gearbox it utilises; Shifting while cornering with the throttles wide open certainly has its advantages. This car is extremely effective in the N2 cup and is always near the pointy end of the field.
TEC-ART'S make a myriad of parts for the discerning AE86 owner – such the 4 pot brake kit they have just released. They also make their own body kits, no doubt a testament to their in-house design, as massive brake ducts on the widebody arches make use of their own customised braking system.
As well as competing in drift, TEC-ART'S also regularly competes in the AE86 N2 races with another nearly-identical purple Trueno. Although TEC-ART'S is yet to win an N2 race or drift round with the purple monsters, it certainly has the right parts and know-how to win.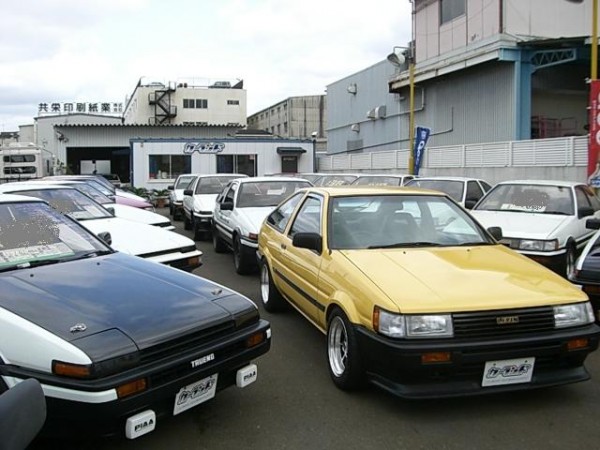 Carland's AE86s
Carland might not be the most recognised name in the AE86 racing world, but their cars will no doubt be remembered long after the big names have gone from the circuit.
Located in Kyoto, Japan, Carland has been instrumental in the restoration and maintenance of the entire nation of Japan's AE86s. This is done by way of their insane AE86-exclusive workshop and dedicated mook (a magazine book for those unfamiliar with the Japanese term), "Toyota Levin and Trueno Magazine" published by Tatsumi Publishing.
They have built a 100% replica of the Initial-D Trueno for Shinichirou Miki (the voice actor of Takumi in the Japanese anime), restored a Black Limited Trueno to absolutely mint condition and even built their own Sunday racer track car.
With all that plus more under their belt, Carland is truly at the forefront of true AE86 enthusiast restoration.
Carland offers services such as the usual new/used parts sales, car sales and body restoration work but as a special feature they offer a tourist hire-car AE86 to explore around Kyoto. Although it's equipped with only an automatic transmission (how many of you can say you've driven an AT AE86 anyhow?), driving a panda Trueno around Kyoto would certainly give your sightseeing tour of Japan that special hachiroku touch.
With all this to offer '86 enthusiasts plus a lot more, Carland is pretty much THE one-stop '86 shop. They produce their own parts like exhaust systems and suspension kits for example, but also their own 'Original Goods' such as the panda two-tone bag and tool wrap, or a carland towel and amongst lots of other cool goodies, Trueno or Levin 'side moulding' keyrings, written in the original fonts!
The man behind all the AE86 dedication is Tokuchi Masahito, often seen in his trademark silver spray jacket in the Toyota Levin and Trueno Magazine mook. He is the driving force behind keeping our little AE86's looking and driving as good as they did when they rolled off the line in the 80's. Keep 'em coming Masahito-san!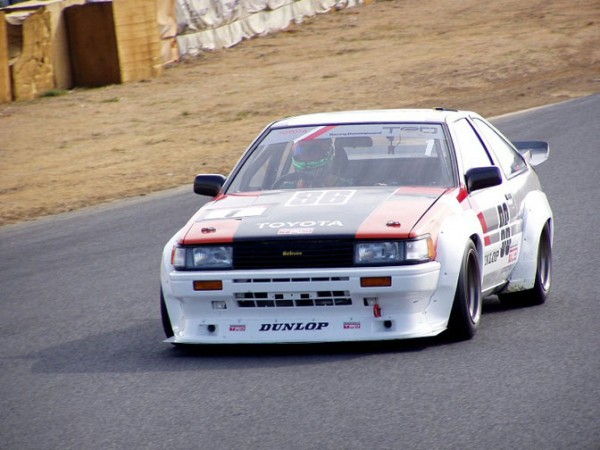 Hot Version's N2 Levin Racecar
The living embodiment of what every racing AE86 aspires to be: A 1.6 Liter, 16 valve, 9500rpm, wide-bodied screaming fury, belting around Tsukuba race track in the 1:00 minute range.
The Hot Version N2 Racer has been seen in Hot Version, Best Motoring, and AE86 Club DVD's and countless magazines. The build-up has been documented a number of times but no secrets revealed just yet. In terms of AE86 one make racing, this truly is the best of the best.
The racing and rebuilding started in mid 2001 when the original car was lovingly created by the late Sakurai-san of TRD fame and expertly piloted by Keiichi Tsuchiya. This was about the time that Best Motoring started sponsoring the bi-annual N2 races again as previously it was kept alive by a dedicated number of privateers and enthusiasts from as far back as 1997.
The body features the original N2 over fenders and wears incredibly wide 15″ RS Watanabe wheels.
The car has won two N2 races for Hot Version and spawned quite a few clones the world over, including HR's very own from forum member AE86N2 (otherwise known as Beau Small).
Sakurai-san had put his many years of racing knowledge into this car in the aim of completely dominating the race track and taking on all comers. However, the car did not simply come out of retirement, hit the track and start winning.
It took a long time to completely reset and set up the car for racing again. Almost all the components on the car have been rebuilt or replaced with new, or new old stock items. The only original part that remains on the car is the chassis-subframe assembly itself and the hottest of hot, ultra-rare TRD instrument panel.
The car utilises a vast number of parts from the TRD catalogue, including an AE86-spec 'bigport' 4A-GE engine built to Group-A specifications and a TRD close ratio gearbox fitted to a humble T-series rear differential. The suspension was set-up during early testing at Tsukuba by Tsuchiya himself and again using parts straight off the TRD shelves.
Being such a well-versed team in terms of racing pedigree, you would expect them to be the team to beat, but this is not so. The TRD-powered machine may have won two titles since their debut in 2001 but they were not back-to-back. Their first win was in 2001, with their second coming in 2005. Since the re-invigoration of the N2 series, all other titles have been won, oddly enough, by much smaller and very dedicated teams and privateers.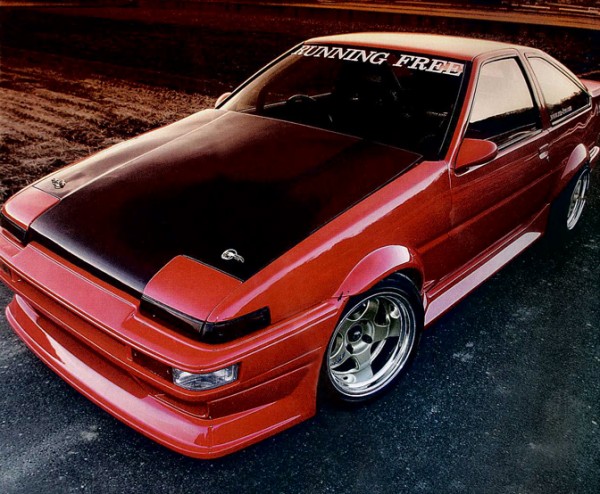 Koichi Yamashita's Run Free Trueno
How can a simple aero kit manufacturer's car be one of the most influential AE86's around?
Koichi Yamashita, a former D1 legend, owns the ever popular Run Free specialist AE86 shop; Purveyors of the finest in Japanese AE86 ­bodykits, Run Free kits are sought after by '86 tuners the world over who are looking for the best there is to offer but why? Out of all the Japanese AE86 bodykit manufacturers, wow can Run Free be considered the cream of the crop?
It has to do with this one car. In its inception in early 2000's, the car was widely considered to be the 'perfect AE86′ Although it's not the world's most powerful Trueno, Koichi's AE86 is finely honed and crafted in such a way nothing is left untouched.
As you can imagine it was laden with his own Run Free branded bodykit parts and some of the widest Work Meister wheels you'll ever see on an AE86. But its not only cosmetics that Yoichi had made-over, under the carbon hood lies a AE92 4A-GE that's rocking Mahle pistons, H-Beam rods, 304/288 degree camshafts and Group-A spec valves.
Couple with that a TRD intake manifold, K-works exhaust manifold, a RunFree stainless exhaust, twin-row radiator and an Earls oil cooler.  Pretty standard affair when you compare it with the other machines in this list, but therein lies the key.  It was the undisputed definition of 'clean street car' for everyone at the time and as such firmly implanted itself as the benchmark for anyone building a street driven AE86. To this day it still is.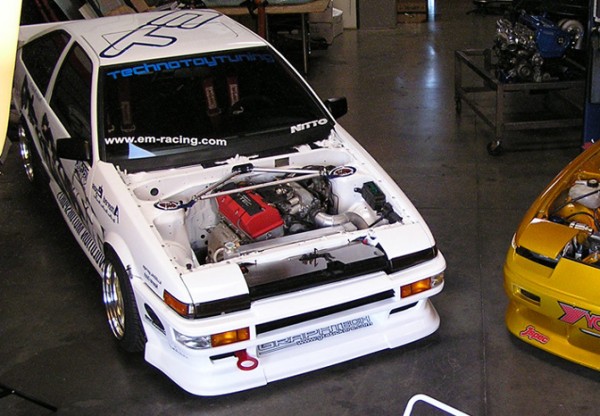 Gabriel Tyler's F20C Corolla GT-S
Not a world first but definitely a well executed engine conversion; this was the car that brought the F20C engine transplant to the masses. Techno Toy Tuning (T3) have be providing parts for Corolla's and 4A-GEs the world over for number of years and every decent tuning company needs a demo or hero car.
Almost everyone has used or seen a T3 part on their Corolla or AE86 for the last 10 years and it's thanks to T3 owner, Gabriel Tyler, that we see these cheap and readily available parts nearly everywhere. Like most of us, Gabe has grown up to love the classic simplicity of the humble AE86. It's through his love for the AE86 he created this Honda hybrid monster!
Enter the simple white Trueno. Gabe had the not so simple idea of Taking Honda's highest  engineered NA engine and putting it in a much lighter and balanced chassis – and so the F20C conversion was born and delivered to the world.
T3 fitted the engine and 6 speed gearbox to the pristine white body, which in itself is no mean feat as the Honda engine intake and exhaust are on the opposite side to the factory fitted 4A-GE. Along with T3's full suspension catalogue fitted to the car and various other parts this Trueno has competed in drift and circuit racing and even been driven on the Willow Springs Touge by Keiichi Tsuchiya himself.
The Trueno is fitted with a fat set of Work Equip 03's, over fenders, roll cage and stripped interior so it's natural this car oozes so much presence and style. The car has sat dormant for a while now, only coming out occasionally to the track mainly used as a demo car at the T3 factory, it may be some time before we see something as innovative and awe inspiring again from Gabe.
All this popularity has spawned a number of copies. In the US this is a very popular conversion due to the power of the F20C and the fact the steering, pedals and master cylinders being located on the opposite side of the engine bay compared to the rest of the world, making the whole swap a lot easier. This combined with an extremely light weight body it makes for one helluva ride.
Recently, a workshop by the name of JSP fabrications completed the F20C conversion with a GT30 turbo for added good measure. JSP's car is set up for drift, but as yet has not shown the world what it's capable of, yet another envelope pusher in the crazy world of AE86 tuning.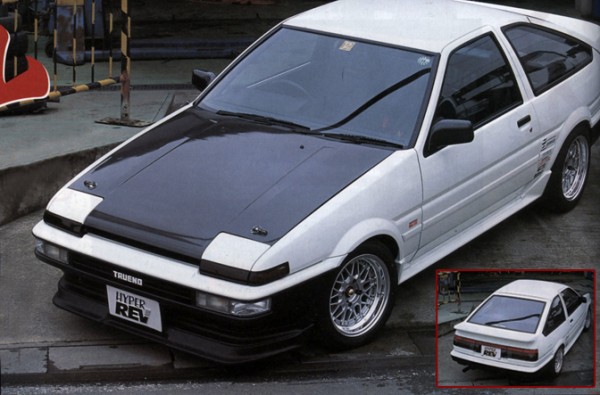 Keiichi Tsuchiya's Trueno GT-V
For Garth, this is the finest car to grace this list. Lovingly restored a number of years ago in the early 90's as over time it had succumbed to the usual AE86 headaches such as rust, chassis damage, and usual wear and tear.
Tsuchiya had his car rebuilt at Garage Motore in Kawagoe City, Saitama. Starting with removing all rust and giving it a full respray of Toyota Super White II in the now popular 'Keiichi' style; white topped bumpers with white sideskirts.
Whilst the car was in pieces, the body was seam welded and had a number of braces fitted such as front fender brace that sit under the front guards and other more cosmetically minded smaller metal panels to prevent water sitting in seams of certain parts of the metalwork.
All the guards were then hand flared to fit the 15 x 7-inch SSR Dori2 mesh wheels.  The fitment of the zenki front lip to the standard kouki bumper in such a way has come to be known as 'the Keiichi' method. The interior is also all brand new from genuine parts and a new set of TRD reclinable buckets was fitted.
This car's suspension was set up using Tsuchiya's intimate knowledge of AE86s while using Tsuchiya's own brand of coil over's, the then Kei Office brand. Now branded DG5, the coilovers were coupled with a vast number of Cusco suspension components to build an entirely customised AE86 suspension package.
The engine is a 'Blacktop' AE111 20 valve 4A-GE. Originally it was only a standard bottom end mated to a head that utilised only a set of cams and custom extractors with management via an E&E Freedom ECU. However, as part of the total rebuild of this car, TRD's Sakurai-san built Tsuchiya a brand new engine from the ground up. It consisted of hi-comp pistons, larger cams, and a secret 'Sakurai-Spec' cylinder head. Again the E&E Freedom ECU was used and all the mechanical work was completed with the assistance of Yasunobu Ishihara at Garage Motore. The new engine apparently made about 180hp, but this is a fairly conservative estimate when you consider the amount of work that has gone into this engine.
Previously using a TRD 5 gear (1st-5th) gear set and 5.3 differential ratio, they were swapped out for a TRD 3 gear (1st-3rd) gear set and 4.7 differential ratio. Doing this swap at first seemed to make the car slower, but it actually made it a more drivable car in all situations as Tsuchiya adapted to the new mechanical set up.
This car is said to be the scourge of Hot Version's 'Gunsai touge' but is not unbeatable. Tsuchiya's Trueno has appeared in many circuit and touge battles for Best Motoring and Hot Version, Taking on all comers. Most notably, Tsuchiya has twice taken on a Nissan R34 Skyline GT-R and won both times; Once on the touge and once on the circuit.
Pitted against all sorts of varied machinery on the track including many other AE86's from varying workshops, this Trueno and its driver have both triumphed and bowed out gracefully. When it was beaten on the touge by a JWRC Swift and a B18C equipped EG Civic (SEEKER Honda), it was the distinct lack of power from the 1.6L 4A-GE engine unit that turned out to be the Trueno's only weakness.
Tsuchiya's philosophy of balance over outright power has many times embarrassed more powerful cars with its cornering balance, nimbleness and neutral handling ability. Like Ueo's drift Trueno, it may not be the fastest car in a straight line but add a few corners to the mix and watch out!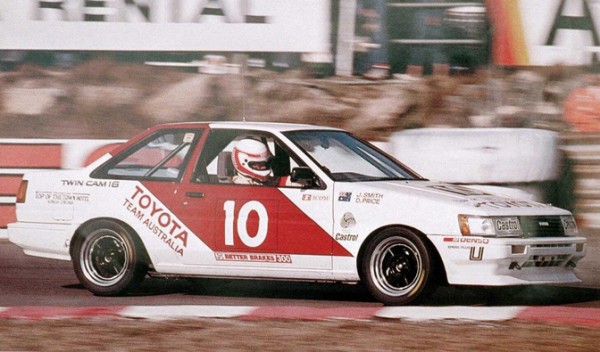 Toyota Australia's Group-A AE86
In the late 1980s to the early 1990s, racing circuits worldwide reverberated with banshee howl of twincams and 16 valves! Having taken on Japan and won, while famously driven by up-and-coming race driver Keiichi Tsuchiya, the venerable AE86 branched out to take on the Group-A world. Advan, Minolta, Trampio, Volk – these are just some of the Group-A names made famous in Japan.
Here in Australia, there are a few cars are famous not only for dominating their class for 3 years, but also for being in the Guinness book of world records! The Australian Toyota works AE86 was a car that racked up 28 wins from 28 starts and nearly 80 podium finishes putting it as the most successful race car in history!
Just to rub salt into the wounds, it held the under 2 litre class record for every track in every state across Australia. How many other manufacturers can boast that?!
The fleet of Aussie racer AE86s used Bilstein suspension, TRD close ratio gearboxes and heavily worked 'Bigport' 4A engines. It was said they made around 160hp at the rear wheels, but that can neither be confirmed nor denied, as even until this day Toyota Japan and Europe keep the vehicle details very close to their chest.
Since a lot of specs of the car are closely guarded and as the car was initially built in Japan then shipped, it's hard to track down exact information pertaining to the Toyota works cars – The engineers have passed away or it has simply been lost over time. A number of the European race cars still exist and are still being raced today. Granted they are using more high tech items instead of the crude ECU's available at the time.
The Australian winning car is now located in Bathurst, New South Wales at the Motor Sport Museum on the infamous 'Mount Panorama' racing circuit. The car itself looks like it finished the final race and was washed, polished and taken straight to the museum and there it has sat since. One lucky owner in Ireland still has an untested and unraced privateer car that he is restoring back to its former privateer glory including original livery! The luck of the irish eh?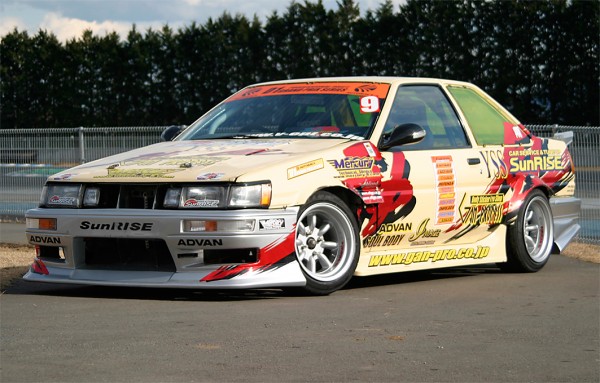 Tetsuya Hibino's 4A-Powered Levin Coupe
Like many of the drivers in the D1GP, Tetsuya Hibino is the owner of his own tuning shop called SunRise and as such works on his car himself. Hibino is quite a popular drivers and is one of best drivers of the Toyota AE86 chassis in the D1GP today.
He began competing in the D1 Grand Prix in the sixth round in 2002, though he did not get any recognition until round three of 2004 when seemingly out of nowhere, he defeated many well know names such as 2004 season winner Ryuji Miki along side Kazama, Imamura and even the 'smoke master' Ken Nomura. He is also known for his now infamous Ebisu Jumping Drift, which he first demonstrated at Ebisu Circuit in 2004, where he drifted to such a limit the car became airborne mid corner jumping the ripple strip!
When Hibino first started out he had no idea about how to drift. In fact, when he bought his first AE86 he didn't even know it didn't come with an LSD! But through his friends and people he hung out with he quickly learned what the strong and weak points of the AE86 chassis are. It was through this knowledge that he transformed his AE86 into the car we see now. Hibino's does all car set up himself by relaying any information and changes that need to be done at the track to his mechanics on race day.
Like Ueo, Hibino had always driven the AE86 since he began drifting and with the combination of its light weight and his aggressive driving style made him a formidable opponent. His Levin coupe is instantly recognisable in its creamy brown colour with its uniquely modified front guards.  Although Hibino is yet to win a round yet he has come a close second on a few occasions, proving he has got what it takes to be number one someday.
So, which one is your favorite? Or do you think that none of these cars should be on this list? Hit the comments and let us know!