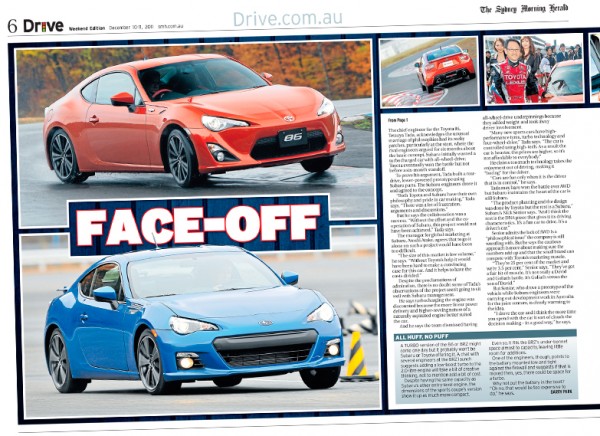 We got a call late last year about an article Drive was putting together to put into The Age and the Sydney Morning Herald. They were writing an article on the new Toyota 86 being released in Australia and wanted the feeling from the AE86 enthusiast community about Toyota's new car, so we happily obliged.  Drive Journalist, Matthew Campbell and I spent a while in a lengthy interview, so long that they cut a bunch of it out of the final article (pictured above), so here it is in it's entirety.
Matthew Campbell: What made you get involved with AE86s?
Garth Ivers: They are a fun car with endless types of modification paths you can take. The guys and gals who buy them are usually very much into self-serve, DIY mechanics and fabrication and down to earth, great people.
I bought mine 9 years ago under the pretence of an affordable and fun driving experience, with sharp, unmistakable 1980s styling. They might not be the fastest thing out there on paper, but they make up for that in bucket loads of driving excitement and pure fun.
Even in factory-spec form, they are a delight to run up and down the gears, revving the engine freely as you carve along any deserted mountain road. Simply put, it's a drivers car.
MC: How many have you owned?
GI: Over the past 9 years, it's surprising to say, just the one chassis. However, the AE86 platform is very easy to repair, adapt and modify into any type of motorsport or driving pleasure so it's had a few modifications along the way to keep up with the changes in my driving past-times.
MC: What makes them good? Is it that it's lightweight? Rear-wheel-drive? A combination of the two?
GI: It is certainly a combination of the lightweight chassis, free revving engine that makes it good, but its the whole package which makes it really great.
I guess for me it's the rawness and direct feeling of what the car itself is experiencing – a certain 'honest agility' if you will. The AE86 is said to have 'taught' many drivers how to learn to become better at the various techniques of racing, be it circuit racing, drifting or time trial. I think it's this undiluted, progressive and controllable communication between the chassis and the driver that makes them so enjoyable.
MC: What have you done to your car?
GI: As it is with most AE86 enthusiasts, the question is probably better asked 'What haven't you done?'. I could list off every modification, but suffice to say over the years it has seen quite a few different guises.
It started as my first foray into owning a 'modified car'. Personally hand picked and imported independently from Japan, not an hour into it landing on Australian soil I was already under the bonnet modifying and changing it.
Every suspension part has been tuned, modified or upgraded, it's had two engine swaps, a complete overhaul of the engine ignition system to work with a set of bespoke racing quad-throttle-body intakes, several LSD and gearbox upgrades, aero kit modifications; you name it, the car has had it done!
Currently, it's 'under the knife' to receive the biggest upgrades yet: A 2.0L 3S-GE 'BEAMS' motor from a SXE10 RS200 Altezza, as well as a stronger 6-speed gearbox to cope with the doubling in power output. Simultaneously, a complete ground up body restoration with full body aero kit to suit it's new RS Watanabe 9.5-inch wheels is being performed.
Some of the purists members of the club like to joke that the car is hardly an AE86 anymore, as it has received so many changes and modifications, but the spirit of enjoyment and rawness of the AE86 remains, and that's what keeps it true to its infamous name.
With it's new specs, it's will be a lot closer to the power output of Toyota's new 86, but with about 250kg less weight. You would be hard pressed to find an AE86 out there being driven in the world in its original spec, such is the constantly modifying nature of the AE86 enthusiast!
MC: Is the new Toyota 86 a decent modern representation of the AE86?
GI: It is hard to accurately judge without having experienced it from behind the steering wheel. How does one evaluate the 'driving spirit' of a car with that core value as it's central ethos, without first driving it and pushing its limits? But on paper, it compares to the AE86 pretty accurately.
All reviews and reports from the Japanese press day at Fuji Speedway deem it positively true; a small but punchy naturally aspirated engine unit, a low centre of gravity with precise and communicative steering paired to a rigid, yet lightweight chassis. This formula is what made the AE86 so fun to steer around corners day in day out, but never scare or bite back with unexpected surprises.
The car needs to be progressive and controllable, but in a fun way, allowing you to learn how best it wants to be driven. By all reports from the lucky few who have driven the new 86, Toyota have given us exactly that.
Akio Toyoda and Tetsuya Tada have done very well to deliver a somewhat 'financially-unpopular' vehicle to us in a sea of Camry's and Corollas that feature complete ease of operation and bottom dollar cost as their focus. It's good to hear the president of a major motoring corporation have such fervent statements about reviving the excitement in driving in new Toyotas to the new generation of buyers. Like they say, it's 'built by passion, not by committee' and that's really refreshing to hear!
MC: Would you consider buying a Toyota 86 or Subaru BRZ? Do you know of anyone in the club who is interested?
GI: I dare day almost everyone is the club is drooling over the release of the 86 to Australia. Most of them content with their now somewhat 'serious' 1980s cars, but wish to experience a more refined modern version of their favourite Toyota.
Myself, I'll be making my way to the dealership to put my order in as soon as Toyota Australia confirm we are receiving the same spec model from Japan at a reasonable price. We hope that the car doesn't become watered down for the local market, and stays true to its development roots all the way into the showrooms here in Australia.
MC: How many members are there in the Hachiroku clubs?
GI: We have over 600 AE86 owners here in Australia who frequent our meets and over 3000 more who participate in our online forums and on Facebook. We also have a high number of online contributors from all over the world.
It's a pretty tight-knit worldwide community with clubs and forums dedicated to different regions across the US and Europe and even smaller groups of drivers across Asia in countries like Brunei and even an AE86 club in Peru!
Some of the club owners from the USA (like Moto Miwa from Club4AG) have been in contact with Tetsuya Tada during the development of the new 86, giving insight and input as representatives of the AE86 enthusiast market.
MC: Will the new 86 be enough to reignite people's interest in Toyota's cars?
GI: I'd say by their sales figures alone, Toyota has enough interest in their current passenger cars, but very few of those people are interested in the excitement of the 'drive'.
Toyota haven't had a truly sporty car since the Supra in the late 1990s. The SXE10 Altezza RS200 from Japan was almost there, however we didn't see this model in Australia. If priced correctly, the 86 will capture the part of the market which is yearning for their first new, yet affordable, sports coupe.There are fantastic options on offer from other manufacturers, but most of these cars remain unobtainable due to their high sticker price.
Toyota has a long and storied tradition of creating some of the most fun, exciting to drive and affordable sports cars ever, all drawn from its prowess in racing, so it's exciting to see a return to their roots with a car focused on 'driving spirit'.
MC: Is a 2.0-litre naturally aspirated rear-wheel-drive coupe really that sporty?
GI: The focus of many journalists worldwide has been the power figure, but the AE86 has always been about power to weight in an 'underpowered', yet lightweight car, rather than outright tyre-frying power.
This is still somewhat true with the 200ps boxer unit Toyota have developed in partnership with Subaru. It might not be 'Nissan GTR fast', with all its electronics and drivers aids, but therein lies the key to the 'everyman' enjoyment factor.
Simplicity is one of the core epithets of the AE86. When you take away all the input the car is giving you, the enjoyment is halved. So with the new 86's focus on driver experience and enjoyment, it's sure to be more than sporty enough!
MC: How long do you think it will take for there to be an 86/BRZ club in Australia?
GI: Being already established as the 'hachiroku' club here in Australia, along with living and breathing the cars predecessor, HR will be encompassing and inviting all owners of Toyota's new hachiroku to become our 86 brethren. With a car so intently driven towards the enthusiast, I don't see it taking very long at all to build a nationwide fan base of what's to, no doubt, become a cult car.