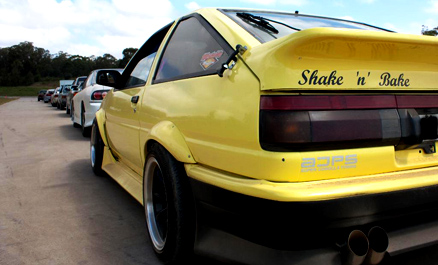 Possibly the most outspoken and in your face person in the Aussie AE86 scene, Beauman Jones, son of legendary hot-rod builder and multiple-time Summernats Champion Mark 'FAT57' Jones, gives HR Blog a few minutes to fill us in on his new project: DriftKulture.
Background on yourself?
Well there is a door and a shelf will DVDs on it.. Oh you mean like me as me.. I dunno.. I've been around cars since I was born – so much so that I was brought home from the Hospital in a Blown Big Block 57 Chev Pro-Street car owned by my Father. There was no turning 16 and becoming a instant car enthusiast, its in my DNA from the moment I left the maternity ward!
I grew up around cars, fast, custom cars. The automotive modifying world is like a religion in my house so there is no real escaping it. I have a huge influence from my father and went to many car shows with him as a young lad. When I got into my early teenage years my old man bought me a Hot Rod and I built that up and sold it. I basically repeated this step until I was ready to drive. I think I got bored of them cause I couldn't drive them and was more interested in riding my BMX.
Anyway.. I bought a 1963 BelAir and as contradicting as this sounds and if you saw it you would say there was "no way"  I used to try and drive this sled fast. When I look back, this is where I think I grew tired of cruising around in big old cars and my racing side of my life wanted to move from pedal power to piston power.
Before leaving for a BMX trip to the USA I sold my car and when I came back I bought my first JDM car: A Nissan R32 Skyline, it was pretty sweet but I grew tired of it quickly, I just didn't like how easy it was to drive and felt out of touch, like the car was doing the driving/drifting and I was just sitting in the drivers seat. So I sold it and bought the car I always wanted from when I was 16. Coming from a American muscle car family I was to afraid to admit it but it was the AE86. I bought a Levin Coupe of the Irishman and it has been the tip of the hook that has kept me in the '86 and drift scene ever since!
History of your car?
Umm I don't know much about it.. it came from Japan and from what Paul (Irish) told me it was a 'haggard heap of crap' when he got it. He cleaned it up and sold it and then yeah I got it off the person he sold it to me and its been with me ever since.
Why '86?
I dunno really, I just love everything about them, to me they are the perfect car! I've driven and owned a heap of other JDM skid cars and never really thought they lived up to the AE86. The culture that revolves around them is amazing, there isn't to many cars in the world that have such a following and because of this car I have met a lot of great people that I probably would have never met in my normal day to day life.
Happiest moment in your car?
Umm well I guess when I proposed to my Fiancé in it.. I'm suppose to say that right? hahaha
What got you into '86s?
Not to sure. I guess friends. Couple of friends had some and that's how I first learn't about them and I suppose when I first started to take note of them. I wanted one for a daily while I was building my 9-inch-chopped 36 Chev with a big block in it. It kinda turned from a daily into an obsession haha
What do you think of the '86 culture both in Australia and in your home state?
Australia, well its hard to say at times. It is obviously a scene that is split. Its like we have 2-3 generations fighting to be the dominant generation in the 86 scene. But if I was to put a term on it I'd say it is a teenager compared to say other countries. We are still trying to find ourselves and our own style and I think that is the same for the drift scene here in Aus, but that's my own outlook on our scene, so i could be wrong.
The Jap and Euro scene is massive and very well developed and the American Scene is pretty full on but at least they have their own style. I think the New Zealanders are the ones doing it right!
Tell us about your new project DriftKulture? Why do you think the Australian drift scene needs a site like DK and what kinda things should we expect of you?
DriftKulture is something I have been planning and thinking about since, I suppose, Drift Battle magazine shut down. I didn't want to just start up the same thing, I wanted to give it some time let everyone get the taste out of their mouths and let me plan it out a little better. I don't know what you should expect from me, the real question is what should you expect from DK. I got a few cool dudes contributing: QLD's crazy AE86 pilot Sam Holz , MEZ from MeZ Productions who makes some wicked Vids and automotive photographer Matthew Mead. I don't think Matt needs any introduction, but obviously he will be doing MOST of the photography work on DK. Alongside the DK staff coverage we will have guest photographers and videographers and authors too.
Basically, we really want to show drift in its true form. The roots of our lifestyle, the real people, the real cars, the real issues and of course REAL FUN!
Do you think the Australian drift scene has suffered from a lot of people just trying to make money from the sport?
Hmm from what I have seen I think some have, I also think some have come in with good intentions but then either lost their way or lost interest. In my opinion this mainly comes down to our national series, basically being a joke to everyone involved. Don't get me wrong Drift Australia has done a huge amount for drifting in Australia but they seemed to want to stay stuck in a rut and not to progress, and to be honest with you I don't blame them! There was no one there trying to compete with them like other countries such as USA and Japan where they have more then one major series. So without push why should they move? But it now seems like drift in Aus has a new fresh start and that's exciting for everyone involved – It's the reason I finally launched Drift Kulture!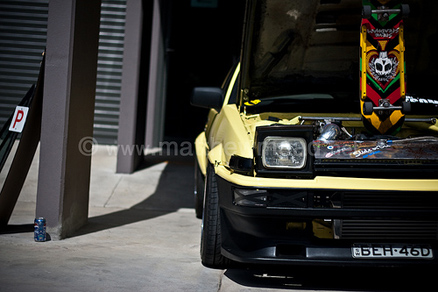 Is your lemon-scented trueno beast the 'promo car' for DK?
Well I didn't buy it or build it with the intentions of that, it kinda all seemed to happen around the same time, then the big sticker went on it and yeah it seemed to make sense. But I don't think it is the promo car. I think the one that drives a promo car needs to be able to match the credit.
What do you think about the AE86's position in the big world of drift machines?
For a car that is approaching the 25 year bracket I think it goes extremely well and is very under estimated. With more and more people letting go of their 'purist' values and slapping bigger engines in them, I think they still have a little more fight left in them!

What are your future plans for your car?
Drive the pants off it initially, but I'm unsure. I might sell it sadly and getting something still Toyota but with more power.. But this girl will be with me for a while I think.
What's your preferred sin? Drifting, Grip, Touge or Show?
I'm all about the SHOW!!! ….. But seriously, I think I love it all and I suppose drifting and touge are my favuorites.
Shaved or full bush? (interior trim)
Did have carpet but its now stripped. Trying to put it on a lil diet cause the braided line added all this imaginary heat and weight.
How long you hoping to own this sucker for?
For as long as I can, but I think there will come a time where I have to move on when I need something with more power and so on.. you know the usual story.. But the set up at the moment is fantastic I'm pretty happy with it, for something that I set up with my mate in the driveway with two levels and a measuring tape. That either says a lot for old way is best or I'm just a sketch ball. But when I sell her it will be a very hard and sad day but I know I will go Toyota again.
Any thanks?
Umm lots i guess. My Father firstly (Mark Jones) he is the f**ken man! He is my inspiration and keeps me going! He had a lot to do with this build.  My Brother for painting the car and doing the usual panel beating jobs. My Mum for putting up with us three haha. Big thanks to my Fiance Whitney. So patient with my stupid obsession. Also big thanks to Brad Fowler, Beau Small, Adam Cevet, Adam Hooker, Dave @ AJPS, Tony and Dave from Eagle Spares, Jeff, Jeremy, Jesse Streeter and I'm sure there are others.. lol.. Feel like i just did a Oscar speech
Finally, please list the specs of your car
Engine:
4A-GZE converter to 4A-GTE
VR Commodore throttlebody
EMS Stinger ECU
Custom steam pipe exhaust manifold
KKR280 turbo
External Waste gate
Westside Exhaust custom cooler piping and 3inch dump and exhaust into twin stain pipes out the back
T3 alloy pulley kit
Alloy 50mm radiator
Speed flow fittings and braided everywhere!
Alloy intercooler
Earls oil cooler core
Motorsport connections oil cooler kit with re-locator and Speedflow fittings.
Fuel System
-6 Braided fuel lines from engine to supply system (IE: back of car)
Ezy Flow alloy fuel filter – 6 for input fuel
Repco fuel filter for return fuel line
Speedflow hose clamps modded to bolt to the body (blue)
Alloy Serge Tank
Two big Fuel Pumps (pump out of tank and pump out of serge to engine
Regulator
Custom pick up in tank
Alloy Heat/shield box for fuel system as its all mounted under the car.
Nissan Charcoal canister
Drivetrain:
W55 Box with Delro Bell housing
Delro slave cylinder
Braided Clutch line from master
1-Piece shaft
Hilux Diff (out of the Dirty Ibis)
Mini spool centre
Custom mounts
Suspension:
Greddy suspension
Cusco castor rods and brackets
Nasiga Auto rose joint tie rods
AJPS rack bushes
AJPS lock spacers
Cusco 30mm RCAs
AJPS Corona arms
26mm sway bar
Cusco strut brace
Apex trailing arms and panhard rod
Whiteline traction brackets
17mm adjustable Whiteline sway bar
Brake System:
Willwood T3 front brake set up
Willwood bias adjuster
G4 hydraulic handbrake, modded to suit a AE86 clutch master cylinder
R31 rear rotors
R31 rear calipers (foot Brake)
VS Commodore rear calipers (Handbrake)
Custom Brackets and lines.
Rolling Stock:
Black 15 x 8 -4 Superlights
Tyres RE001's and Sumo Firenzas

Body:
Completely stripped.
Uras front Bar
J-Blood or Vertex side skirts
Vertex Rear Bar
Origin Rear Bolt on Flares
Origin Front Fenders 25mm
FRP Bonnet i made with the help of my FRP guy
TRD duck Tail
Rad support removed replaced with lighter removable rad support
Doors Gutted
Engine bay strength via spot welding and welded in tubes
Rear arches removed for flares
Rear inner quarters gutted
Polycarbonate rear QTR windows
Bits here and there removed and modded.
Inside:
Zeta drivers seat
Nardi Deep corn or Sparco Deep Dish (I'm trying them both at the moment)
T3 Extension hub
Self made Hydro Handbrake
Snap on screw driver shiter
Speco Gauges
Greddy Turbo timer
JDM Kouki Passenger seat
Brand new black carpet
In -cabin brake bias adjuster
Dash gutted
Heater and shit removed
All wiring cleaned and all useless shit removed.
FRP door cards i made Front and rear
In cabin Battery with custom battery box
21 point bolt in cage. (it'll do for the time being)
Sparco CBF floor pedals
AJPS Harness bar