When you mention AE86, Levin or Trueno to some one, there is always a number of cars that immediately spring to mind. But what about all those fantastic cars with new and innovative setups that you don't always hear about? Well we here at HR have scoured the internet to find them and bring a select few of them to you!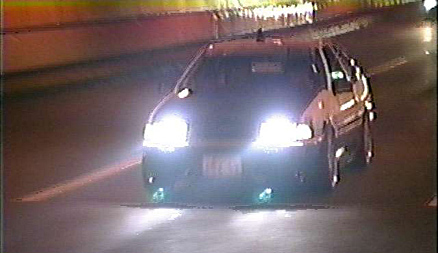 Akira Iida's $100,000 Machine
Would this be the most ambitious AE86 project to date? With such a large sum of money invested it certainly turned out to be a fantastic car.
Starting in the early 80's as part of the freshman series Akira was intrigued at how such a simple car could be so quick and nimble.
The AE86 was the focal point of advancing Akira's in racing skill. He saw the cars were so quick provided the driver had the right skill, otherwise it was a handful just to stay on the road. Basically the car depended heavily on drivers input and it allowed a wide range of settings and driver involvement. Akira remembers that it was this one car that was a different set up in each team and for each driver even though the base chassis and engines were all the same.This really stuck in Akira's mind and he promised one day that he will build his own AE86 that matched his style and nurtured his skills.In the late 90's, the dream was to take shape.
He started with a clean original Levin, and stripped it bare then spot welded everything in sight. Once completed it, was painted in the traditional panda colours. Much of the suspension comes from the Cusco and TRD catalogue including equal length trailing arms.
And of course the engine is something special as well.. a full Group-A spec silvertop 4A-GE 20V engine, with hand ported and polished head (by Akira himself no less), dry sump set up, Motec ECU, and non-VVTi big lift cams! All this added up to a bill close to US $100,000. worth it? We think so…

BTCC AE86's
Chris Hodgetts was a successful club racer in the UK and made his debut in the BTCC at the beginning of the 80's.  With the help of Toyota Great Britain, Securicor and Brooklyn's (a Birmingham car dealer), Chris put together 'Chris Hodgetts Motor Sport' (CHMS) for the 1986 season, running a Toyota Corolla AE86, initially for himself, before expanding to a two and then three car team in 1987.
Chris went on to win the British Touring Car Championships in 1986 AND 1987 with the humble little Corolla. 'CHMS' were one of the most professional teams and much of their success was down to excellent engine building by Jim Whitehouse. Jim had a great reputation in the UK from Strong bullet-proof engines.
The BTCC , like our own Aussie group A, B and C series in the 80's was a class based title fight, and the championship table was based  on total class points, giving Chris the wins. That takes nothing away from Chris, He's a seriously gifted racer. Chris won 8 BTCC class championships in a 10 year period!
The lead CHMS Corolla was passed down the line to other drivers as the Corolla was winning everything in sight in the 'under 1600cc' class. Rumours floating about mention that one of Chris' Championship winning cars ended up in Hong Kong before disappearing altogether.. ooh spooky!
Also in the 80's along with Chris' car was a European-spec coupe running and winning all over Europe, and several wins at the 24hr at Spa Francorchamps.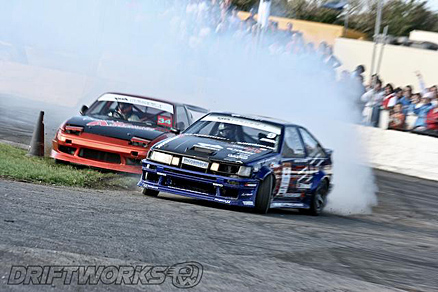 Darren McNamara's Drift Levin

Irish drifting champ Darren McNamara is your typical irish AE86 Irish nutter.. Well sort of.
Darren burst on to the international scene in 2007 as part of the UK contingent of the D1 all stars event in Irwindale. Driving his purple SR powered AE86, Darren was the highest place Toyota in the event, and also one of the highest place international entrants in the competition. Making it all the way to the 4th round only to be knocked out, with the event won by Ken Nomura.
Darren built this car up himself from nothing and is one of THE top drifters in the UK and Europe today, having won a number of rounds and even a championship in the UK. In typical Irish style he is a balls out drifter with no holds barred!!
As well as his purple hatch, Darren also built (in 10 days no less!!) a new Trueno and developing it as a N/A car as part of his workshop MCN SPORT. Currently this little beasty has fibre glass front guard, bonnet, carbon doors, fibre glass rear hatch. the emphasis on this car is lightweight.
Also sporting a full roll cage and extensive suspension set up, the car is currently using just a fairly mild big port engine, with weber carbs with plans for a big bad N/A engine in the future!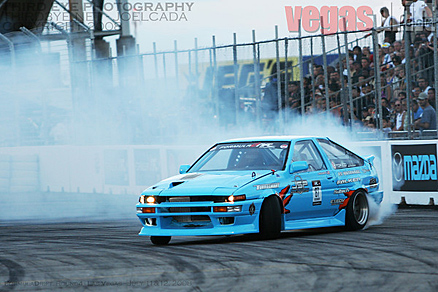 John's 'Superior Performance' Corolla GTS'
John Russakoff is just like your normal everyday AE86 enthusiast, except he likes his engine conversions a little too much.
Starting with his blue corolla GTS hatch drift car, John fitted a F20C engine and gearbox from a Honda S2000. John himself being pretty handy with a welder created everything you need to fit a F20C engine to your AE86. mainly used for drifiting this car cops a hammering day in an day out. Using aussie made haltech ECU, and custom made exhaust the car makes almost 300rwhp!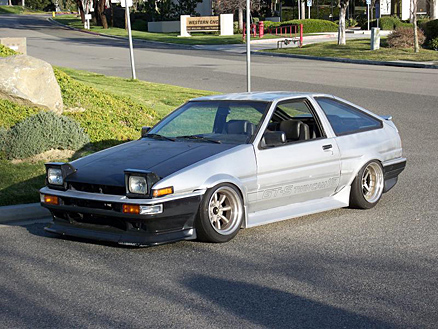 John's second car is a silver GTS hatch again, but is using a built SR20! Again weaving his magic welder john has created all the custom components on the car and engine himself. Again using a haltech and 3037 sized turbo, and F series rear end, this car makes bags of power… and this is just his street car!
In 2006 John set up his own shop 'JOHNS SUPERIOR PERFORMANCE' and is selling kits, and other parts for the decerning buyer to fit and SR20 or F20C engine to your AE86, as well as custom extractors and other parts.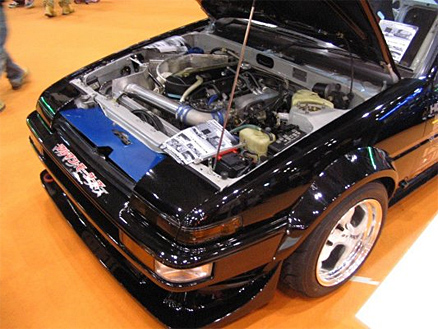 HOTSTAFF F20C-Powered Trueno Coupe
This innocent looking trueno coupe came about in the early noughties with a quite extrordinary conversion.
In Japan HOTSTAFF is a name synonymous with hard-tuned circuit-spec 4A-GE's. Aptly self-exclaimed as a 'Race Engine Manufacture Company', HOTSTAFF is located in the north of Japan on the island of Hokkaido far from the neon lights and allure of busy Tokyo. It might be this seclusion from the majority of AE86 garages in southern Japan that makes HOTSTAFF and their customers so unique.
Uniqueness like this car, is one of, if not the first people to fit a F20C engine to an AE86. HOTSTAFF came up with the idea of an AE86 revving to 9000rpm, full 250 hp…and just tearing up the track!
Doing something first is not always simple. As the F20C is so tall, the engine had to be lowered in the engine bay and the bonnet raised. also many custom parts were involved due to nature of the engine lay out being the complete opposite to the 4A-GE.
Tsuchiya drove this car as part of the 'roaring VTEC' best motoring video.  Although he said the suspension needed work, the engine and the car was phenomenal; absolutely unstoppable..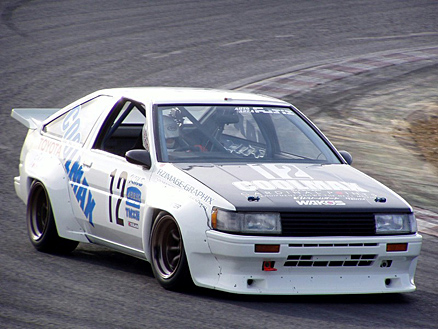 KMS N2 Levin
This is one of the quickest workshop N2 cars racing today. KMS is a small shop owned and run by Koshimizu-san, builds mostly engines but he also builds some of the quickest AE86 cars out there. Koshimizu has been racing in the N2 series since it started again in the late 90's. Even then he was right at the pointy end of the field, with big names such as TRD, TEC ARTS and SS works. It wasn't until 2005 after TRD and Tsuchiya was forced to retire did Koshimizu take the crown. Previously coming a very close second in the last years race, he finally won the pinnacle of the AE86 world.
Priding himself on the engines he builds, Koshimiza works out of a modest and very clean workshop. He can tailor an engine package for almost any one and offers a range of engine packages off the shelf, including a full house Grp. A spec engine which he runs in his own race car.
Koshimizu can also do, roll cages, extractors (not cheap though!) and suspension systems. Almost all facets of AE86 work can be completed in this one workshop.
This is one very modest man, who offers excellent work with results to back it up.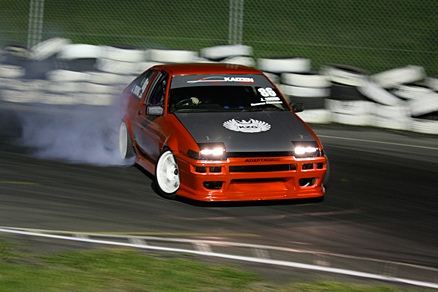 Josh Young's V8 Trueno
Most Aussie AE86 drivers will know this car and how it redefines the term batshit insane!.. Small car with a big heart, and driver with a massive set of balls!
A few years ago Josh was throwing around the idea of fitting a Lexus quad cam 1UZ-FE V8 into his AE86, as he was after more power for drifting as his current 4A-GTE just wasn't cutting it any more.
Aome of you may be thinking how the hell does the V8 fit in the engine bay? Well in actual fact it fits quite nicely. The AE86 engine bay is quite well endowed and before Josh started cutting the hell out of the firewall it would have fitted without much effort. So with a chopped firewall josh set the engine back a good 20cm in the bay. This also meant he had to set the steering wheel a long way back and the drivers seat almost ended up where the back seat was.
Apart from fitting the engine Josh also went the extra mile and fitted a set of ITB's!! The sound is amazing!! Bolted to a W series gearbox this car puts out more smoke than a bush fire and has more angle than a geometery class!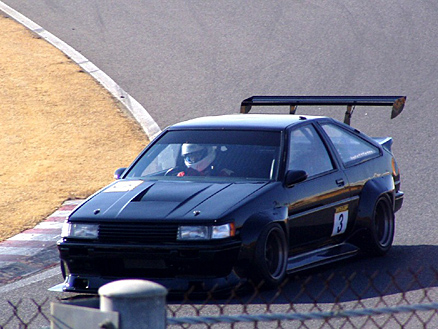 Kameda Black N2 Levin
One of the early racers as part of the N2 series revival, Norio Kameda's jet black beast was one unstoppable force to be reckoned with.
Built by two very passionate men, the car was worked on by Kameda himself with the assistance of Kaneko of Garage Shapple fame. Kaneko built the red Levin N2 with rear drum brakes – The second fastest N2 of the time. What made this black AE86 so special, is that it was completely privately built – not backed by any shop at all. Kameda-san's passion for the little Hachioku runs deep, and when he got wind of the N2 series starting up he got busy.
With a highly tuned 16v engine built and modified by kameda, running on sidedraft carbs for ease of tuning for the privateer tuner, he completely welded, and stiffened the AE86's chassis himself, and installed his own roll cage.
The suspension was a constant headache for Kameda as it took quite a long time to get it just right. It wasnt for lack of quality items, as most of it was custom made by Kameda, but it was tweaking the set-up to get it so it would all work harmoniously together.
You may be wondering why is this car, and not 100s of other N2 racers feature here in this list? Well as it turns out, this car was the first N2 car in to the 1:00 flat range and one of only a few in the 59 sec range!
In 2005 when TRD won their second race, Kameda had to retire his AE86 due to a broken oil pump. In 2006 didnt make the field but in 2007 it went on to beat the mighty TRD giant, without the TRD-backed AE86 piloted by Tsuchiya having to retire.
Its such a shame Kameda sold this car early last year but you never know, we may see him again!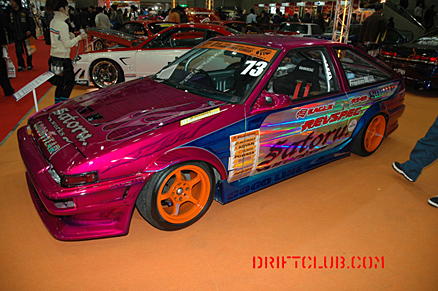 SATORU WORKS 7A-GE 20V
Everyone would have seen photos of the pink trueno from the Tokyo Autosalon. What most people dont know is who built it and why its so special.
Built almost 10 years ago, Satoru-san set out to show the world just what he can do. The car itself is nothing new with coilovers, LSD rear end, stripped interior and bodykit, and in typical japanese fashion at the time quite garish paint.
Its what lurks beneath the fibreglass bonnet that is the special part. Satoru Works is one of the first work shops credited with building whats know as a 7age. Yes thats right the big cube, high revving, open throttle wearing weapon of mass development.
Satoru-san needed something to show off at the ever popular Tokyo Autosalon and hit upon the idea of using the 7A-FE bottom end from the boring nanna corolla and combining with a silvertop 20v head!
Using custom pistons and rods, and their own secret spec cams, this 7A-GE 20V has made a dyno proven 255hp at the rear wheels!
Unfortunately in 2006 Satoru-san passed away due to a heart attack, but currently his legacy still lives on at his workshop, albeit slighty more subdued than previous efforts. Rest in peace Satoru-san.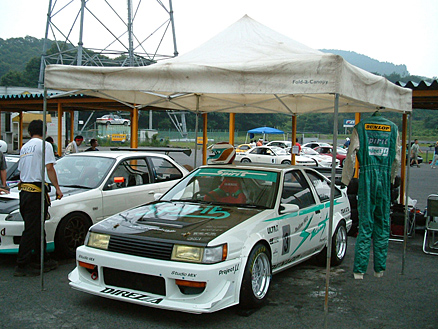 TECHNO PRO SPIRITS Taro & Ishii

Techno Pro Spirits is much more well known for their Honda and Toyota MR-S tuning than their AE86, but offer a large range of services and performance parts for the AE86.
Providing everything from body kits to suspension systems, roll centre adjusters to factory type disc brakes.
Techno Pro Spirits has such built a demo track car, know affectionately as TARO. This car was built using all of Techno Pro Spirits know how that was learned from building the Honda engines in their other demo cars.
The Spirits' TARO car has run in almost all the N2 races, but has yet to get to the top. With a best of 1:01 at tsukuba it certainly has the goods to get to the pointy end of the field but is yet follow through.
In 2005 they ran with 2 cars, the regular spirits TARO driven by Juiichi Wakisaka, an up and coming Super GT driver. The second car was driven by Manuba Orido in a Techno Pro Spirits prepared car owned by fellow AE86 enthusiast Ishii-san of Ishii Powers workshop. This second car was know as Spirits ISHII. unfortunately the ISHII did not make the the cut off time that year.
Wakisaka at the time drove the car to its fullest and gave Techno Pro Spirits its fastest time ever.
PHOTOS: Courtesy of JTUNED, Club4AG and respective owners.