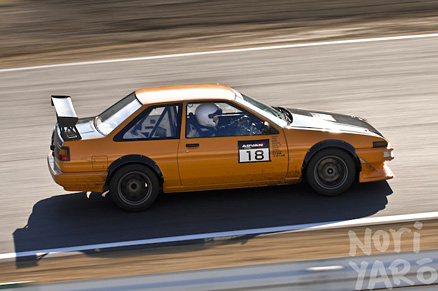 Of all the tracks in all the world, what other circuit name can get you as excited as Tsukuba?  The Green Hell comes close but Tsukuba is where all the action goes down in our awesome world of hachiroku!
Alexi over at noriyaro has once again provided us disciples of the church of AE86 with a juicy sermon.
A while back when I took the Skyline to go drifting at Tsukuba Circuit, there was a series of AE86-only one-make races being held by Option2 magazine and Ken Sato's Mercury workshop on the same day. The drifting sessions were filling the dead time between races, which was the main event of the morning.

Naturally, there were a whole bunch of very quick hachirokus there competing in the roughly ten-minute races, running the gamut from expertly tuned and prepared to completely boro and awesome.

The fastest car was Tsutomu Suzuki, driving his #18 Cashiew Trueno (pictured), with a best lap time of 1'02.885. Hibino competed in the race in his SR20 turbo D1 Levin, and came fifth overall.
Jump over there now and check out the sh*t-ton of pics… I just love the one without the rear windscreen… BORO!