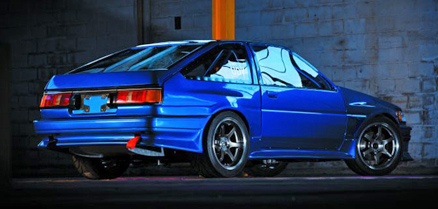 Our mates across the Tasman have certainly been busy! NZ has always been a haven for hardcore modified AE86's but Dan Udy's Corolla Levin, apparently built for endurance racing, takes the cake! Packing an SR-20 powerplant, this 1985 GT-V not only houses quite a substantial engine swap but it's presented in flawless show car quality!
With around 450hp flowing down via the rear wheels, and less than 1000kg of mass to push around, this Levin should have no problems being competitive. Truth be told, it actually stands a good chance of winning.
The purists might have a problem with the Nissan engine, but this Levin is just so clean and well executed you just gotta love it.
Read the full article and check out the expansive gallery @ NZ Performance Car Blog.