This is a first in the series of our choices of some of the greatest driving roads the World has to offer. We rekon whether you are a drifter or a circuit racer, everyone enjoys a good drive on the open road!
We may as well start with the best and Stelvio pass in the Italian Alps would have to be up there with the cream of the crop of immersive tarmac. Widely regarded as one of the greatest driving roads both in location and execution, it's located eastern Italian Alps near the Swiss border and part of the "three languages peak" (where Italian, German and Romansh are all spoken) and it's steep slope means it gradually winds it way down the mountain with insane back to back hairpins.
The road contains some 48 hairpins and it just wide enough for 2 cars to pass side by side at its widest points. Many people visit this road simply for the driving alone and come equipped to tackle the extremely challenging piece of tarmac in all manner of cars from the humble FIAT Bambino to all manner of Porsches, Astons and Italian stallions.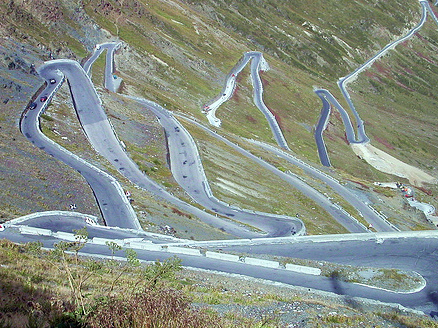 Recently Stelvio pass was visited by the Top gear boys; James, Jeremy and Richard: each driving a circuit-spec special edition supercar. After much debate and pontification they proclaimed it the best driving road ever. If further evidence is needed, motor cycle company Moto Guzzi also sell a model called the Stelvio in honour of this much revered stretch of bitumen.
By simply looking at the pictures of the Stelvio pass, I'd have to agree with James, Jeremy and Richard it may just be one of the greatest driving roads in the world!