He could rally and slide a car through the dangerous twisted forest/hill roads before he was legally allowed to own a license. His father carefully overlooked his sons progress with planned input and nurturing leading to a steady incline of progression. Whilst still in high school he then made his debut in his trusty AE86 and won his first real competition against drivers of all ages and experience. Then came the switch to a WRX and.., Ok so before I go any further and tell you that Jussi Tiippana also delivered tofu up a mountain every morning at 4AM…. wait no, I'll stop this childish Initial-D analogy right here.
Jussi Tiippana is an upcoming rally driver and one to definitely look out for in the future! This year at merely the age of 19 (b. 10-10-1989) he competed in both the 'Neste Oil Rally FInalnd' and the 'Sweden WRC Rally' (Yes both rounds of the WRC) with a nicely prepped WRX. But as already mentioned he paved the way and had tremendous success in his previous competition car; an AE86 Coupe. So we here at HR Blog thought we'd contact Jussi and talk all things AE86.
LIFE IMITATES ART(O)
Actually the story is even better than the popular Japanese Anime/Manga series. At age 4 Jussi was given a 'Lokari Car' (A small 8hp mini-car capable of 45km/h) but after increasing confidence in the speed of the kart and some gnarly crashes his mother put her foot down and told Jussi's father Arto that enough was enough and he'd have to 'play' in something safer. That something turned out to be a Toyota Starlet, complete with modified seating, pedals, gearshift, steering and a roll cage! so that 6-year-old (yes 6!) Jussi could reach the controls and would have something to drive around in safely in-the-snow. A few years and a few 1000km's later, Jussi was confident in the Starlet. Confident enough to lay down the challenge. Jussi (Aged 9) would battle his dad Arto on a custom made home snow-rallysprint course. Did we mention that dad Arto had been rallying on and off locally from the 1990's in an AE86 (amongst other cars) The result? Jussi won by 2 seconds…
It was around this time that Jussi (aged 13) started to complain that the Starlet felt a little slow. So Arto brought in a Toyota Corolla GT 1600 (AE86) from Germany, Why the AE86? Well Arto had been rallying in one with a friend (who worked at Toyota) for some time so they knew all about its potential. When the car arrived Arto and Jussi repainted it red and installed a roll cage. After taking some time to get used to the AE86's 5-speed gearbox on ice roads, Arto thought It was time for Jussi to take his first real rally car onto a course for some proper training.
"My first driving experience with the GT was wonderful, it happened on an iceroad. The engine had almost 70 bhp more than the starlet, so it felt quite powerful. I have always loved the body of GT because it looks sporty and it's very hard to say how old the car is."
The car was a completely standard model when it came from Germany and after some minor repairs it was being put to good use, however after pushing the little red AE86 to its limit for two years in forest special stages the engine sadly decided to let go (the car was over 20years old of course) Though this initial time in the forest special stages was a good learning curve Jussi tells us;
"I learned that the snowbank can sometime be your best friend ;D. But ok, the biggest thing to get used to was the high speed on a narrow road between trees. At first it was quite scary and of course; practice makes champions, so when I got more and more experience my speed started to grow and my feeling with the car got better."
The car was never repaired though, because as Jussi puts it. It was the year 2004 and time for a real rally car. So they lined up an AE86 of course (a rally spec one!)
ITS NOT A RACE ITS A RALLY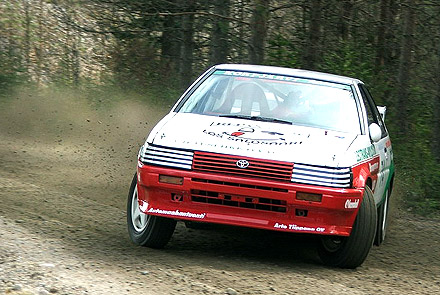 And this thing was definitely the real deal. The engine had Wiseco pistons, Haltech engine management along with a string of other goodies the package put out an impressive 156kw (210bhp) with 205nm (154.87lb/ft) The Gearbox was a 5-speed 'rally edition' (No need for the clutch when you change gears) 100% rally car as Jussi puts it. Most readers are drooling at the sound of that but just imagine having one at age 15? Yes.. *sigh*
After a year of training in this car Jussi entered his first rally and won it. How did it feel beating everyone and attaining that important first success?
"It felt wonderful, because people knew that I had practiced and they put some pressure on me, as in 'now you have to win'. So when I reached my target and won that first rallysprint it felt like a big monkey was thrown off my shoulders."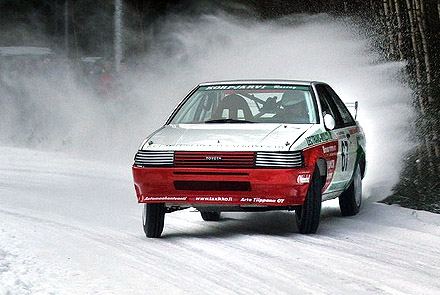 Fast forward a few years and Jussi has achieved a lot in a small space of time his current race stat record stands at 44 races: (37) Victories, (4x) Second, (1x) Fourth, (1x) Sixth place and one interruption. That is rather impressive. We asked Jussi what he'd learned after all this time with his trusty AE86?
"I learned to never give up. I had some bad times in the winter of 2007, 2 engine failures and one crash. But in the summer I drove 3 rallies, won 2 and another 5 rallysprints and won 3 in Junior group-r beating many Mitsubishi Lancer and Subaru Impreza drivers. We learned also that you have to develop your car all the time because if you don't the other competitors will catch you. In rallysprint between 2005-2006 the car was working very well, I had only one engine failure and one gearbox failure. So the whole package was very strong. But when we turned to rallies in 2007 I had 4 engine failures during the season. The problem was with the pistons and some bad luck, something strange always happened inside the engine."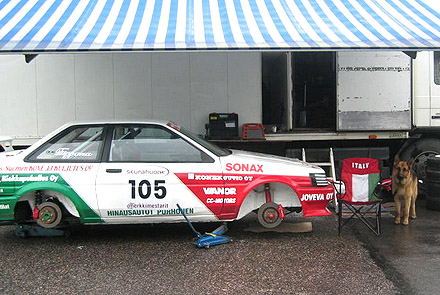 In Season 2008 Jussi made the important move up to the group with the big names. So he needed to switch to a Subaru WRX. He made some inroads when he entered in the local World Rally Championship rounds (Neste Oil Rally FInalnd) and (Sweden WRC Rally) In the former he came 7th in his class and 22nd overall. Entering the WRC and all of a sudden being thrown in the lime-light competing against your heroes can be a daunting task mentally, how did Jussi prepare? Business as usual.
"I started to approach the rally thinking only about my own driving. It doesn't matter what the other drivers will do, I just tried to concentrate only on my own things and my own car."
…Spoken like a pro.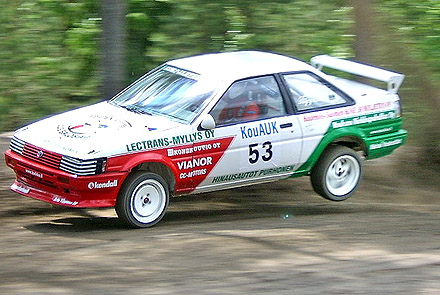 Jussi does however look up to some local heroes for inspiration:
"World champions, Juha Kankkunen, Tommi Mäkinen and Marcus Grönholm. And one guy from the national rallies was a big star to me when I was young, named Pasi Erkkilä. He drove an AE86 like crazy, and won the title of Finnish rallysprint champion with the GT (AE86). My co-driver Marko Salminen is by the way Erkkilä's good friend, so it's quite funny how small the world is."
With such an amazing story of success and most importantly improvement thus far, we here at HR Blog are putting the word out; watch out for this guy in a few years time with some luck he just might be up there in the points contending with the popular Finish champions. We kind of know the answer but we had to ask anyway; Jussi what are your goals for the future?
"I hope that someday I will be a professional rally driver."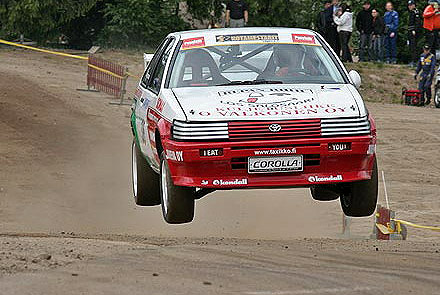 But what about that AE86? Do you still own it?
"Yes i still have the rally GT, and I love the engine sound, its marvellous when there is almost 10000 rpm."
We hear ya! Before we let Jussi go (probably back to practice on an ice road somewhere in Finland) we thought we'd tie up the interview with some nagging (read silly) questions.
I still can't get over the driving a Starlet at age 6 on Ice, What's with you Fins? Do all kids in Finland get involved in motor sport that early? And is it common for kids in Finland to start playing around with cars at such an early age?
"It's not common to start driving so young, but I know many guys who have started between 14 and 16. Especially in the country side, kids have various old cars and they have some fun with it in the fields."
What are some other forms of motor sport you enjoy, are you aware of the Initial-D comparison that could be made about your past and finally tell us about that crazy 'Osmo's Cosmos' band video you were in, what was that like?
"I like a lot, for example F1 and road racing. Drift is a good form to keep the drivers away from the streets and it looks very nice! One of my friends is a fan of Japanese Anime, especially Naruto. Once he printed a picture from Takumi and his car and said "this guy is just like you", so yes I am aware of this thing :D I haven't watched the series, but maybe someday I will. Making the video with Osmo's Cosmos was a very very nice project, it took 2 days and I think we laughed more than enough for one day. Rock guys are nuts!"
Not as nuts as your driving! Jussi, HR Blog salutes you!
P.S Check out our blog entry on the band video in question here
As always, Leave your comments guys!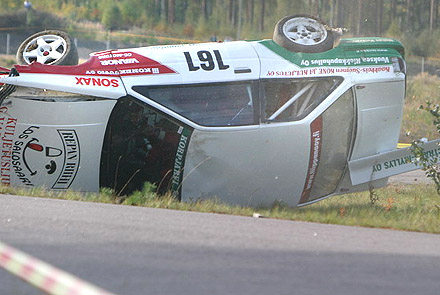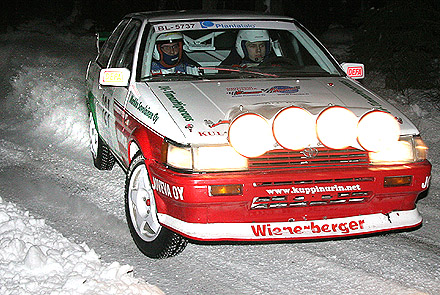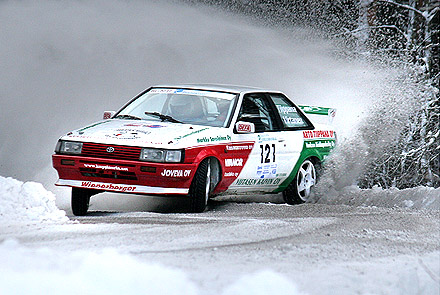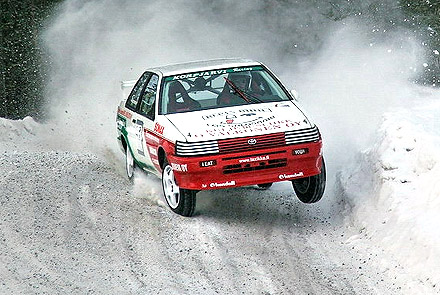 These photos are copyright their respective owners and NOT the property of hachiroku.com.au thanks to https://www.tiippana.com for the pics.
Various photos by:
-Jani Ollikainen
-rallikuvat.net
-fotohana
-ehoracing.com