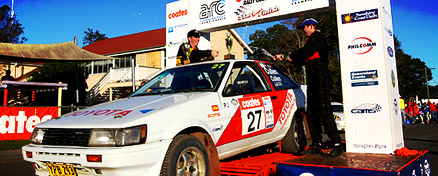 Ben and the crew at Cullen RallySport have successfully completed ARC Rally Queensland taking top honours in the F16 Championship and also the 'Quickest 2WD Car' at the end of the event.
Despite some minor starter issues throughout the weekend the little '86 ran flawlessly, getting quicker and quicker throughout the event! Despite their main competition falling foul of the fast and tricky roads, the Sprinter took the win all the while reaching nearly 180 km/h on some of the faster sections of the rally.
The team now has a break before the next round planned round of the ARC, Rally Melbourne for some much needed car upgrades to the engine and braking systems which will help maintain the lead they currently have in F16 Championship.