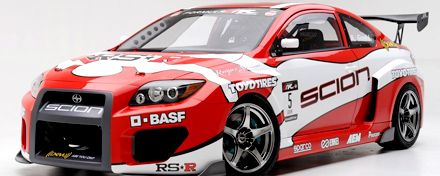 Scion today announced it will drift a new RWD RS*R Scion tC in Formula Drift events this year. The RS*R Scion tC features a 3SGE Beams motor, HKS GT3037 turbo and intercooler, Blitz Dual SBC boost controller, and AEM EMS engine management system that outputs more than 400 horsepower, compared to the stock 161 horsepower. A G-Force five-speed sequential transmission, Tilton triple carbon clutch, Project Mu brakes, RS-R coilovers, Sparco Corsa seats and a custom concept wide body kit are also fitted. The tC is rollong on Enkei RPF1 wheels and Toyo Proxes® R1R™ tires.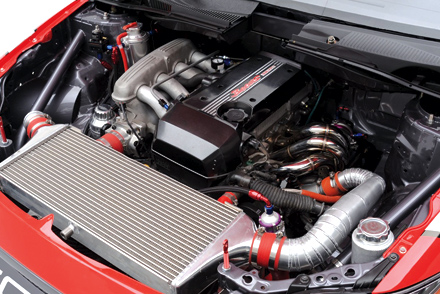 Ken Gushi will be at the wheel of the RS*R Scion tC. Gushi learned to drift at the age of 13 when his father took him to El Mirage Off-Highway Vehicle Area in California. Gushi started his drifting career at the age of 16 and was the youngest driver to compete in D1. Now 21 years old, Gushi has further developed his skills and placed in many drift events.

Scion's drift car is based on its most popular model, the tC sports coupe. The factory built front-wheel drive tC turned into a drifting contender through a rear-wheel drive conversion performed by acclaimed exhaust and suspension manufacturer, RS*R. The tC shares its platform with Toyota's Japanese market Avensis four-wheel drive and Caldina all-wheel drive, enabling it to undergo the conversion. RS*R used its extensive performance shop experience to change the tC's stock transverse engine configuration to a longitudinal setup in order to drive power directly to the rear wheels.

"Scion has participated in motorsports for three years and the fan support has been incredible," said Jack Hollis, Scion vice president. "However at this time we do not have confirmed plans to produce a tC rear wheel drive, but [we expect] a lot of people will want to take one home."
However, when the tC was discussed on Club4AG forums, Moto Miwa (known online as Moto-P), the webmaster and close confidant of Toyota Japan's RWD Development team had this to say about the behind the scenes goings on involving the very unique scion:
"I've been watching the development of this car for the last few months first hand. As if you can remember, I was operating RS-R Drift Festivals in the past and also on Toyota's pre-development of the new RWD (but i wasn't able to let the big cat out of the bag till now…). Anyway, many questions here and I'll try my best to see if I can answer some…

The tC 'had' a transverse mounted RAV4/Camry engine, the 2.4L 4 banger… This tC happens to have a longitudinal mount 3S-GE from the Altezza.

Now the engine is mated with a 'undisclosed' 6 speed sequential or standard box. This work was all custom. The tC did have a lot of room, as Gary (@Dynamic) says, so installation "space" wasn't so much an issue as was the "how". A Transmission tunnel had to be created as there is no such thing in a FWD car and there is where the fun really started.

To answer the question of what Rear-Drive axle and differential. Of course the propeller shaft from the transmission is all custom, but the rear end is as of now a Celica All-Track based unit (actually much more accurately, from a Caldina Sport Wagon commonly sold in Japan).

The differential unit fits nicely (but not straight bolt-in even if some of the suspension parts line up pretty close.)

To answer the question of putting a AWD rear-end on 100% RWD duty: Is it "tough" enough?We'll see… So far it's holding up in testing, RS-R says.

Back to the tC, yes the car is pretty much a ground-up build from frame. Almost entirely built by RSR USA and Dynamic in Orange County, California. This Scion is one that shares very little with a normal car except in places that dictate standardized part or dimensions in Formula D regulations. I mean stuff from steering, brakes, engine, floor pan, braces and gussets… A TON of work and a TON of man hours.

Car had been under careful watch from Toyota people in Japan too… Though more for market response stand point than development of the separate car they are working on for the future release. So nothing of this mechanically will directly equate to that car but still… If we Cheer for it, the "other car" will come more quickly…and in more of a customer-friendly form of a 'pret-a-porte' Toyota product!! :D

As we have heard, Toyota is hard at work on a RWD Toyota under $29K. Lightweight and keeping things real. If Toyota is actually sponsoring this car for RS-R and for the 2008 Formula D season, and Product Planners from Japan are keeping an eye out for with a keen watch… (and they are sponsoring and watching, yes) then you can bet that THIS tC is going to influence that car!

So start saving, as their target release date is in 2010… and that's directly from the mouth of Toyota people in Aichi Prefecture, Japan!
So there you have it, more juicy news on the successor to the AE86. Only time will tell what ultimate result it will have!
Here are some more Images of the RS*R tC.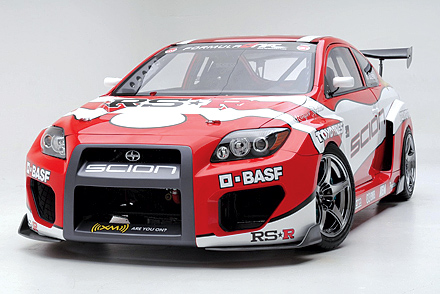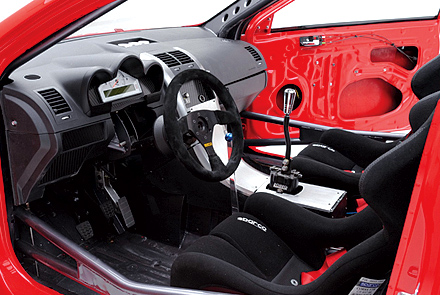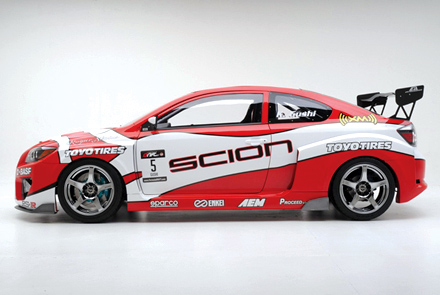 Source: Club4AG