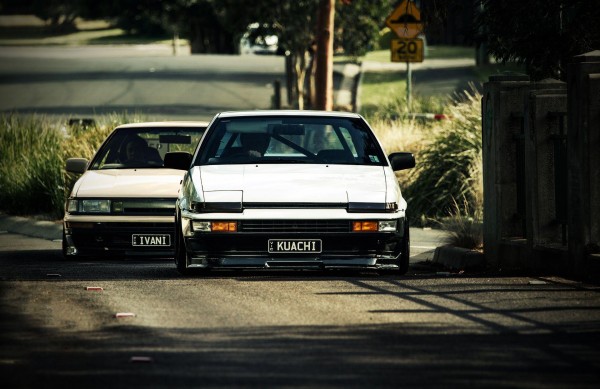 It's not often that you see two street-driven cars this well presented and tastefully modified. It's even more uncommon that they originate from the same family garage.
But in this case, where brotherly admiration and excitement for one car has spiraled out of control, you have possibly the two most succinct, and complete pair of hachirokus Australia has seen in years.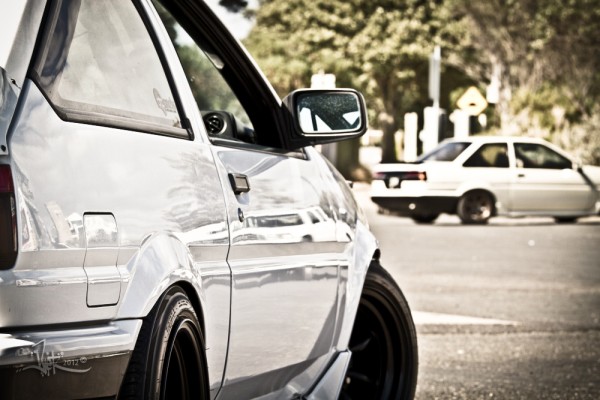 Some of you 86 die-hards reading this have choosen to stick with one car and toil away, others are up to the count of 'several' chassis of chopping and changing, swapping panels and engines and buying whole projects just for parts and papers.
However, these brothers from Melbourne's south-east have seen over 10 different AE86s between them since 2002, and have now reached, what they consider, their final 'masterpiece' hachiroku builds.
So we thought to ourselves, 'What inspires dedication this intense? What drives two guys to search endlessly for the perfect AE86?'. So we asked them!
HR: Who are you guys? Where are you from? How old are you both?
My name's Vu Quach, I run my dad's small panel shop in Springvale and no we do not deliver tofu (laughs). My brother Van works here as a panel beater too. I'm 28 and he's 25 and we're both heavily involved in modifying cars and enjoy motorsport in general as a hobby. Our jobs are never boring because we get to be around cars all day.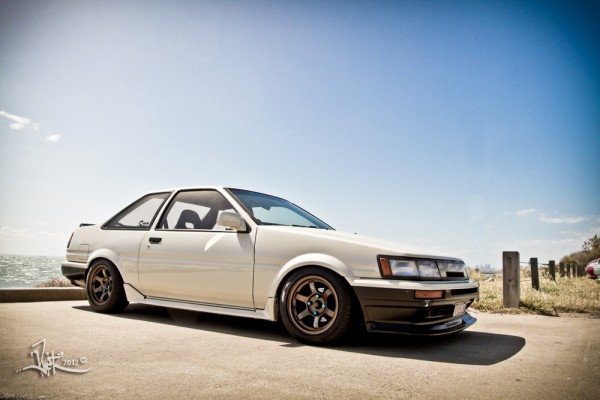 Van's Levin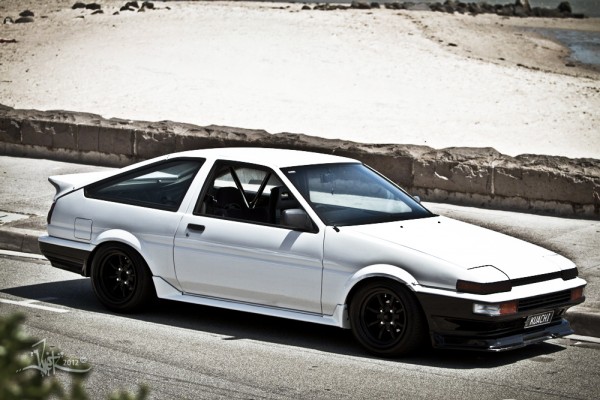 Vu's Trueno.
HR: What made you get involved with AE86s?
I'd be lying if I said Initial D wasn't the first point of interest for me in AE86s. I think most of the AE86 community gets hooked this way. Many nights of research later, the fascination became an obsession. It started rubbing off on Van and he then veered off onto his own ventures. He learned to drift in his first 4AC powered AE86.
HR: Did being brothers with similar interests make things harder or easier with modifying? 
It definitely makes it easier. When you grow up in the same household, there's not many others you can talk to about your interest. We have always been around cars, from Matchbox to scale models, to paddle powered toy cars, to remote controlled cars, then eventually to real cars. It helped that Dad was part of the automotive industry as a spray painter for Nissan.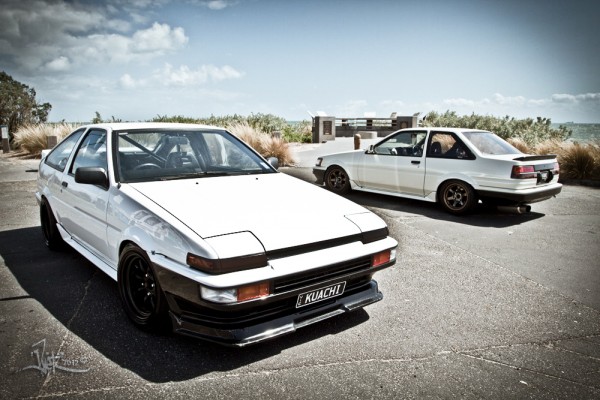 HR: Sound's like Dad has some responsibility eh? How many have you owned? When was the first one?
The first AE86 was after I got my licence in 2002. It was also my first ever car, I bought it for $200 off a guy on Toymods. It was a rust bucket that was barely running so I had it towed to my dad's panel shop. Two weeks later he towed it to the scrapyard… (laughs) . Since then I've owned about seven and Van's owned four.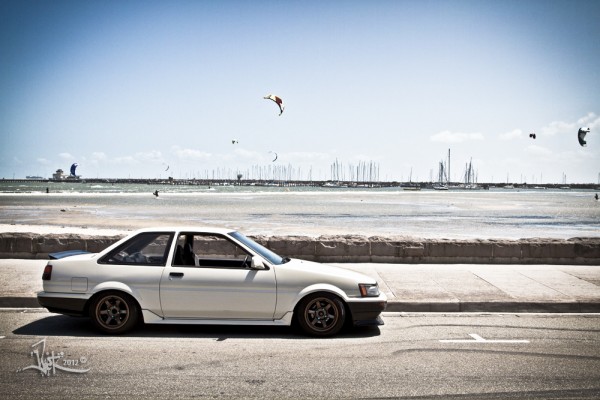 HR: That's quite the list! Could you narrow it down to which were your favourites?
Our current ones are the only ones that we've completed, so I'd say they're our favorites (laughs).  Although, my second AE86 was a huge project and allowed me to meet many awesome AE86 related people so that's definitely up there too. It was a 4A-GZE with AJPS coil-overs, 15×9 Work Meisters and so many other mods. So that's up there too, but it was never completed. Ended up parting it out – one of my biggest regrets.. But even favourites have to sell, so these final cars are up for sale too.
HR: Selling? You gotta be crazy! What made you decide to sell two cars so immaculate? Where does your automotive journey go from here?
Let me start off by saying I love the AE86. It's definitely ranks as one of the top two cars I've owned. Unfortunately I have to get a more suitable car for daily driving, work duties, and eventually family duties. I also want to concentrate on my S15 for time attack. Van is selling for similar reasons, he wants to concentrate on his Type-X drift car. He has a Hilux daily so the AE86 would just sit unappreciated in the garage. It's time for us to move the AE86s on to owners who will have the time to drive the cars and love them as much as we have. That is important to us.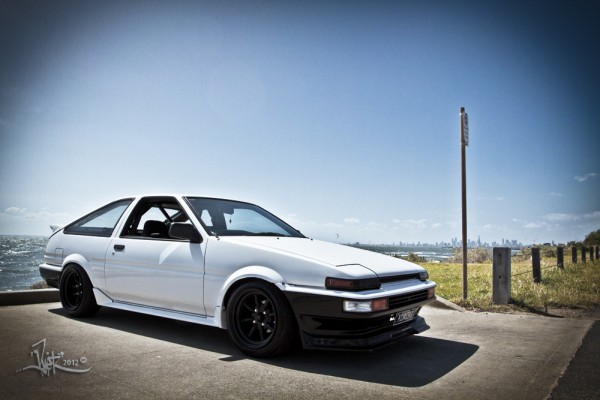 HR: Wow. We couldn't agree more. AE86s need driving, not mothballs. Before you do sell it, can you let us know what's been done to your Trueno?
No problem. It's originally a 1985 Hatchback (3-Door) Kouki Trueno.
Exterior
Zenki Front Lip
OEM Sideskirts
Ducktail Spoiler
Interior
Bride Brix 1.5 Driver's Seat
Sony CD Head Unit
Nardi Classic 330mm Steering Wheel
T3 GT Style Gearknob
Checkered Floormats
Safety 21 Half Cage
Defi DIN Gauges
Suspension / Rolling Stock
Bilstein Shocks
AJPS Springs
HSD Coilover Sleeves
AJPS RCAs
Cusco Camber Tops
Unknown Front / Rear Swaybars
Unknown Adjustable Panhard Rod
Cut and Shut Front LCA Mod
RS Watanabe's 15×8 / 15×8.5
195/50/15 Tyres
Cusco 1.5 LSD
Engine
Big-port / Bluetop 16-Valve 4A-GE
SS Work's Carby kit
Trust Oil Cooler
Kaizen Garage TRD-copy Extractors
Apexi N1 Catback Exhaust
TRD Sparkplug Leads
TRD Radiator cap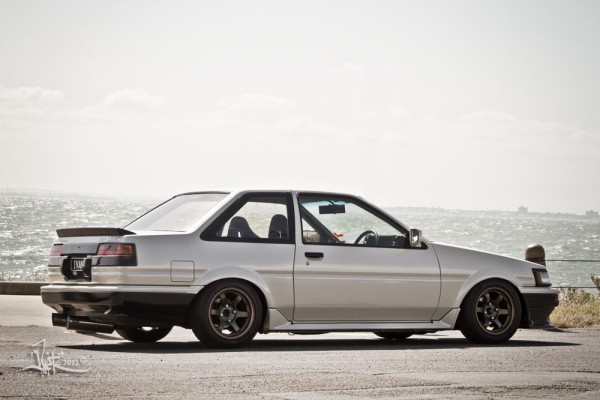 HR: And Van's Levin?
His car is a 1985 Notchback (2-door) Kouki Levin.
Exterior
Zenki Front Lip
OEM Sideskirts
OEM Boot Lip Letterbox Grille with Foglights
Full respray in Honda Platinum Pearl White
Interior
R33 GT-R Front Seats
Pioneer Head Unit
JL Audio Amplifier
Power Windows
Power Mirrors
OEM Digital Cluster
TRD Gearknob
Checkered Floormats
Defi DIN Gauges
Suspension / Rolling Stock
Cusco Front Coilovers
TRD Rear Shocks / Springs
AJPS Panhard Rod
AJPS RCAs
Polyurethane Bushes
Front / Rear Swaybars
Front / Rear Strut Braces
Rays TE37 14×7
185/55/14 Tyres
TRD 2 Way Diff
Engine
Blacktop 20 Valve 4A-GE
OEM ITBs
Kaizen Garage TRD-Copy Extractors
RSR Catback Exhaust
Kaizen Garage Dizzy Relocation Kit
RS Chita RWD Water Relocation Kit
TRD Spark Plug Leads
Alloy Radiator
HR: Thanks for talking to us guys, good luck with the sale and we hope to hear from you both in the future with two more AE86s you simply "couldn't resist returning to".
Van's Levin is for sale on Carsales. Vu's Trueno is already sold!
Photo credits go to Vyets. Check out his awesome Flickr profile here.