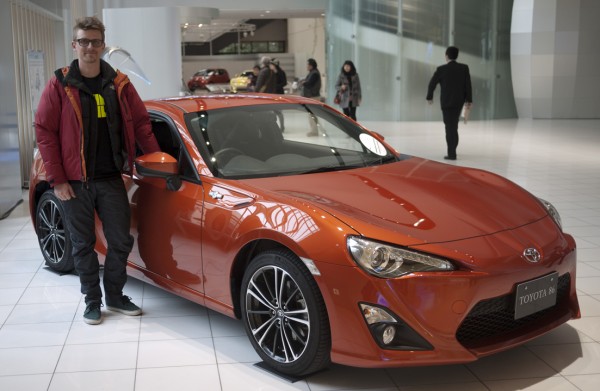 Whilst in Japan in February, we made a trip to the Toyota factory in Nagoya (yep, that's my ugly mug in the picture above) and were lucky enough to get a good hands-on look at a Japanese-market Toyota 86 on display.  Displayed in the ever popular orange metallic, it really seems a lot smaller in person: a real lithe looking lightweight sports machine.
It's just as externally gorgeous with the interior even nicer than it looks in pictures. It really needs to be experienced in person to really get the true feeling.  The seating position is just like sitting in an AE86 – everything at the exact place you would expect it to be and super comfortable and low at that. Tall people need not worry, its got plenty of headroom, just watch yourselves in the rear seat – at 175cm, I was bumping the rear glass just sitting stationary!  Needless to say, after just sitting in the car, we we're even more excited for the Aussie version of Toyota's 2012 sportscar renaissance to be unveiled.
As it happens tonight, we managed to get an exclusive peek at the internal Toyota Australia sales brief document for their local release of the 2012 86 and it's got some juicy info inside! Lets take a look:
Sales Timings
First and foremost I feel you all asking "WHEN IS IT COMING!?!".  The document indicates the first promo vehicles should arrive on Australian soil in April, but the first retail models will go to customers in June.
Those who 'ordered' last month and prior should get their cars within June, March orders will receive in July, April orders in August, and so on.  Lots of promo in June surrounding the launch with a feature in Wheels and on TV too (AFL/NRL), so keep an eye out!
Trim Grades
There are two types: Standard grade (SG) and High grade (HG). Both in Manual or Auto (Paddle shift only available in the High grade).
All interiors will be black with red stitching; Standard in 'Prosuena' fabric and High featuring the alacantra & leather we have seen in the GT-86 promo shots from Europe.
Unfortunately, the awesome 'frameless rear view mirror' will only feature on the HG model. I saw this on the 86 I sat in while in Japan, and it really does give the car a 'one off' feel and certainly worth getting if they offer it as a extra add-on with the SG. It's always the little things that make the whole so much better.
The other all-standard interior features will be: cruise control, power windows, fade-out interior light on entry, manual aircon for SG, anti-theft and power steering. Audio is a AUX as well as USB (maybe a CD too?) headunit with 6.1″ display and a 'multi informational display' – We can only guess what this is.
Other High grade only interior features: Aluminium Pedals & Scuff plate, Extra Digital Tacho, premium instrument trim finish (we can only assume this is a nicer aluminium faceplate), dual zone a/c, seat heaters, smart entry and start ('key' less we assume) and a 6.1″ Sat-Nav audio head unit.
Both grades feature the Premium steering wheel and shift knobs as well as the very, very comfortable sports bucket seats. From my experience in the car, they are as comfortable as any aftermarket recliner seat I've tried in the past and hold equally as snug.
Exterior wise, the wheels are 16-inch on the Standard and 17-inch on the High. Paint is the six colours we have seen already worldwide: 37J White, C7P Red, 61K Grey Metallic, E8H Blue Metallic, D6S Silver Metallic, H8R Orange Metallic and D4S Black Mica. Interesing note: instead of the orange car featured in the Japanese launch, Toyota Australia is going for the Red on their promo/advertising car. Good choice in our opinion!
Other exterior differences are Halogens on the SG with the HID on the HG with the 'daytime running lamps' also an exclusive HG feature.
Mechanical
Good news is they are identical across both trim grades with the same specs as the Japanese model for engine (FA20) and gearbox. LSD (let's assume torsen like the JDM model) comes equipped on all models (except SG Auto), Lots of SRS Airbags (7!) as well as VSC (with special VSC 'sports' mode) and ABS as standard as well as an OEM tower brace! Cool!
Target Markets
It seems that Toyota Australia will be pushing this to enthusiasts with focus on power to weight (125kW per tonne) and centre of gravity (460mm from ground level) featuring prominently in the supplied literature.  The core target is to style conscious, white collar males aged 35-49 who may be sports car purists/enthusiasts/tuners/car club representatives.
Supply
The split of SG and HG models in both manual and auto is 50% each way. with 1500~ vehicles targeted for sales in 2012. It seems 2013 and 2014 they plan to offer the car for sale also. Interesting to see if they produce a 'facelift' version within this expected period.
Price
The document has nothing mentioned of the price. Murmurs on the web suggest $38,000 base model manual entry point (+orc) with others suggesting 40 and 45 for the high grade with the auto being another $2500 ontop of that. Needless to say, without any actual information from Toyota (dealerships, TMCA or otherwise) we are left in the waiting game yet again.
Is this everything you guys were hoping for? It is a relief to all of us that we are finally getting a true 'Japanese spec' hachiroku on sale locally – many jokes were made about a 4A-C variant just for us, but Toyota have come though with two well sorted grades.  It's just a pity we didn't get offered the RC eh?  As always hit the comments and let us hear your thoughts!