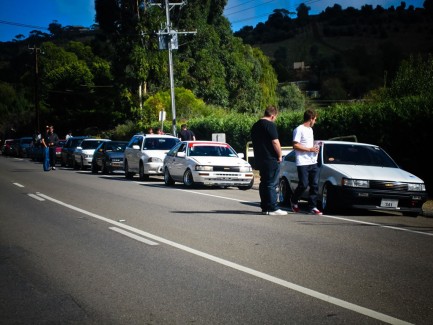 Yes that's right boys and girls! We are bringing the HR AE86 Annual to South Australia on the 23rd and 24th of October this year! Like last year, we are inviting all RWD Corolla owners to come along with the regular AE86 crew for an awesome weekend!
After the  2009 Annual (the year of the conspiracy) where everything that could go wrong did go wrong, we decided that its about time we pay a visit to Adelaide. In the past and even despite last year's shmozzle, we had dedicated AE86ers come all the way from Adelaide!
The reason why we are coming south is simple. We've never been there! We have been to Brisbane, Melbourne and Sydney, but never to the city of 'The Hills'!
The last few years we have been trying to organise track days for the Annual. In 2007 it was Oran Park, with Initial Drift with mixed results, in 2008 QR was almost impossible to organise, and in 2009 the track was ready but they weren't ready for us (its a long story….).
This year we will be at the track for both Grip and Drift.
We will be hitting up Mallala race circuit for a open Grip day on the saturday 23rd of October. This starts at 9am and runs through until 5pm.
For all those who prefer slip over grip from 5pm onwards its a Drift practice. So load up on tyres and get ready to shred them.
You can spectate at each event for only $10 so you happy snappers polish your lenses and get ready.
If you want to grip is $100 for the day. If you dont have a CAMS or similar licence add $25 for a Mallala licence.
If you want to rip up sideways you'll need $90, and again if you dont have a CAMS or similar licence $25 will get you a Mallala licence.
These licences last for 12mths, so if your an out of towner and ever get back to Adelaide you can hit up the track again.
Sunday will consist of the usual BBQ at one of Adelaides beautiful parks for the usual chat, catch up  snags and picture taking. Then we will hit up some of SA's finest hills for a Spirited Drive, followed by some cleansing ales to round out the day.
The 23rd of October is not far away so it's time to get busy, get those cars on the road, and get yourself ready for this years ANNUAL!!
photos courtesy of matt mead of www.motordriven.com.au