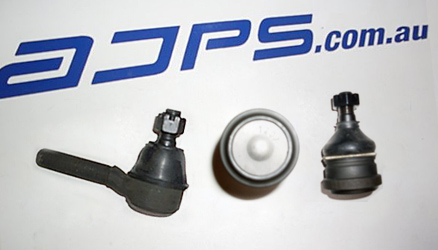 Dave at AJPS shot me an email this morning letting me know about his new slim-line ball joint and tie rod ends. These are some serious modifications for those of you out there running at the extent of the AE86's stock parts limit.  The ball joints are BJ145 part number and the tie rod ends are TE489L. You will need dual adjustable tie rod tubes (ra40/ke30, ajps, noby booth etc) to fit em on the AE86, which are a necessary upgrade with longer lower arms anyhow!
Manufactured in Taiwan for AJPS to ISO9002 standards, Dave says the quality and manufacturing is second to none:
The joints are fully sealed (no grease nipples), filled with molykote2 super high performance grease from the factory. The boot is also sealed to the housing and on the ball joints is further secured with spring wire. They both have micro finished hardened balls and forged casings further increasing smoothness and strength. The boots are much thicker than others ive tried and since they dont need filling the chance of the boot splitting is also nil. Theyre also UV treated so the rubber doesnt perish.
If you're running old shagged out suspension or brand new purpose-built items, these parts will give great benefits. Restorers who want to refresh their car and have it last for many years to come, Rally and drifters whose cars get harsh use, Street-legal cars that need to go over the pits or simply cars that want to run a large rca with a small wheel – this is your solution!
David is so sure of the quality of these units hes brought in 100 pairs of each and will be selling the ball joints for $35 each and the tie rod ends for $25 each. Plus, if you get your order in this week, he'll chuck in free Australia-wide shipping!
Hit the link to for the entire rundown and specification.