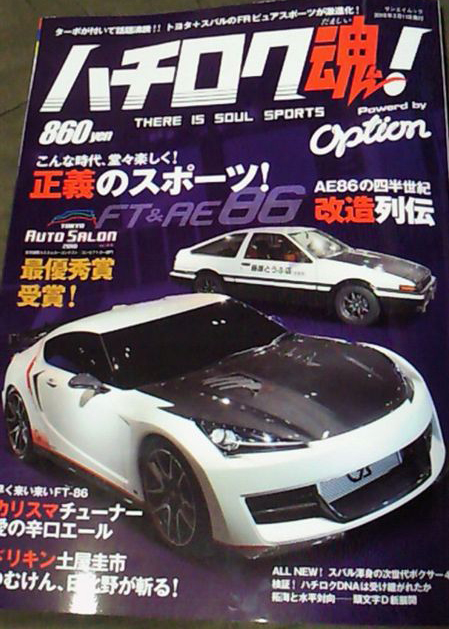 Care of Minkara user Netsu Chi, we have the shot of the cover of the new Hachiroku Damashii Magazine!
From Sun-A's website, a brief listing of whats on the inside in the best engrish you've ever seen:
AE86 Restoration quarter-century modifications, Come, come early FT-86 – Air dry charismatic new tuners Love Story starts now 13 saw their name FT-86 tuner in the future, Dorikin Muken of Keiichi Tsuchiya, the斬Ru Hibino!, ALL NEW!渾身next generation Subaru Boxer 4 , Validation! Occitane bee DNA is inherited, Initial D Takumi and horizontal New Developments, Full of secret story! Tada Tetsuya FT-86's development chief, SCOOP: Expected to run from the real-propelled Spy Photos, AE86 – After his brave trajectory trajectory tuning motorsport, Love bee team Occitane Hachirokumaisutakarando得知, And for the FT-86 – "Convergence of real and virtual" Mr. Kazunori Yamauchi Gran Turismo, Porori involuntarily?, Tokyo Auto Salon PLAYBACK FT-86 Talk Show.
Until ours arrives from Japan, you'll all have to wait in wonder and salivate over the possibilities!