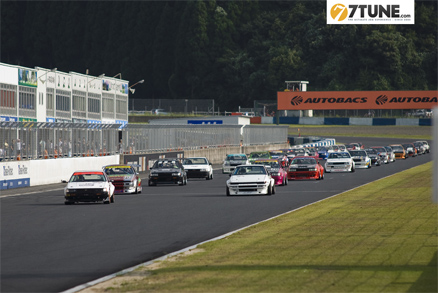 Just when I thought the '09 event had dropped off the face of the earth, Justin @ 7TUNE saves the day with their late (but still very much appeciated) coverage of the AE86 Festival in Okayama International Circuit. I've spent the last week scouring mixi, minkara and a selection of Japanese '86 blogs from Hiroshima and not a single decent (ie non camer-phone pic) from the event has been uploaded. Lucky for us, we have 7TUNE in Japan doing the '86 community worldwide a favor by getting these up. Maybe 2010 will be the year I finally get to this hallowed gathering?
I must say the event, which in 2009 celebrates it's 10th anniversary, is getting even more polished and professional the older it gets. Just the sheer quality of the cars presented to race is simply phenomenal, not to mention the minters in the carpark!
I must say, that BANKING Levin in bronze had to be my favorite of the day. Simple and unique! Check out the huge gallery over at the 7TUNE site. … and once youre done there, i suggest reminicing with our 2008 coverage of the event here!