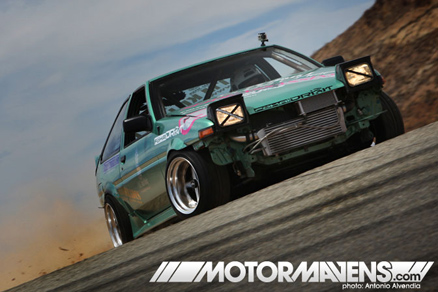 Again we have Mr Alvendia doing what he does best: shooting AE86s! This time a killer action shot of some dirt turbo at the Ziptied All Star Bash. Antonio writes:
I just found out that Orange County based AE86er Luke Pakula is originally from Chicago – in fact, while we were all catching up and getting our grub on at KBBQ in Koreatown, Luke explained that he went to high school with some of the Risky Devil guys. No wonder they were so friendly and happy to see each other at the track, haha! Luke was working on aggressively conquering the top of the fishbowl on the back section of Streets, but at one point, he slipped off the pavement, with his rear wheels kicking up tons of dirt! Looked dope though!
I can't argue there. A sick hachiroku and a super agressive angle shot too. Lets hope Antonio reads this and gives us the wallpaper version!
Check out the rest of the series over @ MotorMavens