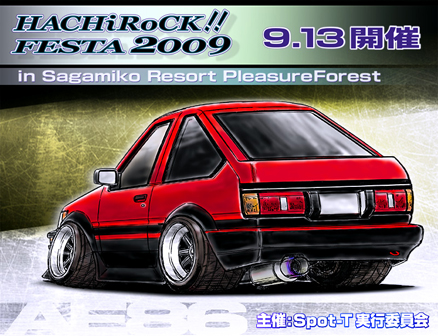 HACHiRoCK! festa is upon us again for 2009 and in typical Japanese fashion, 250 'hachiroku mania' got their entries in super-early to secure all the available spots for this years event. Last years event was massive with an awesome display of AE86's and hachiroku related fun being had for pretty much anyone who dared enter the frenzy that was the Sagamiko Resort parking area.
As the trend went in 2008, this years event will see KMS, RunFree, Speed1166, TEC-ART'S, Impulse and CBY and a huge list of other powerhouse AE86 garages bringing along exhibition parts and their killer demo cars for everyone to check out and enjoy (and if your global financial crisis budget allows, maybe buy some too!)
Check out their site (Japanese Only) for the full list of info and companies attending the event and we will keep you updated on photos as they come!