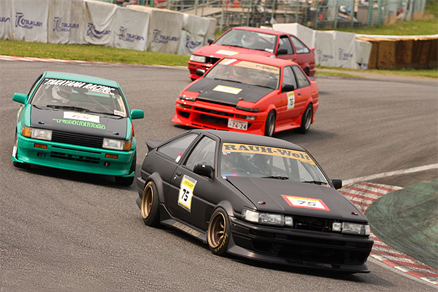 Idlers meets at Tsukuba Circuit.  Mike from SPEEDHUNTERS says "is where you'll find the very best in Japanese automotive culture". After seeing images such as these, I don't doubt a single minute that he's wrong! Here are some quotes from the article:
There have been a few changes to the event format since the last time I've been to one of these. There's now an all-AE86 trophy race that's been added to the festivities. It was a bit like an N2 race except that the cars were slightly more street-oriented.
and this one I'm still laughing over…
Although Idlers is strictly a grip event, it's nearly impossible to get a bunch of tuned AE86 drivers together without at least a bit of tail-out antics.
Haha! It looks like we AE86 drivers have a bit of a reputation huh? I like that! Even though the event was dominated by Porsches, more than just a few AE86s turned up to race (and apparently get a little sideways too!), so jump over to SPEEDHUNTERS blog here and here to get all the pics!