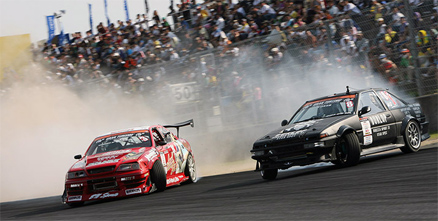 …on the top step alongside Daigo Saito for equal first place?! It was an interesting final for Saturday's D1GP 2009 Round 3 event at Okayama International Circuit with both drivers punishing their cars in their battle for victory, destroying them in the process.
It wasn't one and then the other, both cars seemed to give up life in the exact same round meaning no driver completed the run. Daigo and Tetsuya both received equal first place alongside Ken Nomura in 3rd! It has been a long time since we've seen a hachiroku win a D1GP event, especially when up against a monster JZX100 Chaser like Saito's no less! A (roughly translated) excerpt from the D1 site says it all:
After beating Imamura and advancing to the final, Saito's nemesis, the hachiroku of Hibino with agility in movement in the corners and angles of approach would be the next opponent.  Up until now and in the final three times these two drivers have met in battle, Hibino has never experienced a win against Saito and with possibly complete opposites in terms of car type and power output, both drivers were determined to win the first sudden death tournament!
With Round 4 on the following day (held at the same venue on the same weekend for cost issues, GFC and all…) Hibino in his Trueno went on to claim 3rd behind 1st place Tezuka's R32 and 2nd Tokita's 180SX!
An NA 4A-GE powered AE86 winning D1 one day then grabbing 3rd the next?? It goes to show the little hachiroku has still got it! Good on ya Hibino!
Image copyright D1GP.co.jp