Which is better? Buying local, importing a specific Japanese car yourself or buying an already imported AE86?
This is a question faced by many prospective AE86 owners and new AE86 buyers. There are distinct advantages and disadvantages of both so lets get right into it!
PRICE
This is always the biggest contention between buyers and sellers. The buyer is trying to get the best price for themselves and save a few bucks, and the seller is trying to get the best sale price for them to get as much money as they can for their car.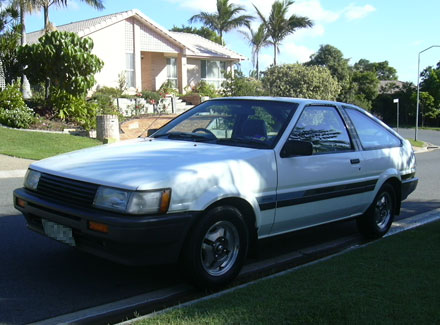 Buying an AE86 sprinter locally in terms of price is usually at the lower end of the scale. This is because Australia didn't get the full blown 4A-GE equipped Japanese -spec AE86, instead we got lumped with the poverty pack 4A-C version, akin to the AE85 or SR5. These cars themselves in an unmodified condition can be had for few thousand dollars. The good quality JDM Levin and Trueno's are mostly at the upper end of the scale at around $10,000.
If you go for the local AE86 Sprinter you usually get a wheezy worn out 4A-C engine, shagged drive train and of course the dreaded tin worm – rust. If your going to buy a standard sprinter to build up yourself be prepared to have to spend money on the car straight away to fix the problems you inherited with the some 26 year old car. Problems such as cutting out rust, replacing worn or broken parts and general wear and tear can cost a fair amount of money and you have to be prepared to bear the cost straight away. If your handy with tools you can save yourself some money here too!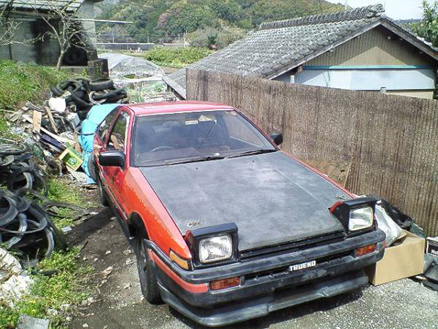 You may think that because it comes from the magical land of JDM the AE86's don't suffer from rust. Quite a large number of the JDM cars have rust. Even though they might not be close to the ocean, Japan does have snow and salt is used to melt snow, which in turn will cause rust. Usual rust spots include the sills and wheel arches, and in more serious cases behind the bumpers and body panels.
So when you get the car you have to decide what your going to do, as you have to factor this into building YOUR car. So that means are you just going to throw a 16v or 20v engine in? Or are you going to build the motor? Or body work first? or just plain go nuts?
You will need to factor this into the purchase of the standard car.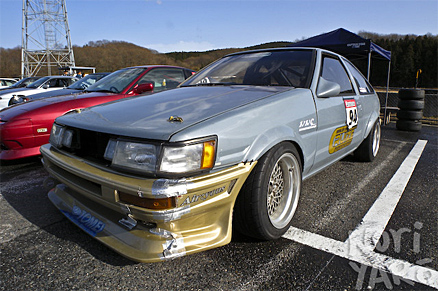 Conversely you could buy an already modified local sprinter or JDM car. But again you may be inheriting problems, so you have to be prepared to fork out money again straight away to replace worn or broken parts.  The good thing about buying an already modified car is that you usually get most of the good stuff already in the car, and may only need to add a few things or tweak the set up to your liking.
Also when buying a modified car you quite often can get a bargain as the seller has run out of money or patience. Or both. Looking at all the hot AE86's on Yahoo, and going for cheap prices you may think you could import a car yourself. This may on the face of it appear to be cheaper, but in the long run it almost always ends up being more expensive.
Things like purchasing the car, de-registration costs in Japan, domestic transport in Japan, international shipping, import duties, compliancing/engineering and the cost of an import broker need to be worked out before you lay your folding stuff on the table.
INSPECTION TIME
One major advantage of an already locally delivered AE86 is that you can go and physically look at it. You can paw all over it, poke it, prod it and look in every nook and cranny. The inspection is one the most vital parts of car buying as you can go over it with a fine tooth comb. This can reveal a myriad of problems, which if you do intend on purchasing  a specific car, you'll be prepared for.
Having someone who is knowledgeable about cars, and even better AE86's, is an advantage, as they may be able to advise you about things that may be in need of attention with the car before purchasing. If you are aware of the problems and you purchase the car, then be prepared to foot the bill if something goes wrong soon after purchase. As the old adage goes – buyer beware.  Buying interstate or importing a car can make it very difficult to inspect a car, as you really can't get up close and feel your way through the car.
You can receive all the pictures you want. But the bottom line is that you because you can't physically look at and go over a car, you really have to trust the seller or broker that the car you want is exactly the sum of its parts. Getting a someone you know locally or a mechanical inspection by a an inspection service may aid you in your decision.
So be prepared that car you see in photos is not exactly the car that is now on your door step.
Most cars sold on Yahoo Japan Auctions come with a pretty detailed inspection sheet. But things can happen in transport, such as dodgy dockworkers, movement of the vehicle, loose parts and cars hitting together in containers.
Again, when importing a car you have to be prepared to have to fork out some money to repair the car or fix any worn out items. Because you can't inspect the car personally this can be quite costly, as you may not pass compliance straight away or require a lot more work to get car registered.
ENGINEERING AND REGISTRATION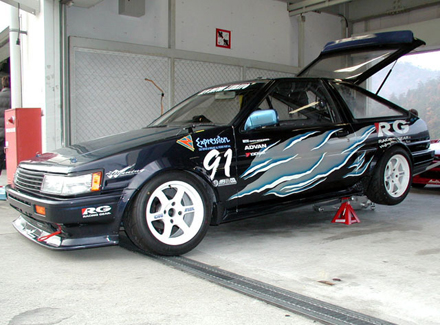 Thanks to the fantastic bureaucrats that run this great nation, each state has its own different engineering and registration laws. So that means buying interstate or importing a car means that you may need to do your home work before buying a car.
In NSW if you buy an unregistered car you may need to get a blueslip from the RTA. Getting a blueslip can be a nightmare as the inspector can pick on the most minor of things and your car will not pass. This means you'll have to go through the process again at a later date and hope the inspector doesn't pick up on any other issues.
When importing a car, this is part of the compliancing process and can be an issue in any state. The other part of the debate especially with engineering, is what is deemed legal in one state may not be legal in another.
Recently, a friend at work bought an Mazda MX-5 race car. This car was registered, mod plated and all clear in Queensland. When he brought the car to NSW he had to go through engineering again. Most of the hard work was done, but he still had to change a number of items to meet NSW's strict vehicle laws.
On a local car if you can, do a REVS (register of encumbered vehicles) check to see if it was a previously a write off or stolen vehicle.
If the car is already registered, in NSW you get a previous pink slip with the car which proves its road worthiness. If your looking at buying a JDM car locally from a dealer or private sale they should already be registered. Because the already imported JDM cars have already been complied and registered you wont have to go through that process, as someone else has already footed that bill!
THE TEST DRIVE
Buying a local again is a big advantage because you can test drive the car before buying. Test driving is a big plus as you can feel how a car handles and if there are any other issues.
Taking your freshly imported JDM car for its first drive will reveal a number of things that may not have been on the inspection report. Generally the servicing on the JDM cars is very lack lustre and it would be best to do a full service on the car before driving it if you can. That means new filters, plugs and oils. That way at least you know it has been done even if the seller claims they "Have just had it serviced". If i had a dollar for the amount of times ive heard that from people id have N2 car by now..
INSURANCE
This is one of those necessary evils.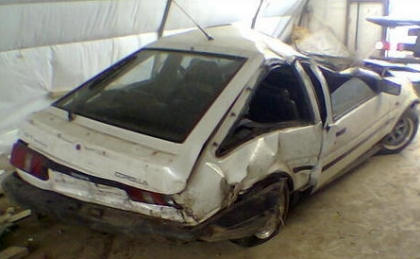 Insurance can be a hassle for a modified car especially if your under 25. Before you go rushing off and buying your dream car, it might be worth spending a couple of hours on the phone contacting insurers to see what you may be paying for a premium on the vehicle.
When dealing with insurance declare everything, you don't want any information you've withheld coming back to bite you in the ass.
Be aware that insurance for a modified vehicle may cost a fair bit, especially if your under 25 years old. Getting fully comprehensive insurance is not a necessity if your on a budget, at minimum get third party property damage or third party, fire and theft cover.
So to be fore warned is to be prepared. The more infomation and planning you put in before buying a car, whether it be local or imported, the better prepared you will be for any nasty surprises. Good luck!