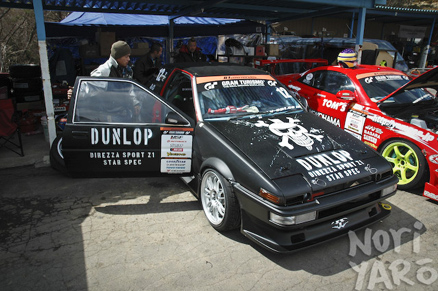 On Saturday, Ebisu Circuit was the venue for some intense practise in preparation for the upcoming D1GP round. Alexi from noriyaro was there and has a few snippets for us. Straight from TOSHIKing himself is this interesting piece of information:
This is what Toshiki Yoshioka's red AE86 looks like now. Hand-painted skulls and stencils on flat black, and being driven by Tetsuya Hibino.
So those interested in purchasing the car might be surprised to know it's now wearing a mean-ass paintjob and some new shoes.  Also interesting is the fact that Kouichi Yamashita (owner of Run Free) is back, and qualified for tomorrow driving the Weld JZX100 (not in an AE86 sorry guys!)
Check out the rest of the photos over @ Noriyaro.
Edit:
It seems there is two red demon AE86's owned by TOSHIKing, even though Toshiki himself said to Alexi from Noriyaro, that the car was one and the same and that it was also 'the one he took to America'. Apparently the confusion is with the 'blue' Espelir car and the 'red' one as we have been contacted by seller of Yoshioka's 'Red' AE86 to which he requested we post this:
The black AE86 which is pictured in this article is NOT the red AE86 driven by Toshiki Yoshioka which is currently for sale and being advertised on The Tuners Group's website.

The author of this article and the operators of the hachiroku.com.au website apologise to Toshiki Yoshioka, Works Bell and The Tuners Group for any confusion created by the incorrect information published previously in this article.

The red AE86 advertised on The Tuners Group website and the black AE86 pictured in this article are completely different cars.
So there you have it! Sorry intrepid readers, we were apparently wrong! The black car in shot was once red (notice the door jambs and radiator support) and the images on The Tuners Group site show a Red car featuring blue door jambs! The devil, it seems, is in the details!