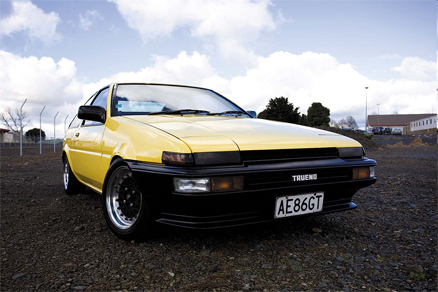 Now I know the website's name is hachi roku, but that's not gunna stop us posting up hot AE85s is it? Look at yesterdays post, even TOSHIKing's drift beasty is an AE85 under all that technology and matte black war paint! Which bring us to this sweet lemon. No it's not a lemon it's one hell of a daily-driven, yellow-tinted harlot.  Another AE86 to reside in the land of the long white cloud, this time it's Rob Powell, otherwise known as Flange, to show off his wares:
So why did you choose the AE85, as opposed to going for an AE86 straight off?
It's what was available at the time. Plus 86s are stupidly over-priced these days. I do have a genuine AE86 sitting in the driveway, but it's rusting to bits, unfortunately.
Oh the controversy! But he hit's the nail on the head! Why not choose to convert a nice AE85 shell into and AE86? Bring it on I say! Read the rest and much more over at NZPC.