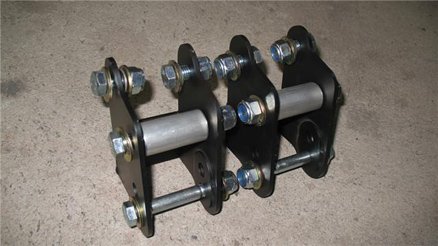 Being AE86 owners ourselves, we see a lot of AE86 parts day to day; most of them manufactured in other countries like Japan and America. So it's refreshing to see a product that is Australian made and also particularly quirky product at that. Again Dave from AJPS has got his hands dirty and come up with a solution to all you out there running T18/Celica/Borg Warner drum-brake diffs. There are lots of products to suit the T-series AE86 disc brake diff's but not many for our other scavenger-esque modifiers.
The traction brackets fix pinion angle issues in lowered cars and adds traction/anti squat to the rear wheels. They also return the rear end suspension to factory geometry for factory traction values. They're Australian made quality and guaranteed to fit!
One buyer has said:
"I was running wide on the high speed corners at Mallala, but now the car has so much more grip."
Check out the technical specs and the special ' HR Blog' price after the jump!
Technical information
4mm Steel plate, mig welded and braced.
Comes with all spacers and washers.
8.8 bolts used throughout.
Two adjustment points.
Suits T18/celica/Borgy drum diffs. Disc diff model coming soon.
Fitting instructions
1. Remove lower trailing arm.|
2. Bolt on (there is left and right side).
3. Replace arm in the desired adjustment point.
Price
Normally $195pair *HR BLOG SPECIAL* is $180pair plus $12.50pr express posted within Australia.
Colours available
Factory look or satin black plating.
Weight
2.1kg per pair ready to bolt on.
So get onto the AJPS website and order!