I must admit my interest in the drift scene was re-ignited a few months back with the announcement of the Red Bull World Drifting Championship. A competition that would 'bring together the worlds best drivers' and bid them to do battle on a custom-made circuit so that no one would be at an advantage.
I keenly checked the website for news of which new drivers had accepted the invitation, and I was counting down the days when I learnt that two Aussies; 2008 Drift Australia champion Leighton Fine (An AE86 kid at heart) and Luke Fink (2008 runner-up) would be attending. NZ, Norway, Ireland the UK and a string of other countries were also represented. I take my hat off to the organisers in the this sense. They really went all out and tried to make the tournament live up to its title. But hold on…. it all looks to have gone a bit fishy according to some?
ET TU BRUTE?
At the initial inception of the D1GP organised World All-star exhibitions and US vs Japan a few years back it became apparent that at the time all of the Japanese drivers outclassed the Americans in every single way bar a single driver; Rhys Millen.
Though when Americans like Rhys did eventually reach the finals some of the judging calls became dubious. Were the judges skewing results due to deep-rooted national pride? Some of D1GP's actions have been questionable in the past such as withholding drivers from other competitions, it appears the same thing has gone down at this tournament – that is Japanese drivers have been withheld again and judging has been skewed(according to some).**
The later allegation of course is more serious but in this case it's not merely national pride but appears to be a sponsorship issue (or so some say). Far from stating the facts or accusing anyone of selling out all I can do is allege at what has gone down and from a drift fans perspective – that is report on a string of crowd comments.
"AMERICA, THE BEST COUNTRY IN THE WORLD"

Why is it that 16 of the 32 drivers are from Formula Drift (the American series) some of which having no real championship podium success.* Have the organisers just assumed that a 16th rank American driver is better than a 3rd placed Australian or… Irish driver? I mention 3rd placed Australian… and I'll come back to this later.
According to the official World Drifting Championship website a total of 13 Japanese drivers were invited, though 6 of which aren't named. I do like how they've tried to be transparent in this and actually listed why drivers have not accepted. Mostly schedule conflicts seem to be listed as the reason but only 2 drivers (from D1GP) accepting such an invitation? Seems a bit odd and no one can fault the event organisers for this. The finger has to be pointed at D1GP yet again.
Why? Well out of the two drivers that accepted; Daigo Saito (2008 D1GP champion) and Katsuhiro Ueo (2002 D1GP champion) according to the results and qualifying…. Saito didnt actually compete (D1GP in his ear?) and Ueo probably wouldnt give a stuff for D1GP anymore as he actually hasn't competed for most of this year. He also got famously banned for a season for daring to drive in another competition a few years back. Japan was represented though… I'd dare say not by their current best crop however.
Now onto the judging. I fail to see how Australian 2008 champion Leighton Fine's qualification score was 80.58 whilst Rhys Millen scored 98.17 – for comparison AE86 poster boy Ueo Katsuhiro scored 96.08 (driving an S15) – whilst Irish AE86 nutter Eric O'Sullivan notched up 82.92. I fail to see how Rhys' runs were worthy of nearly 20 more points. It's rather erratic scoring considering the very evenly skilled field of top-end contenders.
What am I basing this all on? Well I have yet to mention that the event is organised by Red Bull. The events full title is the Red Bull World Drifting Championship. I was reading a message board earlier and a forum member quipped 'I think people might lose it if Rhys wins it…' Why? Well Rhys is sponsored by Red Bull of course. I don't share the same sentiments simply because I believe Rhys is a brilliant driver who probably deserved to win this event. I'm just not too sure about how the judges scored him so much higher above other drivers in qualifying.
Now onto some local politics and taking up from where I left off about the 3rd placed Aussie. I've overheard people talk about the Drift Australia championship as essentially the same scenario as everything I've spoken about above. A few years ago competitor Robbie Bolger simply didn't have experience nor skill (at the time) to compete against drivers like 2006 champion Beau Yates. Yet he definately had the sponsorship backing.
If this Red Bull event had been run last year I wouldn't be questioning Robbie's right to be there (he deservedly won the 2007 Drift Australia championship) however has been completely off the pace this year. Whilst Beau Yates with his new TRD backed AE86 placed 3rd this year. Infact some biased AE86 writers such as my self would say the only reason he also didnt win in 2007 was due to car issues. It's pretty obvious Beau Yates should have been at this event (for comparisons sake Rhys Millen finished 2nd in 2006 and 4th in 2007 in FD… imagine leaving him out of the tournament…)
As for the results, I won't make a fuss of the FINAL 8 drivers all being from Formula Drift… statistically this was bound to probably happen anyway. Overall if this tournament checks its judging and re-focuses its international driver recognition then its bound to be a success. As for this years event? Well I guess it was a victory to Red Bull, both ways. A congratulations to Rhys Millen for being the most consistent driver, now also the world's best drifter?
AE86 CONTINGENT
Sadly the only AE86 competing was that of Eric O'Sullivan. HR salutes you! Sadly, Eric went out in the first round. He rear bumper kissed the wall and then got flicked around and was unable to continue! Check out our previous HR blog entry on Eric and his amazing machine here. We know for a fact that a fair number of the drivers competing originally made their name driving an AE86 for some time. These include; Leighton Fine, Darren McNamara, Eric O'Sullivan, Djan Tengku and obviously Ueo Katsuhiro. Perhaps the AE86 will be better represented at next years event.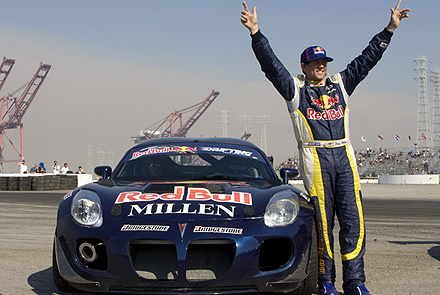 THE RESULTS
So the qualifiying scores were as follows;
98.17 R. Millen #6
97.00 S. Hubinette #77
96.83 P. Vlasblom #32
96.08 K. Ueo #86
95.75 D. McNamara #8
94.67 D. Yoshihara #9
94.50 V. Gittin #25
93.83 C. Grunewald #79
93.50 T. Foust #34
93.08 K. Mohan #99
92.25 M. Takatori #23
92.08 C. Forsberg #64
90.33 C. Ruiterman #16
90.33 F. Aasabo #51
86.67 J. Deane #17
86.50 T. Djan #48
83.92 S. Verdier #12
83.67 T. Marshall #118
83.42 L. Fink #69
82.92 G. Whiter #11
82.92 E. O'Sullivan #7
82.50 B. Sherman #22
80.58 L Fine #14
79.58 R. Niezen #20
77.83 R. Nishida #31
77.25 M. Santos #19
72.67 R. Bolger #911
72.42 B. Broke-Smith #24
0.00 K. Gushi #5
0.00 M. Widdet 15
0.00 R. Miki #26
0.00 J. Pawlak #13
TOP 32 driver showdown:
Rhys Millen(USA) vs Ken Gushi(USA)
Eric O'Sullivan(IRL) vs Stephen Verdier(FRA)
Michihiro Takatori(JPN) vs Bill Sherman(USA)
Vaughn Gittin(USA) vs Marco Santos(NOR)
Darren McNamara(IRL) vs Ben Broke-Smith(UK)
Tanner Foust(USA) vs Remmo Niezen(NER)
Carl Ruiterman(NZ) vs Luke Fink(AUS)
Paul Vlasblom(NER) vs Mike Whiddet(NZ)
Samuel Hubinette(USA) vs Ryuji Miki(JPN)
James Deane(IRL) vs Djan Tengku(MAL)
Chris Forsberg(USA) vs Garry Whiter(NZ)
Conrad Grunewald(USA) vs Robbie Nishida(JPN)
Daijiro Yoshihara(JPN) vs Robbie Bolger(AUS)
Kyle Mohan(USA) vs Leighton Fine(AUS)
Frederic Aasbo(NOR) vs Tim Marshall(UK)
Katsuhiro Ueo(JPN) vs Justin Pawlak(USA)
TOP 16 driver showdown:
Rhys Millen(USA) vs Stephen Verdier(FRA)
Bill Sherman(USA) vs Vaughn Gittin(USA)
Darren McNamara(IRL) vs Tanner Foust(USA)
Carl Ruiterman(NZ) vs Mike Whiddet(NZ)
Samuel Hubinette(USA) vs Djan Tengku(MAL)
Chris Forsberg(USA) vs Robbie Nishida(JPN)
Daijiro Yoshihara(JPN) vs Leighton Fine(AUS)
Frederic Aasbo(NOR) vs Katsuhiro Ueo(JPN)
FINAL 8 showdown:
Rhys Millen(USA) vs Vaughn Gittin(USA)
Tanner Foust(USA) vs Mike Whiddet(NZ)
Samuel Hubinette(USA) vs Chris Forsberg(USA)
Daijiro Yoshihara(JPN) vs Katsuhiro Ueo(JPN)
SEMI FINALS
Rhys Millen(USA) vs Tanner Foust(USA)
Samuel Hubinette(USA) vs Daijiro Yoshihara(JPN)
FINAL
Rhys Millen(USA) vs Daijiro Yoshihara(JPN)
Congratulations Rhys Millen!
* = It's come to light that skewed number of FD participants were fill-ins for D1GP drivers giving a late notice withdrawrel.
** = Comments on skewed judging are a reflection of various internet commentary.