The Finnish (That's Finland) National Rally has given rise to some of the world's best rally drivers. It's a land of sweeping mountain passes and snow… lots and lots of snow, so what better combination to breed rally drivers? It's no surprise then that rally is in the blood of most Finnish youngsters and motor sport enthusiasts.
Nordic countries have combined to produce 16 WRC title champions since 1977. Perhaps you might have heard about some of the Finnish drivers? guys like; Ari Vatanen, Juha Kankkunen, Tommi Mäkinen and Marcus Grönholm. Whilst also being a breeding ground for great talent it, like any other hotly intense local competition is a survival of the fittest when it comes to the machinery.
Sure our beloved AE86 has done well in places like Japan, Australia, Ireland but what about the die-hard heartland of rally. Where the world's greatest manufacturers grind their rally teeth? Where the record setting cars like the Audi Quattro and the Ford Escort RS battled it out with other makes like the Lancia Delta, Peugeot 205 GTI and Opels of various makes. I speak of Europe of course and one of its many snow filled battlegrounds; Finland.
A QUICK HISTORY LESSON
The Finnish National Rally has been hotly contested since 1959 (with other local stages being official rounds of other championships long before then) In 1983 there were only two competition groups which didn't adequately divide the field. The competition was dominated by 4WD cars and bigger-displacement turbo setups. In 1987 a Group-N field was introduced (though still 4WD) But finally in 1989 Group-n (lowercase n) rally made its debut (RWD, up to 2000cc)
To give you an idea of the competition, the previous years Group N title was won by Tommi Mäkinen (Yes the four-time WRC Champion) So which car should win the debut Group-n category? No prizes for guessing.
TOYOTA COROLLA GT 1600
Yes the AE86 was tagged with the rather infamous (amongst owners) 'Corolla' tag in Europe. (Why infamous I hear you say?) Well since then, Toyota has been manufacturing rather benign grocery-getter FWD cars under the same name. A Corolla to most botanists is the term used to describe 'All the petals of a flower'. Perhaps not the best term to describe the 'finger-on-the-pulse feeling' you get whilst driving an AE86. Though in some sense the car does 'Blossom' If you give it enough attention.
In 1989 Petri Kaura did this exact thing, steering his AE86 to victory as the Finnish National Rally Group-n champion. In 1990 Jouni Ahvenlammi made it an AE86 double with his first National Rally title championship. Ahvenlammi had also steered his AE86 to class victory in the 1000 Lakes Rally (A round of the WRC) and almost made it a treble with 2nd place in the Arctic Rally (A round in the European championship) Ahvenlammi went on to claim WRC points in 1994, no doubt the AE86 group-n championship title served as valuable experience for this.
Which brings us to 1991. Could the AE86 make it 3-years in a row? With Ari Saxberg at the wheel it did just this and more!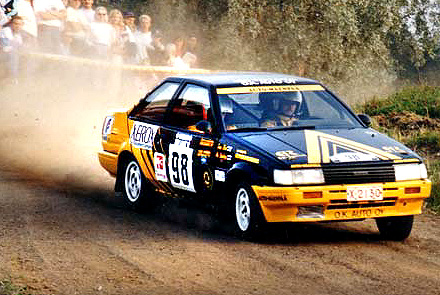 1991 IN REVIEW – ARI SAXBERG

Ari tells us that the AE86 made a definite and long-lasting impact in Finland during this period (1989-1991) He steered his AE86 to the Group-n National Championship title as well as class 2nd in the 1000 Lakes rally (A round of the WRC) now known as 'Rally Finland' but refferred to locally as the 'Jyväskylän Suurajot' and the 'Gravel Grand Prix' amongst the WRC crowd due to it being the fastest speed round of the championship. To give you an idea of the complexity of the course only 4 non-Nordic drivers have won it since its birth in 1951.
Ari also won class 1st in the Arctic Rally (A round of the European championship) known locally as 'Tunturiralli' This title being rather impressive, as although Saxberg won Group-n overall he actually placed 23rd in the combined field of over 70 cars. This is a pretty big deal, Top25 against all classes and all manufacturers of all varieties. A mere 14 cars lay between Saxberg with his privateer AE86 and (2-time WRC Champion and 7-time winner of the 1000 Lakes Rally) Marcus Grönholm with his Toyota backed GT-4 Celica.
Anywhere else in the world at the time you'd probably say so what, but in Finland it's a different story. The skill of the drivers was(is) world-beating and the variety and precision of the teams leaves no room for mistakes. An Impressive effort we believe.
So rather than simply reminisce about this herculean effort we here at HR Blog thought we'd track down Ari Saxberg himself and get the low-down on the 1991 car. Afterall he was the man to talk to; having both built and driven it to victory!
Ari brought the car in from Germany in factory condition. Promptly stripped it and then began the process of carefully re-enforcing welds through-out the entire chassis. The car was fitted with Bilstein shocks front and rear. The front springs were 3.4kg/mm (190lb/in) and the rear springs were left standard. TRD bushes were used in control/link arms as well as engine mounts. The rear differential was 'fixed' we assume thats Finnish for locked! and finally the package was completed with the required interior gauges and safety gear. A simple yet effective car setup.
The engine you ask? Ari built it himself with a modest 90kw (125hp) at the wheels. 90kw!? and this car placed a mere 14 cars behind Grönholm? Yes! Inspiring to all upcoming wannabe rally drivers.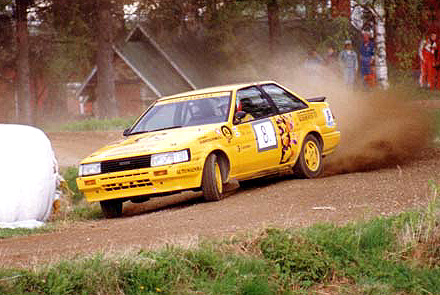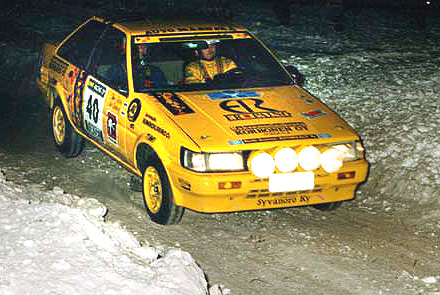 AE86: A LASTING IMPRESSION?
We thought we'd be digging up forgotten history when we eventually tracked down Ari Saxberg about this car. After all like most career rally men he's driven and worked on many different cars of varying speeds and quality across the globe (Ari joined Toyota Team Europe in 1997 as an Engineer! to help out in the WRC)
So we were pleasantly surprised that not only has Ari not forgotten the little Hachi Roku of 1991 but he in fact has gone back to building them even to this day! Only they're much more exciting with development specs that you'd sell your mother for.
It's great news to hear that even till this day, the events of a hard earned 1991 Rally Championship victory are still the fond memories of a championship winning driver and WRC Engineer. Proud present-day memories of a car whose historic efforts laid a platform for all that has happened since.
We couldn't let this story rest here; Stay tuned for upcoming articles about the AE86's Ari has built since as well as some history and the previously mentioned drool-worthy current main project Ari has in his workshop.