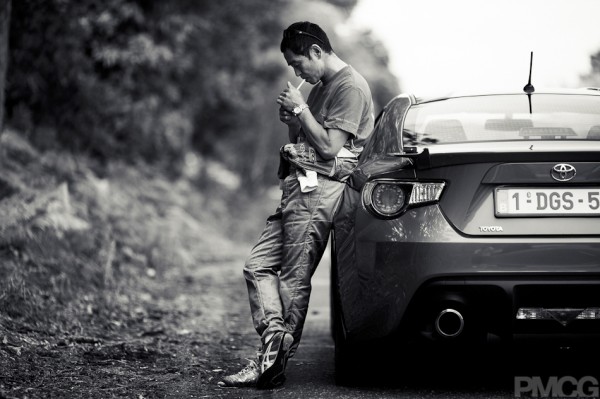 All of us here at HR Blog have been long time fans of Irish motorsport photographer Paddy McGrath, but his latest works might just contain some of the most iconic images of the Drift King yet! However they didn't come without a great deal of personal anguish from Paddy!
He writes:
Those of you with an interest in drifting will surely recognize the name Keiichi Tsuchyia, also known as the 'Drift King'. Tsuchyia-san is the godfather of drifting, and without doubt one of the most important people in the history of the sport. CAR (magazine) wanted to celebrate his history whilst also exploring his involvement with Toyota's new GT86. The brief I received illustrated clearly what CAR wanted from the shoot, and allowed me to plan in advance what equipment I would be relying on.
Unfortunately, on the day of the shoot my appendix decided it no longer wanted to be a part of me. Shooting in much discomfort and pain, I was limited in my movement and abilities. It was pretty upsetting, as this was something I wanted to deliver 110% but I just couldn't. I pushed on as much as I could and once the shoot was over, made my way to a local hospital where I was admitted for surgery.
I knew beforehand that there was a tight deadline, so I started editing the images a couple of hours after surgery. It probably wasn't a great idea editing them in a hospital ward (under fluorescent lights) and under the influence of many amazing drugs, but sometimes you have to push on. All things considered, I was happy with the product of the day's work. I just can't help but think what could have been though …
With a tenacious work ethic like that, it's easy to see why Paddy has come so far in the world of motorsport photography in just a few short years!
Hit this link here to see the full set of amazing images and the whole story, and be sure to pick up the August issue of CAR magazine for the article!