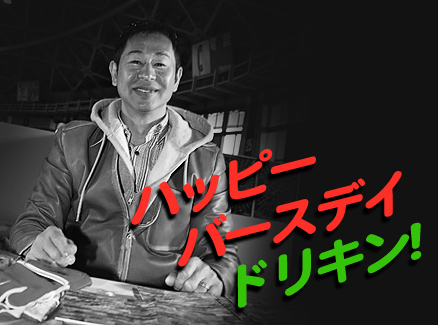 This Saturday January 30, marks the 54th birthday of none other than Tsuchiya Keiichi aka "Dorikin". So today we salute him for being such an inspiration over the years, not only to us in the hachi-roku community, but also the drifting and greater modified car community in Japan and around the world. We would like to extend our well wishes to the living legend, Happy Birthday Dorikin!
たんじょうびおめでとう 土屋 圭市 全員から はちろくブログ
(Happy birthday Tsuchiya from us all at HR blog)
To celebrate, we have compiled a little history of the man and his racing-filled life!
Retiring from professional racing as a driver 6 years ago has not slowed him down in the slightest! From managing the ARTA JGTC Team and his own consultancy K1 Planning, to hosting Best Motoring's Hot Version video series  piloting the famed "Touge Monster" Trueno against all challengers, to judging D1 Grand Prix events and being the guest presenter of Option's Drift Tengoku video magazine. I wonder where he finds the time and energy for all this? What is his secret? He simply loves what he does.
"I drift not because it is a quicker way around a corner, but the most exciting way" – quote from Drift Bible.
We sometimes forget when watching these videos today, that many were released over 10 years ago now! Only the hair styles and fashions have changed. Keiichi's quick witted commentary is sharp as ever, with finger pointer in hand or bonking the heads of unsuspecting guests with an over sized novelty mallet. Tsuchiya's driving technique is still as potent today as it was then. You could say like fine wine, he's aged well.
In a racing career spanning 27 years in Japan and abroad, rising through the ranks of Group A Touring Cars in JTCC, stints in Formula 3, many seasons in JGTC and onto endurance racing at Le Mans. He was privileged enough to drive some of the greatest race cars of the era.
The crowning of the Drift King.
Over the years there was a strong affinity with Toyota and in particular one little car that held fond memories for Tsuchiya. Since the first of his 6 consecutive wins in the 1984 Fuji Freshman Cup series, the AE86 Sprinter Trueno proved to be a giant killer.
Reminiscing of that time – "The guys driving in the same 1.6 litre class were never my rivals. I was out there to hunt down the 2.0 litre turbo Skylines in the higher classes."
Pushing it to the limits, his over-steering driving style netted him the nick name "Drift King" and Dorikin he has remained to this day.  In 1985 Keiichi took out the JTCC Class 3 honors with his Group A Corolla Levin. More podium placings followed in the 1986 Corolla Sprinter Cup.
TRD N2 AE86 Revival
But Tsuchiya's dream of driving the factory supported N2 AE86 in the Corolla & Sprinter Grand Cup remained unfulfilled. That is until 1998 with TRD's assistance, Best Motoring Video revived the N2 race for hachi-roku enthusiasts to again compete head to head. Dubbed the Hot Version AE86 Battle in Tsukuba. Keiichi was at last able to get behind the wheel of a TRD built N2 Corolla Levin. After finishing 3rd on the podium in the 1998 and 1999 N2 Battles, Dorikin tamed the N2 beast in 2001 and won at Tsukuba in a tightly contested race.
"I don't know why,  but when I drive the hachi-roku I tend to forget about everything else and really get into it. I mean this race won't get me anything, but just driving the hachi-roku makes me really get into it.  I just want to win!" – speaking about the N2 experience.
The preparation of the N2 car and the Tsukuba race was covered in two AE86 Special videos (Best Motoring vol. 41 & 42) which also introduced another long term project, Dorikins own AE86 Sprinter Trueno. In a spin-off series he also hosted entitled "土屋 圭市 AE86 Club", the Trueno was continually upgraded and restored to become the benchmark for all other cars tested by Tsuchiya in latter Hot Version episodes at circuits including Ebisu, Tsukuba and Gunsai touge course.
"Speed isn't everything, you gotta look cool on the touge too!" – quote from Hot Version.
So today we salute him for being such a huge inspiration over the years, not only to us in the hachi-roku community, but also the drifting and greater modified car community in Japan and around the world. We would like to extend our well wishes to the living legend, congratulations and many happy returns!
たんじょうびおめでとう 土屋 圭市 全員から はちろくブログ
(Happy birthday Tsuchiya from us all at HR blog)
Original opening image: Dino Dalle Carbonare