Two weeks ago was round 5 of the International Drift Series in eastern Germany on location at a small regional airport. Of course, I had to be there and represent for all the Hachi owners/lovers. The track itself was rather small but competition was tough as always.
My car has still the least power of all in the field by far, with its 137hp (had it on the dyno yesterday) so it is quite difficult sometimes. On the first day my exhaust broke once again and the car got really loud (check youtube, search for "AE86 Alkersleben"). I had to take off the complete catback and it was basically just the header left. Oh yeah!
Besides the noise making my brain melt at some points, I noticed having some more top end power which might have helped. The track itself was basically 4 corners. Entering the first in second at the rev limiter and connecting to the second. Then it was up to third gear and clutchkicking it into a 70° right, downshifting while drifting into second for the next 110° right hander. After this they also put up a haybail where you had to do a 360° around it. The course was ok for my car but the haybail really sucked since I always get a bad feeling having to downshift into 1st gear while drifting and it was also too far away from the last corner to connect it properly with very little power.
I still managed to qualifiy for the top 16 battles and even had smoke during my runs.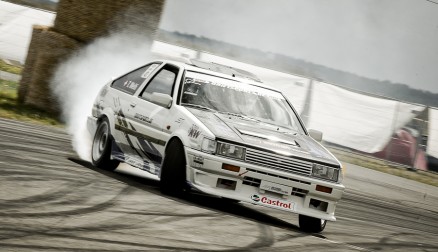 After this, Saturday was over and we had a nice barbecue with all the drivers.
Back on the track on Sunday early morning I was able to wake up properly with some nice drifting.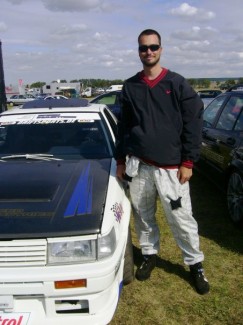 Practice was up and I managed to get my first rear entry for the first corner during my first practice lap. That really put a smile on my face early in the morning. I also had the first corner on full lock couple of times and I might need to get some more for the future.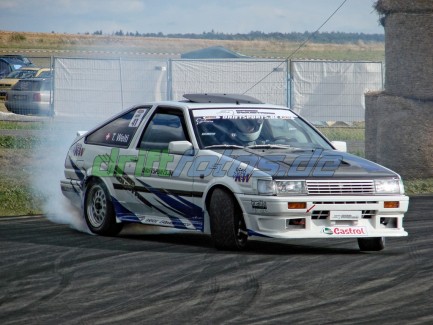 Then the twin battle came up and I was up against a polish guy in his BMW E34 M5. Unfortunately his driving was quite good and although I had more angle, he could close the gap and that just counted for more on the judging sheet. Both runs were 12:8 in his favour which actually was the second closest battle with 16 cars remaining.
In the end Lars from Team Falken won with his BMW E30 V8 after putting up a great show.
So now it is two rounds left and then it is back to the shop for some dramatic improvements on the car. See you next time with more news from European drifting!