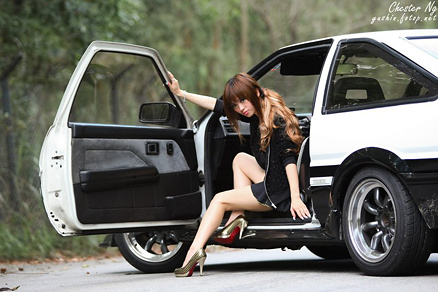 Well considering my hachiroku is still in her rebuild getting body panels massaged and the enginebay pampered, I personally couldn't celebrate Hachiroku Day by driving. Nonetheless, the AE86 community worldwide has come alive in celebration of our much-loved little twincam warrior.  Sites all across the web have posted up 8/6 Day content so we give you the rundown.
Speedhunters started with a Community Massive Image post which was so huge it spanned three posts! Part 1 Part 2 & Part 3. As well as features from all over the globe on the Driftmoto 86, Tec-Art's N2 racer, the sweetest panda in Holland and the WKD Imports SR-86!
Antonio over @ MotorMavens kept to his eternal mantra and lived the 86 life to its fullest on Hachiroku Day with some history on its creation as well as two awesome classic Ueo videos and a sweet feature on the Artchis AE86 team cars.  Plus stay tuned for Alexi @ Noriyaros review of the Nikko Trackday celebrations we mentioned today!
A friend commented today on facebook about his old love, an AE86 he used to own. A fitting way to celebrate Hachiroku Day, for past and present drivers!
Dear Hachiroku, With you I found simplicity out of clutter, from discord i found harmony, In the middle of difficulty there always lay opportunity. In character, in manner, in style, in all things, the supreme excellence was your simplicity. With you gone I have come to learn that the simplest things are often the truest.
Hell yeah. Live the 86 Life! Roll on next year!