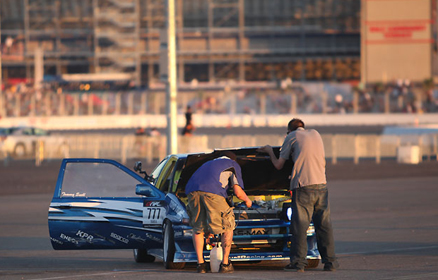 Long time die-hard AE86 addict and friend of HR Blog, Antonio Alvendia is again behind the lens, this time shooting the USA's latest drifting events. From the latest round of FormulaD last weekend he brings us this tasty morsel of hachiroku lovin'.
Back on the grid, Vegas native Tommy Suell had to cool his SR-powered AE86 down quickly in between tandem drifting runs with Apex'i driver Ryuji Miki. We're not sure if everyone realizes it, but Tommy's AE86 is actually right hand drive. Tommy grew up in Japan and can speak fluent Japanese. Hopefully he is comfortable  enough to cuss Miki out in Japanese for beating him in tandem! Props to Tommy and his crew for all their hard work! Notice the Vegas number on Tommy's door? 777 spin em!
While RHD '86s are the norm for us here Down Under, it's a pretty rare thing to see in the 'States. Check out the rest of the set over @ MotorMavens!