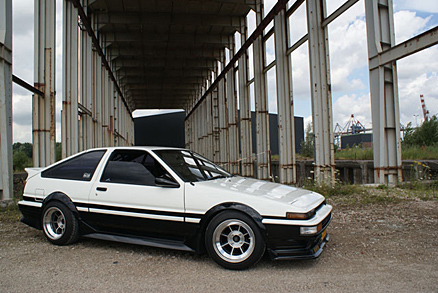 August 6th will be celebrated as the official Hachi-roku day! Speedhunters will do this, just like last year, with a couple of hachi-roku features. This year one of the features will be a stunning Dutch Trueno owned by AEU86 user Mike N and photographed by Speedhunter Jeroen Willemsen on an industrial background.
The specs alone are stunning:
Suspension:
JIC Magic coilover in the front (+ camber plates)
Potenza Gymkana shocks in the rear (adjustable)
TRD springs
Cusco front and rear brace (blue ones)
Panhard Rod (brand unknown)
Cusco Brake master stopper
Project MU D1 spec brake pads rear
Interior:
Black 6 point rollcage
Bride drivers Seat
ARC Titanium shift knob
Omari Gauges (oil temp, oil pressure, exhaust temp, water temp)
Nardi steering wheel
Exterior:
Jubride over fenders
Runfree rear bumper
Runfree Skirts
TRD wing
15×10 -25 Hayashi Street (freshly polished)
Falken 225/50/15 tires
East Bear mirrors
HID headlights
Tinted windows
Engine:
HKS Air Filter
NGK Spark Plugs
RS*R exhaust
Fujitsibo Manifold
Fully decated
Oil Filter relocation kit
Newly painted rocker / valve covers (black / gold)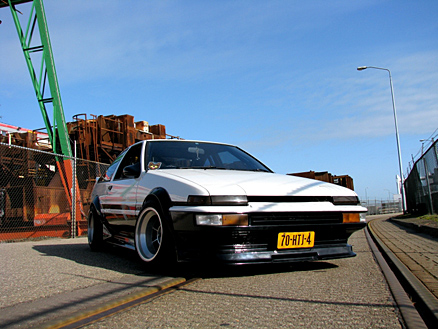 Sadly enough the Trueno is for sale now… (you need to be logged in to see the ad)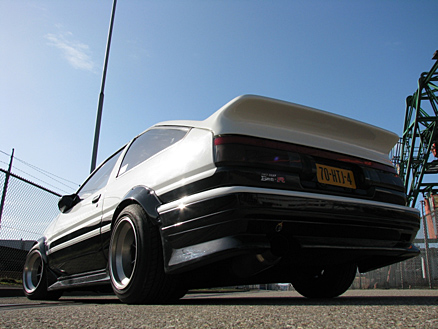 So if you really want to own a great car with a grand history, feature on one of the largest automotive blogs nowadays, Panda paint scheme, great looks (lets not forget those 10J Hayashi Streets! ;)) and all that for a reasonable price: it can be yours for a mere 6800 euros!
Can wait till the 6th of August to see the feature!
[First picture was taken by Jeroen Willemsen]