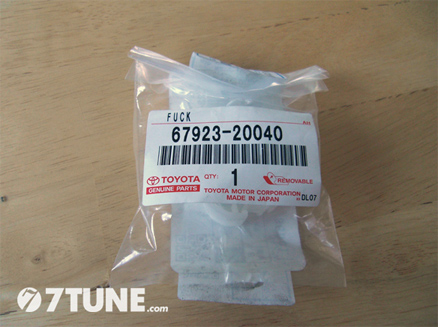 Today I saw this on 7TUNE and just had to post it… it's just too damn funny!!
I'm still not quite sure what to make of this. While visiting a parts export company in Minoo, one of the staff handed me this small plastic bag containing what looked like a wiring loom bracket from Toyota Genuine Parts. He asked me to look at it closely while trying to hold back a big grin. After a few seconds wondering what he was talking about, there it was right above the part number…

It's got to be a joke, right? Surely the person who printed out the label added the "offensive" (depends on who you ask!) word was doing out of pure amusement. Although considering the amount of parts being sent out every day, this must've been printed automatically? If so, could this be a genuine code used by Toyota Motor Company? I'll give them a call on Monday and find out!
Ahh that Justin… what a crack up! Only in Japan!