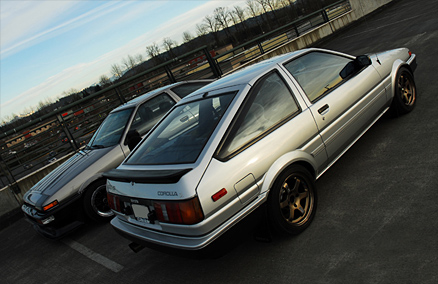 Who would've thought two guys from Turn10 (the studio behind Forza Motorsport 2 on the XBOX360) own AE86s? They decided to get together to shoot these two pristine examples one afternoon when the sun was shining through the clouds of Northern California.
Art's Trueno is just straight cleanliness. Definitely one of the cleanest, well maintained Corollas in the area, and when I first found out he owned one I got really excited. Not only can we talk shop about our favorite 80's econobox, but we can also do cool things like taking pictures of our prized possessions.

As you can see we are both rocking the "Kouki" (late model) front end, with his being the factory JDM front (pure hotness). Add in some Volks, some nice suspension, the cleanest 86 engine bay I've seen in a while and you have Art's Corolla. It's also worth mentioning that he's owned this car for nearly 5 years, creeping up on OG rolla status.
Get over to the T10 Studios blog and check them out!