Some would argue that the only -music- that should be playing whilst driving an AE86 is solely the 4A-GE itself, singing away in the engine bay. This argument aside though, there is another style of music that can be found most frequently radiating from the car stereos of AE86's.Upon hearing this style of music for the first time, that is to the uninitiated; It is always met with perplexed astonishment.
The music is Super Eurobeat and I thought we could give you the low-down on this bizarre yet addictive sub-genre that is associated with our scene.
A BROADER HISTORY
To be fair, not only is this music popular with new-age AE86 owners but with anyone who subscribes to Japanese car-culture particularly surrounding the Touge and Drift scenes (or just racing in general) but the music as a subculture is even more particular than that. The term Super Eurobeat is often thrown around as a genre but It's actually a reference to a compilation (although for the continuity of this article lets just assume Super Eurobeat is indeed a term articulated for Japan) Confused?
Ok, let's make things a bit clearer.  Eurobeat is a style of music based on Italo-Disco of the mid 1980's (although the term is credited to first being used in the UK) in relation to certain popular import artists at the time (and the locals that imitated them). Eurobeat (mostly of Italian/German origin) became increasingly popular in Japan in 1984/85 mostly due to the Para Para dance scene. This success was noted by producers from Europe and they focused on producing music solely for the Japanese Market. Thus, Super Eurobeat was born!
Eurobeat has recently been likened to HI-NRG style music (usually American based) though these comparisons are way off the mark. Super Eurobeat as a style is noted by its fast-paced beats/rhythm mixed with uplifting melodies, catchy pop-like vocals/lyrics and memorable synthesizer extravagance (that's a bit of a big call LOL – Garth) . Also of note is the peppered addition of 80's-esque guitar solos, It is truly 'on its own' as far as music genres go.
The average persons exposure to Eurobeat has probably been through the arcade game Dance Dance Revolution though there is another way it has been in-printed subconsciously into the minds of unsuspecting viewers….
AVEX TRAX – SUPER EUROBEAT
In Japan in 1990 the first compilation of Super Eurobeat was released. By issue #9 the major Japanese entertainment company Avex Trax had bought out the series. To date it is one of the Worlds longest running compilations and as of August 2008 it has had (wait for it) #190 editions! That's impressive staying power.
So whats all this have to do with our beloved AE86's / Drift / Touge / Racing?. Well some would argue that Super Eurobeat was the music of choice for people surrounding those scenes at the time of their inception, The AE86 and Touge becoming popular around the same time that this music was 'the new craze' and hence is the reason the music has bled back through to the Western-world car scenes. But in reality the story goes something like this. In 1995 Shuichi Shigeno published a manga by the name of Initial D in Young Magazine.
Fast forward a few years and it is a world-wide phenomenon, spawning arcade and console games, merchandise and of course the popular anime series. In 1998 Initial D: First Stage would debut on Fuji television (Japan) but what music had the producers selected to convey the fast-paced action packed world of mountain racing? Super Eurobeat of course!
BUYING GUIDE – PRESENT DAY SUPER EUROBEAT

I've listened to a few compilations in my time and the classic producers such as Dave Rodgers, Niko, Max Coveri, Ennio Zanini/Fastway seem to have some of the better/popular tracks out there. Apart from the classic Italian/German produced tracks, Japan has started to release some great tracks of its own from Japanese artists!
There are a countless number of different Initial D based Super Eurobeat compilations. Here's a small list below on over 50 compilations that we've found floating around on e-shops on the internet. Yes 50 compilations thus far! There's an assortment of battle stage, arcade stage, vocal battle mixes that we just haven't included. Some have also been re-issued with new tracks and new cover art. Basically there's a huge list of stuff out there.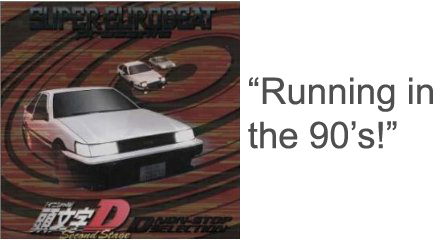 Original Stage Soundtracks (not a complete list….we havent got all year)
ASIN: amazon.com item code | PAX: play-asia.com item code.
1st stage 1998 | Super Eurobeat presents Initial D – D Selection
[ASIN: B0000089P7 | PAX0000582913]
1st stage 1998 | Super Eurobeat presents Initial D: D-Selection 2
[ASIN: B00000ILJ9 | n/a]
2nd stage 1999 | Super Eurobeat presents Initial D: D-Selection 3
[ASIN: B00000GBGM | PAX0000582862]
2nd stage 2000 | Initial D Second Stage Non-stop Selection
[ASIN: B00005ECBW | PAX0000582624]
The Movie 2001 | Initial D the Movie of Super Eurobeat
[ASIN: B00005HRUK | PAX0000582539]
4th Stage 2004 | Super Eurobeat presents Initial D Fourth D Section Plus
[ASIN: B000R4M43U | PAX0000326451]
More Compilations Worthy of Note
2001 | Initial D Non-stop Megamix
[ASIN: B000059O1K | PAX0000582828]
2006 | Initial D 4th stage Non-stop selection
[ASIN: B000C1YXJ6 | PAX0000874769]
2000 | Initial D Millennium Box Set
[ASIN: B000BCH7YO | n/a]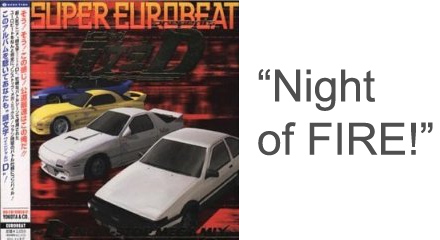 My pick of the bunch is this 2001 release entitled Initial D Non-Stop Megamix. It's one track; 72minutes long and goes through a list of classics including 'Love Is in Danger', 'Night of Fire', 'Running in the 90's, 'Dancing', 'Boom Boom Japan', 'Night Fever', 'No One Sleep in Tokyo' and 'Space Boy'. It's a must have.
The Fourth stage selection also has some brilliant tracks; 'Forever Young', 'Let's Go Cmon', 'The Fire's On Me', 'Speed Car' (which actually references the AE86) just to name a few. It's interesting to see that some of these tracks are by Japanese artists such as Lia. The interesting thing about these Initial-D mixes is they're not just compilations, the tracks are produced complete with engine revving, tyre screeching and in the case of 'Non-stop megamix' even the sound of 'clicking in a seatbelt' and starting the car to kick off the album.
The 4th Stage CD also features a non-stop megamix of the tracks on the disc as a final track. The Initial D Millennium Box Set is also pretty damn good value (5 compilations in one!)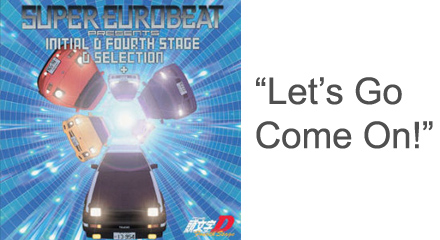 Amazon.com and play-asia.com have a variety of these selections. They're also available through other means but probably wont be at your local music store! (If you're not in Japan)
We here at HR Blog have been debating what compilation is the best, or what tracks are the standouts. I've mentioned my picks.  Whats do you think? Leave us your comments. Whether your going for a short drive, long drive or perhaps in the garage needing some motivation this is definitely the sound to do it!
How can I possibly finish this article without singing cheesy lyrics? (please no…. – Garth) "BOOM BOOM JAPAN! thats what I say 'cmon go and see what I mean, BOOM BOOM JAPAN! happening night and day, night and day you will see and love the land".
Happy Listening!