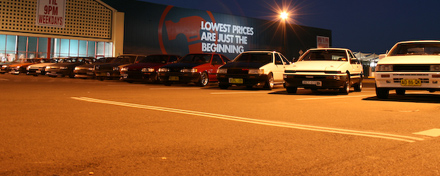 BARRRRP!! Was the noise many unaware average citizens heard fly past them on a beautiful Sunday evening. As these unfortunate people were off home to catch the latest episode of the latest shite tv, a select few others were off to the first HR monthly meet up!
The meet was held in a empty car park of an oversized hardware warehouse, therefore the sight many saw as they rolled in, was a small selection of Sydney's most hardcore AE86's!
First car that was noticed as we rolled in was a badass Burgundy/Red Levin hatch sporting a serious bodykit, this thing was pure porn! Next on the radar was found not by sight but by noise. The man that goes by the name Kre turned up in his Jap licking Trueno Coupe to the sweet sounds of 4A-G!
Slowly more and more AE86 emerged out of the darkness and pulled into the carpark and the night went by with many flash's breaking up the night, laughs, the sound of bonnet latches being released and the good old slap of a new sticker on a window!
All was going all good until the boys in blue turned up to heard us out, citing ;Bunnings don't want anyone in the carpark'. Good thing Mr Gartho used his noodle and held the officer back with a lil 'HR isn't full of knobs' discussion so we could all make our get-away to safety!
Great Night! Great Times! Great people and Great cars! Hope to see you at the next one!! This time we go to HOOTERS!! for more info check back regularly at hachiroku.com.au!!
For the gallery click here. (Needs Forum Login to View)