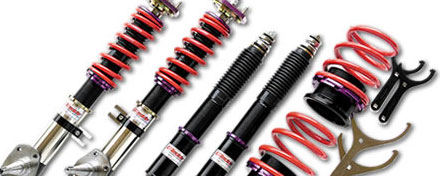 Possibly the most crucial question that faces any AE86 driver and owner out there is:
What suspension should I get?
It's a difficult question to answer as the response depends heavily on a drivers personal needs. Do you want just to use your car for track only, or drift, maybe street driving is your thing? The most likely reply is that it's a combination of 1 or more these things.
Until recently most suspension setups for the AE86 have been a bit of a mix and match affair, with the most common setups using KYB, TRD TOKICO shocks and a various array of springs. Macpherson-Style coilover fronts are generally the norm and are handmade at a local suspension workshop or in the garage. While we're not saying that this is necessarily a bad thing we are saying it can be a difficult and costly exercise to get right.
The GReddy Type S suspension kit for the AE86 was released a little over 12 months ago. In that time they haven't exactly had a warm reception within the AE86 community. Most people were afraid to try something new, wanted to stick to something tried and tested that they knew people had done before with out any issues. They were also afraid that the GReddy setup might be another Chinese clone ala D2, Racing Logic, K-Sport etc.
What if I don't like them? What if they are too stiff for the street? Will they meet my needs?
Forum devotee Adam (xero) was asking himself these very questions as he considered laying down the cash on a set of GReddy's latest offerings. We asked him if we could tell his story on the HR blog as a first hand experience of the new uprights and he gladly agreed.
Adam first came to know about GReddy TYPE S through news on the HR forums when they were first released. At that time a new suspension setup was the last thing on his mind. About 3 months later (after he finally got his new engine in) improving the tired, old and saggy handling was the next thing on the list.
So the research started.
The prerequisites were simple: 8kg front springs, 6kg rear springs, height adjustable shocks and adjustable dampers. A kit with included camber tops would have been a bonus, but he could have easily used separate Cusco camber plates. So he left his options open in that respect.
Adam had heard all the horror stories of the D2, G4, or K-sport, didn't want to touch them in fear of suffering the same fate as those before him. He had indeed heard of a few people having issues with them, and his understanding was that their reputation was of very questionable build quality. The tried and tested KYB AGX dampers were high on his list at that time, as they met the criteria but not knowing how he was going to build them or have them built, his attentions wandered to other options.
So Adam asked around a few commercial resellers in regards to what everyone else was buying. Ground Control coilovers were suggested but nothing was available in a complete package.
The research continued.
In his internet travels he stumbled upon an importer who could source and get the GReddy Type S suspension kit. Now the search was on to find out all the info he could on these elusive beauties.
It seemed to Adam that most likely source would be the American AE86 community. Known for their love of JDM bling parts, they would be sure to have some first hand testimony of the GReddy Type S kit. Adam hit up the forums over at Club4AG.com, which, as he expected, already had info on these coilovers and even a few people currently using (and abusing) them.
Over the next two months Adam kept an eye on suspension setups and kept researching other possible brands and configurations whilst saving up his cash in order to make the final choice. Time and time again he kept coming back to the GReddy kit as his number one choice. When the time came and Adam had saved up enough cash, he bit the bullet and put an order in to get the GReddy kit, plus a few other choice goodies.
Due to a large demand for the kit worldwide, they did take a bit of time to arrive, but once the non-descript brown box was set down on his doorstep, the preparations were made to have them fitted ASAP.
Finally, the day had come, the box was opened and what a sight. Red and purple anodised steel freshly popped off the CNC machine, shiny new GReddy stickers and that smell of expensive JDM bling. Who could ask for more?
The coilover units themselves are a quality item, the front featuring billet spindles that have been laser welded to a billet shock tube, anodised adjustable spring height perches, adjustable spring tension, height adjustable, and dampening adjustable, with camber tops as standard fitment.
The rears setup is equally impressive. The shock features again solid steel tubes that are both height adjustable and damper adjustable. The rear spring perch design is where it gets really interesting! The rear spring, as with the front coilover spring is a quality Eibach item (only with a GReddy logo re-stamped on it), but the spring perch (or collar to those old-schoolers out there) is constructed from aircraft grade billet aluminium and is also height adjustable as well. The idea is that the rear spring is always at full travel height and not compressed when the car is lowered. This means it can absorb the bumps in the road much much better than a shorter spring would.
Installation proved to be relatively easy as Adam followed the pictorial GReddy instructions (skipping the text in Japanese) and set the height as recommended by GReddy themselves. In fact the Kit was set at the recommended height straight out of the box which we think is pretty thoughtful of GReddy and a testament to their dedication to customer satisfaction. Adam believes it's a job a single person in his/her garage with a minimal of tools could do it in the garage at home.
The coilovers have 32 levels of dampening adjustability. It does take time to find the right setting for your self and your driving style as Adam says he recently only just got the right number of click for each of his driving styles sorted.
So pretty happy with his purchase, Adam spent the next 3 Months driving the car in all kind of situations: daily driving, touge driving, drift, and circuit driving.
For daily driving, he has them set at 1 or 2 clicks up from full soft. In his opinion, it is the perfect sweet spot. The suspension soaks up most bumps but can also be pushed to the limit in the corners and not lose traction like you would expect. He tried drifting with this setting and found the back wouldn't come out at all. When it did it was so minor that no-one would dare to call it oversteer much less full-on drifting.
Touge driving? When set at 18-19 clicks on the front and 15-16 clicks on the rear from the softest setting he finds gets the best result. It still gives a firm ride while also soaking up the bumps mid corner.
Drift and circuit are almost the same setting. Fronts set at about 26-28 and rear 23-25 clicks up from soft. On the circuit there is massive difference between medium setting and the firm setting. Drifting? just kick it out and its a breeze to control sideways, with only minute inputs required from the steering wheel and throttle to keep it sliding smoothly.
He admits it's not all perfect as there are some down sides, but not with the units themselves. One thing is he recommends is that urethane bushes be fitted all round at the same time of fitting the suspension kit. The bushes are simply a must, as they should be being replaced anyway to remedy the tired and worn out 20 year old rubber ones. Adam also recommends fitting swaybars as part of any complete suspension package anyway to help level out the cornering forces being exerted on the suspension. Roll centre adjusters also recommended but are up to personal preference: Adam has fitted them at the same time to avoid any bump steer resulting from the new geometry angles set in place by the coilovers.
So the down side is that it will cost more than the simply just buying the kit on its own, but the benefits outweigh the cost almost 100:1 when you have all the proper parts fitted and working harmoniously together.
Adam has found the GReddy Type S coilovers to be the most comprehensive suspension system on the market. They meet all his driving needs and are most certainly a high quality item as you would expect from any large Japanese performance parts company.
He has no problems recommending them to anyone as what he says are the "Best. Coilovers. Ever."
Convinced? Well if you want a quote for this awesome piece of kit drop a line to any of our commercial sellers on the forums. To give you a rough idea, most buyers are paying around $2000-2300 shipped EMS.
Do you have a review or news for the blog you think should be heard? If so drop us a line to blog@hachiroku.com.au as we're always more than happy to spread the word on all things AE86!
Image: TRUST Japan