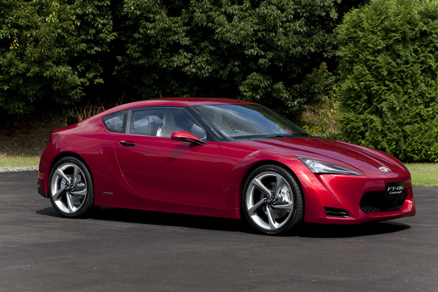 Just one look at this image over at TMR and I knew, at that very moment, I wanted one. TMR writes:
Offering the best look yet at Toyota's plans for its upcoming entry-level rear-wheel-drive sportscar, the Japanese carmaker has revealed the FT-86 concept ahead of its Tokyo Motor Show debut.

Borrowing styling cues from both the FT-HS concept and the upcoming Lexus LF-A, the FT-86 is likely powered by the same Subaru-sourced 2.0 litre four-cylinder boxer engine expected to power the upcoming 'O86A'.
Seriously, if the 086A comes out looking identical to this, I'll have no problems with scooting down to the showroom and driving away in Toyota's re-emergence into the world of sporty passenger vehicles. Even the super-experimental gundam-esque interior trimmings get the tick of approval in my opinion – zips and all!
Read the rest (including specs!!) over at The Motor Report. Oh, and make sure to make your desires known to Toyota – it's up to enthusiasts like us to get this project off the 'maybe' list and into showrooms!
Heres a quick chop done by HR Blogger (and legit graphic designer) Harley. It looks so awesome with its 18″ Watanabes and 'panda bumpers'!